Losses have been few and far between since Urban Meyer arrived at Ohio State. With him at the helm, the Buckeyes have lost no more than two games in a single season, and have finished three seasons with less than two losses.
The losses have been few, but those few have left quite the sting, especially when they've felt completely avoidable in hindsight, and were costly to Ohio State's national title hopes.
I took a look back at some of those games and picked out five the Buckeyes may wish they had another shot at, given first how winnable the game seems to be and then how costly it was to Ohio State's title chances.
5. Virginia Tech – 2014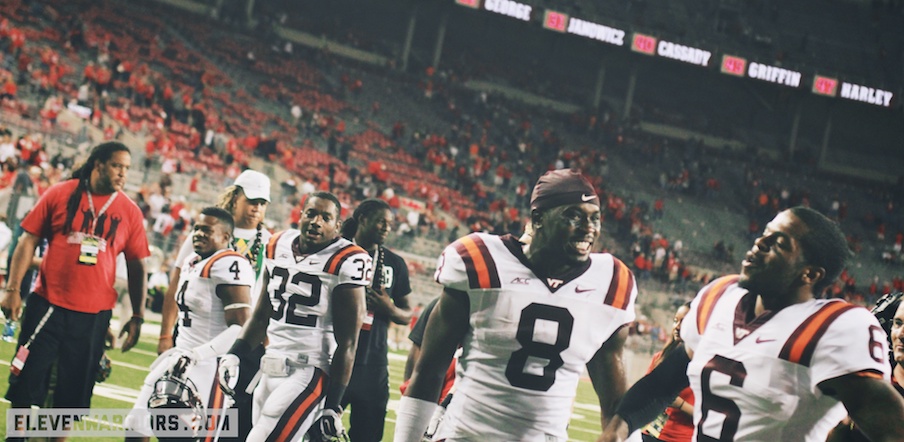 It's really tough to complain about an early, regular-season loss in a national championship season, but to be honest there really aren't all that many losses to choose from, so this one makes the cut.
Yes, Ohio State won the national title this year, and yes this loss proved to be relatively inconsequential, but doesn't that 14-1 record leave just a slight sour taste in your mouth, especially when in hindsight, the Buckeyes were the better team and that was a very winnable game?
The second game of the season, Virginia Tech rolled out a 46 Bear defense Ohio State seemed absolutely unprepared for, and it overwhelmed a young offensive line and a freshman quarterback making his second-ever start.
The loss ultimately didn't keep the Buckeyes from winning the first-ever College Football Playoff title, but it was the lone blemish on an otherwise perfect season and the outcome likely would have been different if the teams met later in the season.
Plus, it ruined a beautiful sunset.
4. Penn State – 2016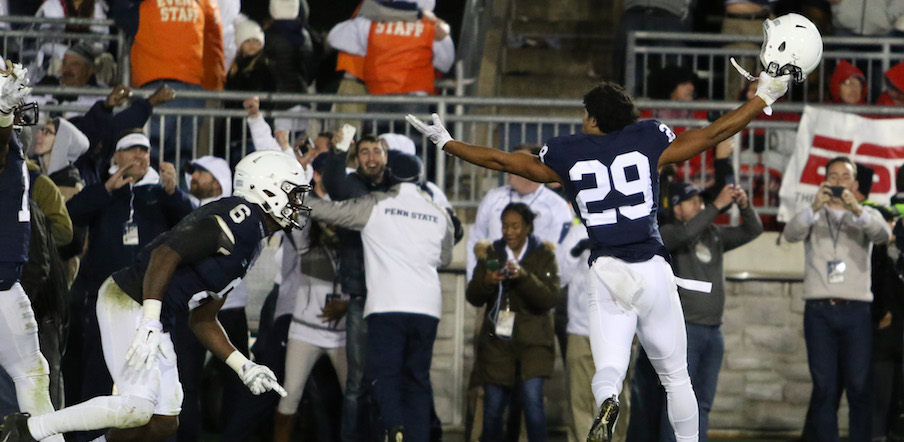 This is another one that was relatively inconsequential, but absolutely avoidable. In fact, we're a year and a half removed and I still can't really figure out how Ohio State lost.
The Buckeyes outgained Penn State 413 to 276, led at the half and by double digits in the fourth quarter, didn't turn the ball over, held the Nittany Lions to -7 yards in the third quarter and just 74 yards in the second-half, blocked a field goal, forced a safety, and held Penn State to an abysmal 2-for-13 on third down.
Given all of that, Ohio State probably should have won that game by about 20. At the very least, the Buckeyes probably could have just spiked the ball into the ground instead of attempting a late field goal and probably come away with a narrow victory, but as we all know that's not what happened. Penn State blocked a late field goal, and ran it all the way back for the go-ahead score.
Like the Virginia Tech loss, this one was relatively inconsequential. It did cost the Buckeyes a Big Ten East title and the opportunity to play for a Big Ten Championship, but Ohio State still ended up with a College Football Playoff bid over the Nittany Lions.
3. Michigan State – 2013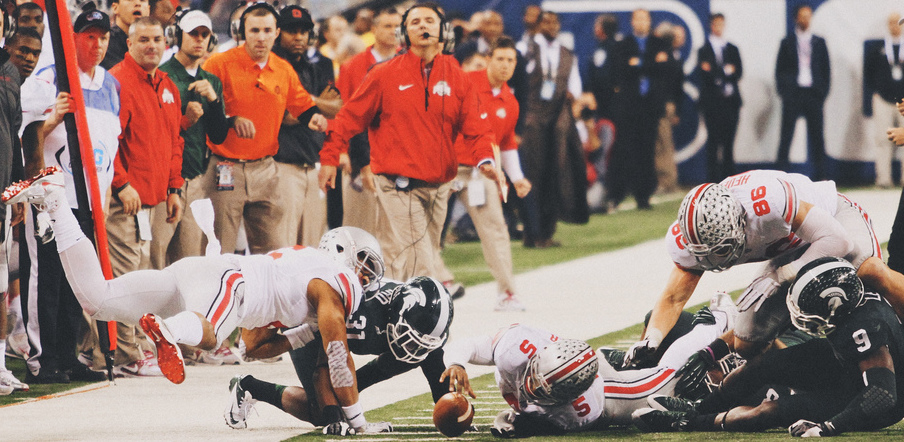 This loss is not quite as clearly avoidable as the previous two on this list, but it was drastically more costly.
Heading into the 2013 Big Ten Championship Game, No. 2 Ohio State was riding a 24-game winning streak and had not yet lost a game with Urban Meyer as head coach. All the Buckeyes needed to do was win, and they would be playing for a national championship.
They didn't win.
Michigan State hopped out to a quick 17-0 lead and Ohio State couldn't seem to move the ball through the air. The Buckeyes eventually found success on the ground, and scored 24-straight points to take a 24-17 lead. Michigan State countered, scoring 10-straight to take a 27-24 lead, giving the Buckeyes one last chance to tie or take the lead.
Then:
This one stings. It cost the Buckeyes a Big Ten title, the chance to play for the national title, snapped a 24-game winning streak and was probably winnable, but what happened in the Orange Bowl a few weeks later makes this a little easier to stomach.
Ohio State's secondary looked out of sorts all season and the passing game seemed to disappear in big games. You'd definitely like to give it a shot, but I don't think this team was going to beat Florida State regardless.
And for those of you still clamoring, "Give the ball to Hyde!" I maintain that the play call was great, but the execution was not.
2. Iowa – 2017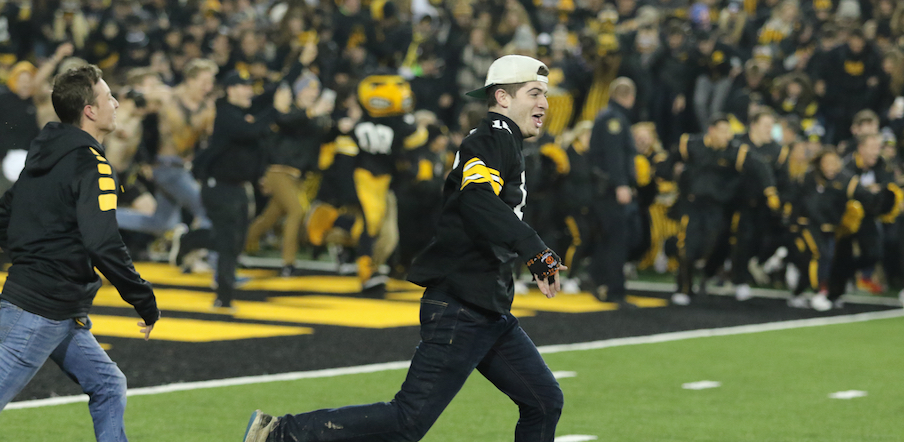 How did Ohio State lose by 31 points to Iowa?
I will go to my grave not knowing the answer to that question.
It's not often you look back at 31-point loss and think about it remorsefully as an absolutely winnable game, but that's exactly what we have here. Ohio State was decidedly better and more talented at every single position on the field, but somehow, the Buckeyes got absolutely drubbed.
It could have been a coaching blunder – Ohio State's linebackers looked completely unprepared to face an Iowa offense that hasn't changed in 15 years. It could have been a hangover game from an emotionally exhausting comeback victory over Penn State the week before. It could have been the perfect storm of a million things all going wrong at the same time.
I don't know what it was, but I do know it was ugly, and the Buckeyes would love to have another shot. This loss kept Ohio State out of the College Football Playoff. There's no guarantee the Buckeyes would have lasted long against Clemson, Oklahoma or Georgia, but they did handle a talented USC team in the Cotton Bowl, and were given the second-best odds to win the title if they did make the playoff, behind only Bama.
1. Michigan State – 2015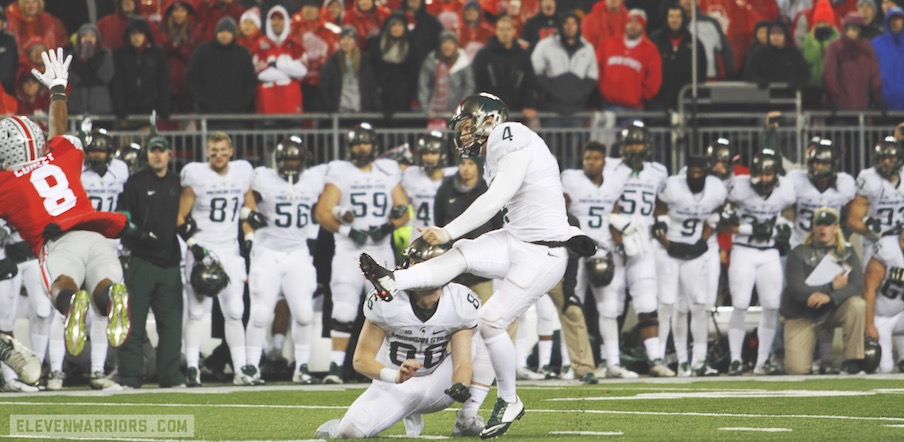 This loss gets more and more perplexing every year.
This was arguably the best Ohio State team ever. It featured no less than 20 contributors who were eventually drafted in the first four rounds of the NFL Draft. That includes one of the greatest running backs in school history who now dominates the NFL, a wide receiver who had the best rookie season since Randy Moss, a player who is already one of the NFL's most feared pass rushers, two first-round picks at cornerback and three day-one starters on the offensive line. And it was all lead by the most accomplished quarterback in school history.
That team should have won every game, including this one, by about 30 points. But that's obviously not what happened. The Buckeyes struggled to move the ball through the air or on the ground. Ohio State managed just 132 total yards – 86 on the ground, 46 through the air – and scored just 14 points in the game, seven of which were set up by a gift muffed punt.
To be completely fair, the defense did do its job, holding the Spartans to just 17 points, which should have been more enough given the team's offensive weapons.
This loss sings even more because of the way the team bounced back with blowout wins over talented Michigan and Notre Dame teams where the offense finally seemed to click. If they got it right just a week earlier, Ohio State might have been back-to-back national champions, because the Buckeyes had almost inarguably the most talented team in the country.