Ohio State hasn't lacked for star power over the years dating all the way to back to Chic Harley but the depth of talent on the rosters since Urban Meyer's arrival ahead of the 2012 season is seemingly on a different level. 
Drawing on all those talented players – whether only coached by Meyer, or both recruited and coached by him – I attempted to assemble a starting offensive lineup working under the assumption I had one college game to win and could only pick from guys to have suited up for Ohio State from 2012 to present. 
With that criteria in mind, off we go. 
OFFENSIVE LINE AND TIGHT END
The personnel shaping the starting offensive line came together pretty easily. The task was more about deciding who fit where along the interior than who to actually select. 
Having said that, I'll start with who the two main guys who didn't make the starting lineup which speaks to the quality of the starters. Corey Linsley, the center who ended up seizing a starting gig snapping to Aaron Freaking Rogers, didn't quite make the cut nor did one of my personal favorites since Meyer arrived, Jamarco Jones. 
At left tackle, Jack Mewhort was a no-brainer as was Taylor Decker at right tackle. 
Up the middle, I kept Andrew Norwell at his familiar left guard slot and then put Billy Price at center leaving a spot for Pat Elflein at right guard. I suppose those two could swap spots but either way they belong in the starting lineup. 
Though he also arrived in Columbus before Meyer, I'm going with Jeff Heuerman at tight end over Nick Vannett and Marcus Baugh. Heuerman was a beast in 2013 accumulating 466 receiving yards on 26 grabs with four touchdowns. He could be lethal catching balls down the seam and was also a fine blocker even if our chief memory in that regard is of a missed assignment against Michigan State in the Big Ten title game that same season. 
H-BACK AND RECEIVERS
Of all the position groups on a team, Meyer's true wide receiver depth dating back to 2012 is a bit curious. There are certainly a couple big timers but there's also a lot of meh. 
Conversely, as you'd expect given his system, Ohio State's H-back stable has been largely impressive. 
In a slam dunk, the two starting wideouts are Devin Smith and Mike Thomas. 
Smith is the deep ball threat with over 2,500 career receiving yards and 30 touchdowns. His value can't be overstated as evidenced by a 2014 campaign in which he averaged an OSU single-season record 28.2 yards per catch with 17 grabs of at least 30 yards as Ohio State won the national title. 
Alongside Smith, Thomas brings that rare skill-set featuring possession-receiver ability in traffic, capability of taking a slant to the house (just ask Mark Dantonio) and a technician's footwork (just ask Nick Saban). 
With Smith and Thomas on the outside, I went with Curtis Samuel at the H-back slot. Knowing I want to employ an offense that doesn't ride the QB run, I like a true hybrid in the slot and that's what Samuel can do as evidenced by a 2016 season in which he tallied 771 rushing yards on 7.9 per carry and 865 receiving yards on 74 catches. In fact, the Brooklyn Dagger is the only Buckeye with 1,000+ career receiving and 1,000+ rushing yards. 
I think Samuel's a lock to start though the depth of guys to choose from is certainly better than the true outside receiver spots with Jalin Marshall, Philly Brown and Parris Campbell all having respectable, though bridesmaid, arguments.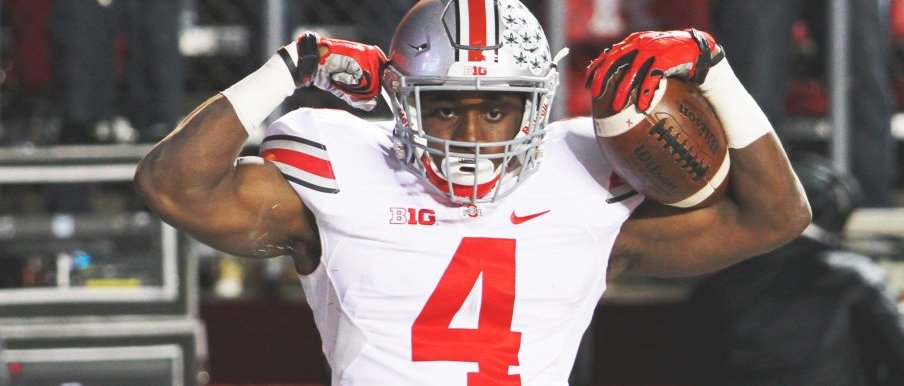 RUNNING BACK
No sense in wasting a ton of words here. 
Despite Carlos Hyde being a stud in his own right, Ezekiel Elliott is the starter at running back after posting back-to-back seasons of 1,800+ rushing yards with a combined 41 touchdowns. 
QUARTERBACK
Unlike running back, this one took some time to digest and again, remember the criteria for selection is which Meyer era players you would select to win one collegiate game. 
Obviously, the candidates here are J.T. Barrett, Cardale Jones and Braxton Miller. 
ALL-URBAN OFFENSE

| POS | PLAYER |
| --- | --- |
| QB | CARDALE JONES |
| RB | EZEKIEL ELLIOTT |
| HB | CURTIS SAMUEL |
| WR | MIKE THOMAS |
| WR | DEVIN SMITH |
| LT | JACK MEWHORT |
| LG | ANDREW NORWELL |
| C | BILLY PRICE |
| RG | PAT ELFLEIN |
| RT | TAYLOR DECKER |
| TE | JEFF HEUERMAN |
Miller was inarguably the most electric of the three but my offense, for better or worse, is built on the premise the quarterback will be called on mostly to throw the ball instead of being asked to run it 12-18 times per game and therefore I can't go with Braxton. 
Barrett holds just about every notable passing record at Ohio State and while his leadership and TD/INT ratio are incredibly attractive, his struggles with deep ball accuracy and some duds in big games make it hard to think he could take full advantage of the Smith/Thomas receiving corps. 
So, with those two out and one game to win that leaves Cardale Jones as my starting quarterback. 
The only one of the trio with NFL-caliber arm talent, I like Jones because he fits my desire to run a pro-style offense, has the best chance to take advantage of Smith's deep ball threat and the all-around greatness of Thomas, keeps safeties from selling out against the run and he won't take many carries away from Elliott. 
Plus, while Jones was up-and-down in 2015 as he looked over his shoulder, his legendary big-game performances in the 2014 postseason will never be forgotten. 
Next Thursday, I'll tackle the All-Urban defense.