The start of spring football is already less than two weeks away at Ohio State, which means it's time for us here at Eleven Warriors to begin taking a position-by-position look at the competitions to come when practices begin on March 6.
There's no better place to start than the quarterback position, where the post-J.T. Barrett era is set to begin, as a trio of talented but unproven quarterbacks will vie this spring for the potential opportunity to be Barrett's successor.
For the first time since 2007, Ohio State will enter the spring without a single quarterback on the roster who has started a game, leaving the competition wide open going into March. That said, Dwayne Haskins, Joe Burrow and Tate Martell should all get a shot to prove that they are the right man for the job, while early enrollee Matthew Baldwin will look to begin laying the groundwork to compete for his own opportunity to start in the future.
What We Know
Spring Position Previews
We know that Haskins, if his memorable 3rd-and-13 strike to Austin Mack last season at Michigan was any indication, can absolutely sling it. There's no question that Haskins has top-notch arm talent, which has many Buckeye fans dreaming of an offense reminiscent to that which Cardale Jones led to a national championship in the final three games of the 2014 season.
Burrow, the 2014 Mr. Football for the state of Ohio, is the most experienced quarterback on the roster, with three years as a Buckeye under his belt. Burrow didn't play much last season, in part because of an August hand injury that enabled Haskins to surpass him on the depth chart, but was Barrett's primary backup in 2016. He's never had to play with a game on the line at Ohio State, but he's shown both the throwing ability to make plays as a downfield passer and the athleticism to make plays with his feet in limited action.
Martell has not yet played in a game for Ohio State, having redshirted his first season on campus, but he is known to be a dynamic athlete; the 2016 Gatorade National High School Player of the Year has the potential to be the Buckeyes' most explosive running quarterback since Braxton Miller.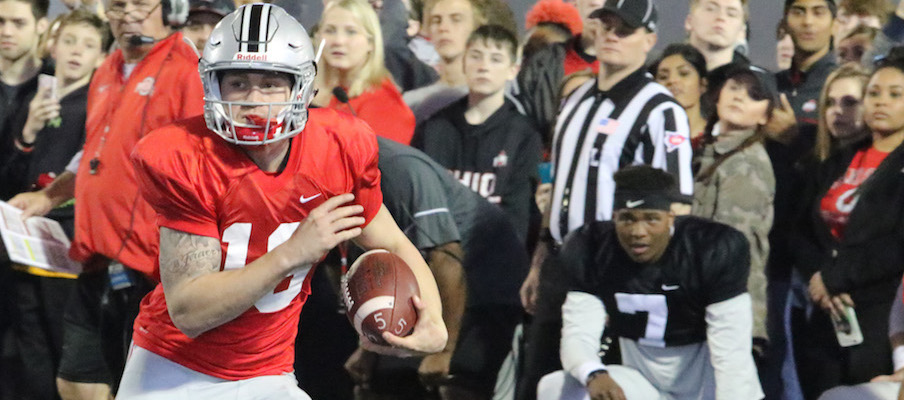 What We Don't Know
Considering that none of Ohio State's quarterbacks have ever played more than half of an individual collegiate game, it remains to be determined whether any of them can run the Buckeyes' offense at a level that puts the Buckeyes in position to consistently win games.
From a talent standpoint, it appears that Haskins, Burrow and Martell all have the potential to run Ohio State's offense to that level. Ideally, at least two of them will prove that they can do so this spring; while that could give the coaches a difficult choice as to who should start this year, that would be a good problem to have. It's also possible the Buckeyes could implement a two-quarterback system if they believe separate quarterbacks can each perform better in different areas.
Does Haskins offer enough as a runner to enable Urban Meyer to run the type of offense he prefers, or will Meyer be willing to change his offense to adjust? After falling behind Haskins on the depth chart last season, could a healthy spring be enough for Burrow to catch up? Was Martell's first year as a Buckeye, which he spent mostly practicing with the scout team, enough to ready him to seriously challenge for the starting job? Will any of them emerge as the type of leaders who gain the unwavering trust that Meyer had in Barrett?
Those are all questions that should begin to be answered over the next couple months.
Players to Watch
At this position, everyone is a player to watch. Haskins, Burrow and Martell will all be among the most closely watched – and most asked about by the media who cover the team – players throughout spring practice. Everything they do from the practice fields to the meeting rooms will be evaluated as Meyer, offensive coordinator and quarterbacks coach Ryan Day and fellow offensive coordinator Kevin Wilson look to determine which signal-caller should be the first on the field this season.
Baldwin will be a player to watch, too, as he looks to get back on the field and show what he can do after suffering a knee injury at the end of his high school career. While Baldwin isn't likely to contend for the starting job as a true freshman – and likely will redshirt his first season as a Buckeye – this spring will nonetheless be a potential opportunity for him to show what he can do and possibly impress his coaches enough to set him up to compete for the starting job the next time it opens up.
Position Outlook
While many Buckeye fans are ready to anoint Haskins as the quarterback who can lead Ohio State back to a national championship, it shouldn't be assumed that he has already won the job.
Meyer and Wilson have both insisted that Burrow was neck-and-neck with Haskins in the competition to be Ohio State's primary backup quarterback last season before he got injured, and he will certainly be given a legitimate shot to compete for the job this spring. Martell, meanwhile, impressed Ohio State's coaches enough last season that Wilson said the Buckeyes considered burning his redshirt – before ultimately sticking with Haskins – when Barrett left the Michigan game with a knee injury, so Martell should also have a real shot to seize the starting job away from the older quarterbacks.
Haskins certainly had the look of a future star when he led the Buckeyes to a comeback victory in Ann Arbor, and should be the frontrunner to start at quarterback going into spring simply because he played the most last season. If anyone beats him out, or convinces the coaching staff to implement a package for a second quarterback, it could be Martell, given Meyer's affinity for running quarterbacks and his potential to be a true game-changer in that facet. Yet Burrow might have the most well-rounded skill set and system knowledge of any quarterback on the roster, so he certainly shouldn't be counted out.
Projected Depth Chart
1. Dwayne Haskins
2. Tate Martell
3. Joe Burrow