As the start of spring football at Ohio State approaches at March 6, Eleven Warriors is taking a position-by-position look at the competitions to come when practices begin next week.
Ohio State enters the spring with a solid core on its offensive line, returning two linemen who have started every Buckeyes game for the past two years and two additional linemen who started at least six games for the Buckeyes last year.
That said, the Buckeyes also enter this spring have to replace their two most important offensive linemen from last season.
While Michael Jordan and Isaiah Prince will be expected to lead the line as third-year starters, and Branden Bowen and Demetrius Knox could also take on leadership roles after starting games last season, the biggest questions going into this spring for Greg Studrawa's unit is how the Buckeyes will replace Jamarco Jones at left tackle and Billy Price at center, and whether those replacement options could shake up the rest of the Buckeyes' offensive line, as well.
What We Know
Spring Position Previews
Jordan, who has started every game at left guard since the start of the 2016 season, was a first-team All-Big Ten selection in 2017. Prince, who has started every game at right tackle since the start of 2016, was a third-team All-Big Ten selection after showing substantial improvement in 2017. With the departure of a four-year starter in Price and a two-year starter in Jones, Ohio State will count on Jordan and Prince to provide leadership, and build the line around them.
Bowen started Ohio State's first six games of last season at right guard before suffering a season-ending leg injury. Knox started the final eight games of the season at right guard in Bowen's place. Both performed well enough last year that they should be among the leading candidates to start this year entering the spring.
Ohio State's second-team offensive line last year consisted of Joshua Alabi at left tackle, Malcolm Pridgeon at left guard (after Knox became a starter), Brady Taylor at center, Matthew Burrell at right guard and Thayer Munford at right tackle. All of those linemen are back on the roster this year, so they should be in the mix to compete for open starting spots this spring, too.
In total, Ohio State will have 14 scholarship offensive linemen on the roster this spring, also including redshirt sophomore Gavin Cupp, redshirt freshmen Wyatt Davis and Josh Myers and early enrollees Matthew Jones and Max Wray. Nicholas Petit-Frere, the No. 1 offensive tackle in the recruiting class of 2018, will arrive on campus this summer.
What We Don't Know
While we know that Prince and Jordan are in line to start this season, we don't necessarily know that they will start at the same positions in 2018. The Buckeyes could potentially choose to move either one of them to left tackle in order to have an experienced player at that position, which could open up a competition at another position.
How the Buckeyes will manage the right guard position this spring is another question, and a question that could tie into filling another offensive line vacancy. While Bowen and Knox could be set for a head-to-head competition if both stay at right guard, the Buckeyes could also move Bowen back to tackle – where he was set to be the primary backup last season before moving to right guard – to fill the vacancy opposite Prince. Having two guards with starting experience could also potentially open the door to moving Jordan to left tackle, as either Bowen or Knox could step in at left guard.
The one position where the Buckeyes seem sure to have a first-year starter, unlike the past two years, is at center, given that they don't have a likely candidate to slide over to that position like Price did last year and Pat Elflein did the year before. Who that new starter will be is in question, though. Taylor should enter the spring as the frontrunner, but it's uncertain who else – probably including Burrell and Matthew Jones – the Buckeyes will give the opportunity to challenge Taylor for that job.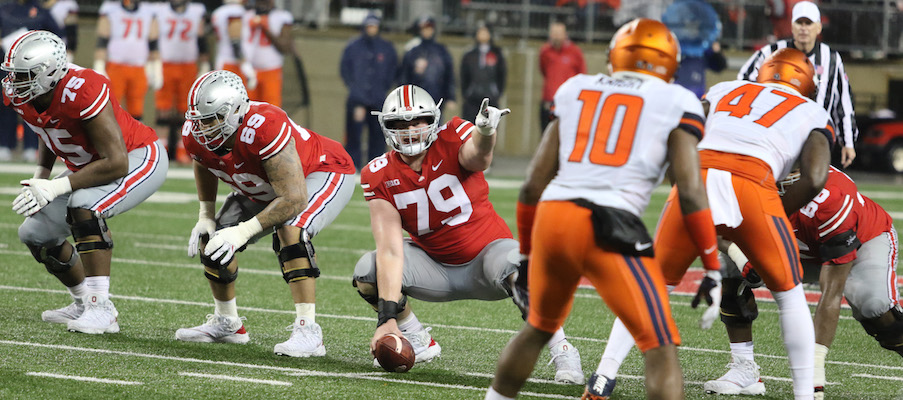 Players To Watch
Going into his first spring as a Buckeye, Munford could be a serious contender to fill the open starting spot at offensive tackle, especially if Prince makes the move to the left side. Munford immediately made a strong impression on his coaches upon arriving at Ohio State last summer – enough to make the two-deep at a position where true freshmen often redshirt – and should only continue to get better with a full year to practice with the team.
Alabi will also be a player to watch if there is an open competition at tackle, especially if the competition is held on the left side where he was the second-stringer last year. A former defensive lineman who switched sides last spring, Alabi drew praise from his teammates for his performance in his first year as an offensive lineman; Jamarco Jones singled out Alabi as a player who had "some really good practices" during last year's bowl season, and said he expected him to be a contender for a starting spot this year.
Munford's recruiting classmates, Davis and Myers, will be offensive linemen worth keeping an eye on this spring as well, as they prepare for their first playing seasons as Buckeyes after redshirting last year. While it isn't likely that either of them will start this season, both should be contenders to make the two-deep and try to set themselves up to compete for starting spots in 2019.
Matthew Jones will also certainly be a player to watch, too, as he looks to follow in Jordan's footsteps from 2016 and earn a starting job as a true freshman. While it's likely that Taylor and Burrell will get the first cracks at starting at center, Jones might be more talented than either one of them – he was the No. 1 center in the 2018 recruiting class – and will certainly look to prove that this spring.
Position Outlook
While conventional wisdom tends to be that a team should play its best or most experienced offensive at left tackle, that doesn't necessarily mean that moving Prince to left tackle is Ohio State's best move. Instead, the Buckeyes might be better off keeping Prince at a position where he became comfortable and showed tremendous growth in 2017, ensuring that the right tackle position should remain a position of strength, instead of rolling the dice on how Prince would transition to the left side. Likewise, it makes sense to keep Jordan at a position where he has already proven he can be one of the best in the conference, as his game appears to be a much more natural fit for playing inside than outside.
Given that Ohio State's offensive line really hit its stride when Knox entered the lineup at right guard last season, and Davis and Myers could both be up-and-coming stars at guard, it would make sense if the Buckeyes decided to move Bowen back to tackle for 2018. And if they do, it shouldn't come as a surprise if he ends up winning a starting tackle job – considering that he was viewed as the team's third tackle, even after making the move to right guard, before his injury last year – though he would certainly have to compete for that with Munford and Alabi, potentially among others.
Considering that Ohio State has gone with a fifth-year senior at center for each of the past two seasons, there's reason to believe they'll turn to another one, in Taylor, to start at the position this year. But Burrell and Matthew Jones could certainly both be talented enough to make a real push to seize that job away from Taylor.
Ultimately, who lines up at which positions will be a secondary concern to the objective of trying to put the five best and most ready-to-play offensive linemen on the field. So while Jordan and Prince are locks for the lineup, barring injury, and it would be a surprise if anyone other than Knox or Bowen started at right guard, who fills the other spots in the lineup – and what those other spots are – could depend in large part by which other offensive linemen stand out among their peers this spring.
Projected Depth Chart
Left Tackle
1. Branden Bowen
2. Joshua Alabi
3. Nicholas Petit-Frere (not yet enrolled)
Left Guard
1. Michael Jordan
2. Wyatt Davis
3. Gavin Cupp
Center
1. Brady Taylor
2. Matthew Burrell
3. Matthew Jones
Right Guard
1. Demetrius Knox
2. Malcolm Pridgeon
3. Josh Myers
Right Tackle
1. Isaiah Prince
2. Thayer Munford
3. Max Wray