During Woody Hayes' tenure as Ohio State's head football coach, the Buckeyes' longtime leader would tell his incoming freshmen each year that the bonds they would build with their teammates would last long beyond their time suiting up for the Scarlet and Gray.
The members of Ohio State's 1968 football team say those words still remain true more than 49 years removed from when they won a national championship together.
"Woody said that your best friends in life are sitting in this room with you right now, you just don't know it," said former Buckeyes running back John Brockington, who was a sophomore on the 1968 team. "And it kind of worked out that way. We're very close."
Those bonds were on display on Saturday at the Midwest Sports Spectacular in Columbus, when more than two dozen players and several assistant coaches from the 1968 Buckeyes reunited to participate in an autograph signing, but also to attend a team banquet and for plenty of opportunity to catch up with one another and reminisce on old times in between.
From starting quarterback Rex Kern, leading rusher Jim Otis and leading receiver Bruce Jankowski to team MVP linebacker Mark Stier and unanimous All-American offensive tackle Dave Foley, many of the 1968 team's most prominent players were in Columbus to participate in Saturday's event, along with three assistant coaches: George Chaump, Rudy Hubbard and Bill Mallory.
To have all of those players back together in one place nearly 50 years later could be considered special in itself, but offensive lineman and kicker Jim Roman said that number – which will likely increase when the Buckeyes hold their official 50th anniversary reunion this fall – actually paled in comparison to the turnout the Buckeyes had for their 45th anniversary reunion in 2013.
"One of the things that Woody told us early on, and I guess he told it to every freshman class he ever sat down with: 'Look around this room. These guys will be the ones that will be the friends that will last forever.' He said, 'Friends and even family will drift, but these guys won't.' We have a 45-year reunion, there was an 80-man roster, and they get 65 guys to show up," Roman said.
All of that speaks to the brotherhood that many members of Ohio State's 1968 football team have maintained over the past five decades, which was also what helped the Buckeyes finish the 1968 season with a 10-0 record – capping that season with a 50-14 victory over Michigan and a 27-16 Rose Bowl win over USC – to finish the season as the No. 1 team in college football.
"The chemistry of the '68 team was just exceptional," Stier said. "I think coaches underestimate the significance of chemistry on a team, and there's not a whole heck of a lot you can do sometimes to correct it one way or the other. But it was certainly a hallmark of a team."
"Woody said that your best friends in life are sitting in this room with you right now, you just don't know it. And it kind of worked out that way."– John Brockington, former Ohio State running back (1968-70)
Kern said he believes the 1968 season was "just one of those moments in time where everything came together."
"The amount of talent that we had on the football team that year was just mind-boggling, and we just looked at each and every game that 'Hey, who's going to do something else great?'" Kern said. "So we just had a lot of fun and we went out and we just enjoyed ourselves and played good football."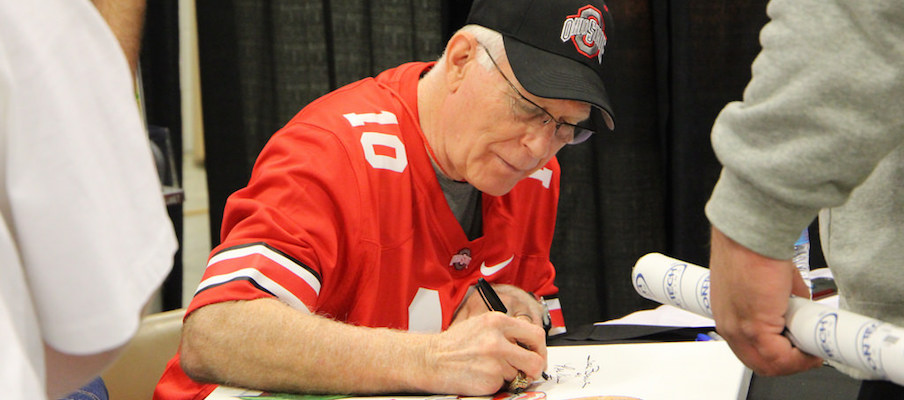 That's why the Buckeyes remain eager, nearly half of a century later, to reconvene with one another and share their memories of a time that once was.
Running back Leo Hayden, who – like many of the other 1968 Buckeyes – went on to play professionally, said he wouldn't say the same about his time in the NFL as he would about his time at Ohio State.
"I had the pleasure and opportunity to play three or four years in the professional football league too as well, the NFL, and met a lot of guys and played with a lot of guys that I remember, but the guys that I played with here at The Ohio State University, it's not just the memory, it's an indelible imprint that took place during those four years that I spent here, that have given me friends that will last a lifetime," Hayden said.
Ohio State's 1968 season had more than its fair share of games worth remembering. Safety Mike Polaski pointed to the Buckeyes' third game of the season against Purdue as a game that stuck out in his mind in which he and his teammates realized 1968 could be a special year for the Buckeyes.
"They came in ranked No. 1 in the country, averaging 40 points per game, and we shut them out and beat them 13-0," Polaski said. "That gave us an idea of what we could do."
Stier, Roman and Brockington all pointed to the lopsided win against Michigan – the final rivalry game before the Wolverines hired Bo Schembechler to begin the Ten Years War with Hayes' Buckeyes – and the championship-securing trip to the Rose Bowl as games they still remember fondly.
Ohio State fans still recognize that the 1968 season was special, too, and the Buckeyes who had the opportunity to meet some of those fans on Saturday were humbled by the recognition they continued to receive.
"It's like 50 years ago, who would have thought that this would still be a big deal?" Hayden said. "It's unbelievable in that 50 years from the time that we were here playing this game and representing Ohio State, The Ohio State University, people still remember the deeds that were done and the people who did them. That's the thing that I guess that history is made of."

More than anything else, though, the fond memories still shared by the 1968 Ohio State football team are because of the people they were able to make those memories with, and the fact that those who can still come together when opportunities arise to see each other once again.
There's never a shortage of stories to tell, and although Hayes has been gone for more than 30 years, many of those stories still revolve around him.
"It's usually one story after another after another," Stier said. "And they're all basically Woody stories. And they are true. But they're so outlandish, you go, 'Really? He really did that?' Yeah, that's the way it went down."
Whenever the Buckeyes come back together like they did on Saturday, they say it brings them back in time all over again.
"It's almost like only 50 days have passed, instead of 50 years," Polaski said. "It was an unusual group then, and they still are today. A joy to be around."