When a college football team has three defensive ends selected in the first four rounds of the NFL draft, its defensive line is typically expected to take a step back the following season. Ohio State's 2018 defensive line, however, is expected to potentially be even better.
That's not to say that Tyquan Lewis, Sam Hubbard and Jalyn Holmes – as well as Tracy Sprinkle, who is also now playing in the NFL after starting for the Buckeyes last season at nose tackle – won't be missed this season. All four of them were captains and considered to be among the Buckeyes' top leaders last season, and Hubbard was named as the team MVP.
It is, however, a reflection of Ohio State defensive line coach Larry Johnson's proven track record of developing elite units year in and year out, and how loaded with talent the Buckeyes still are.
Led by a pair of defensive ends who are already being touted as potential future NFL stars, and a multitude of other talented linemen around them, Ohio State's defensive line is a group to be excited about once again.
What We Know
Season Previews
The undisputed star of Ohio State's defensive line is Nick Bosa, who Pro Football Focus recently ranked as the best player at any position in all of college football. Bosa is coming off of a first-team All-American season in 2017, when he recorded 34 total tackles, 16 tackles for loss and 8.5 sacks – numbers that don't necessarily jump off the page until you consider that he only played about half of Ohio State's snaps because of the rotation with Holmes, Hubbard and Lewis.
Much like his older brother Joey, Nick Bosa is a complete defensive end who has an elite combination of size, athleticism and power, while he is tremendously skilled with his hands, allowing him to take full advantage of his physical gifts.
Bosa isn't the Buckeyes' only defensive end who is expected to be a superstar this season, though. Chase Young isn't the known commodity that Bosa is, having only played 196 snaps last season, but the 6-foot-5, 265-pound true sophomore – who was also a five-star recruit – nicknamed "The Predator" demonstrates the physical attributes and pass-rushing potential to be a dominant edge player in his own right.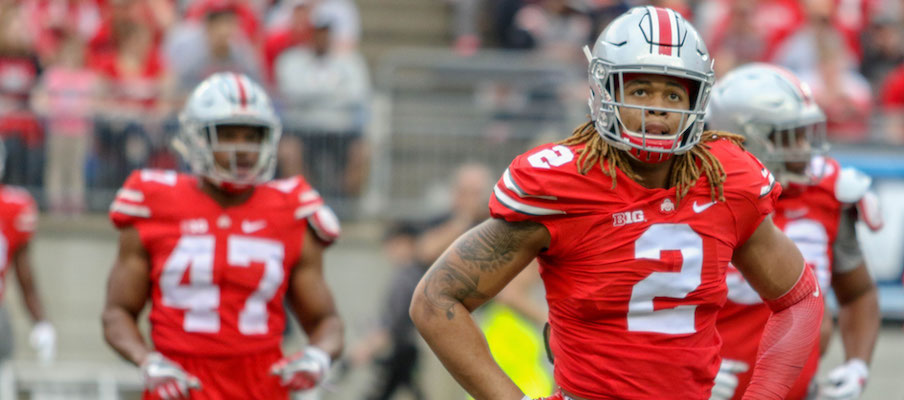 Junior defensive end Jonathon Cooper, a highly touted four-star recruit, is yet another candidate to emerge as a star as he is also in line for regular playing time in the rotation for the first time in his career.
Redshirt junior Jashon Cornell, who moved outside this spring after previously playing defensive tackle, is the only other scholarship veteran defensive end on the roster, but the Buckeyes also have a talented quartet of true freshmen at the position in Tyreke Smith, Tyler Friday, Alex Williams and Javontae Jean-Baptiste.
The star of Ohio State's interior defensive line is Dre'Mont Jones, a third-year starting defensive tackle who also has the NFL very much in his future. After playing primarily in a two-down capacity for the past two seasons, Jones is expected to become part of the Buckeyes' "Rushmen" package this season, which will keep him on the field for all three downs and give him an opportunity to emerge as one of the best interior pass-rushers in the country.
Fellow redshirt junior Robert Landers, who saw regular playing time in a rotational capacity for the past two seasons, is expected to take over as the starting nose tackle this season. But the Buckeyes also have several other defensive tackles who are candidates for significant roles in the rotation this year.
Davon Hamilton, another redshirt junior, is expected to see increased playing time at defensive tackle this year, while sophomore Haskell Garrett and redshirt freshman Jerron Cage are also pushing for spots in the two-deep. True freshmen Tommy Togiai and Taron Vincent, both of whom were among the Buckeyes' first freshmen to shed their black stripes this year, are also candidates for immediate roles in the rotation.
Redshirt sophomores Antwuan Jackson, another newcomer who transferred to Ohio State after a year at Blinn College, and Malik Barrow, who is not participating in fall camp as he continues to recover from a torn ACL, round out the Buckeyes' scholarship defensive tackle roster.
The Buckeyes also have three walk-on defensive linemen: junior Noah Donald, sophomore Aaron Cox and freshman Zaid Hamdan.
What We Don't Know
Ohio State's Defensive Linemen

| No. | Name | Pos. | Ht. | Wt. | Year | Hometown (High School) |
| --- | --- | --- | --- | --- | --- | --- |
| 2 | CHASE YOUNG | DE | 6-5 | 265 | SO | Upper Marlboro, Md. (DeMatha Catholic) |
| 6 | TARON VINCENT | DT | 6-2 | 285 | FR | Bradenton, Fla. (IMG Academy) |
| 9 | JASHON CORNELL | DE | 6-3 | 274 | RS JR | St. Paul, Minn. (Cretin–Derham Hall) |
| 11 | TYREKE SMITH | DE | 6-3 | 260 | FR | Cleveland, Ohio (Cleveland Heights) |
| 17 | ALEX WILLIAMS | DE | 6-7 | 250 | FR | Pickerington, Ohio (North) |
| 18 | JONATHON COOPER | DE | 6-4 | 257 | JR | Gahanna, Ohio (Lincoln) |
| 38 | JAVONTAE JEAN-BAPTISTE | DE | 6-5 | 215 | FR | Oradell, N.J. (Bergen Catholic) |
| 53 | DAVON HAMILTON | DT | 6-4 | 310 | RS JR | Pickerington, Ohio (Central) |
| 54 | TYLER FRIDAY | DE | 6-3 | 262 | FR | Ramsey, N.J. (Don Bosco Prep) |
| 55 | MALIK BARROW | DT | 6-2 | 280 | RS SO | Tampa, Fla. (IMG Academy) |
| 56 | AARON COX | DE | 6-3 | 255 | SO | Mantua, Ohio (Crestwood) |
| 67 | ROBERT LANDERS | DT | 6-1 | 283 | RS JR | Dayton, Ohio (Huber Heights Wayne) |
| 68 | ZAID HAMDAN | DT | 5-11 | 275 | FR | Mason, Ohio (Mason) |
| 70 | NOAH DONALD | DE | 6-1 | 275 | JR | Uniontown, Ohio (Walsh Jesuit) |
| 72 | TOMMY TOGIAI | DT | 6-2 | 300 | FR | Pocatello, Idaho (Highland) |
| 86 | DRE'MONT JONES | DT | 6-3 | 290 | RS JR | Cleveland, Ohio (St. Ignatius) |
| 90 | ANTWUAN JACKSON | DT | 6-2 | 293 | RS SO | Ellenwood, Ga. (Cedar Grove) |
| 92 | HASKELL GARRETT | DT | 6-2 | 293 | SO | Las Vegas, Nev. (Bishop Gorman) |
| 97 | NICK BOSA | DE | 6-4 | 263 | JR | Fort Lauderdale, Fla. (St. Thomas Aquinas) |
| 98 | JERRON CAGE | DT | 6-3 | 295 | RS FR | Cincinnati, Ohio (Winton Woods) |
With all of that talent, the biggest question surrounding Ohio State's defensive line isn't whether the players on the field will be productive, but how Johnson and the Buckeyes will divide playing time among them.
Ohio State deployed a four-man defensive end rotation last season, and Johnson said this spring that he expects to do the same again this season, even with Bosa's clear standing as the star of the group.
Still, the defensive end rotation will probably look a little different than it did last season – when Bosa, Holmes, Hubbard and Lewis all played a nearly identical number of snaps –because Bosa is simply too good to be off the field half the time in a game against top competition.
"We don't want to put 90 plays on Nick all of a sudden," Johnson said this spring. "He'll play 60, 65 probably in a great game, but we're not going to give him 90, 95 plays. We want to still play fresh. That's why we're successful."
Most likely, the defensive end rotation in Ohio State's base defense will consist of Bosa playing a majority of the snaps, Young and Cooper splitting snaps with each other and Cornell playing most of the rest. That hasn't been confirmed, though, and it's also possible a freshman or two – with Smith being the most likely candidate – could entice Johnson to expand the rotation beyond those four.
While the rotation at defensive end is at least predictable, the rotation at defensive tackle remains very much up in the air. It's known that Jones is the leader of the defensive tackle group, and that Landers should also continue to play a key role at the position, but Johnson has tons of options for stacking the depth chart behind them.
Hamilton, who was regarded as one of the Buckeyes' most improved players this spring and has seen some run with the first-team defense, appears to have earned his way into the team's two-deep. Garrett might be the most likely candidate for the other spot on the defensive tackle two-deep, but Togiai and Vincent both appear to be making a real push for significant playing time.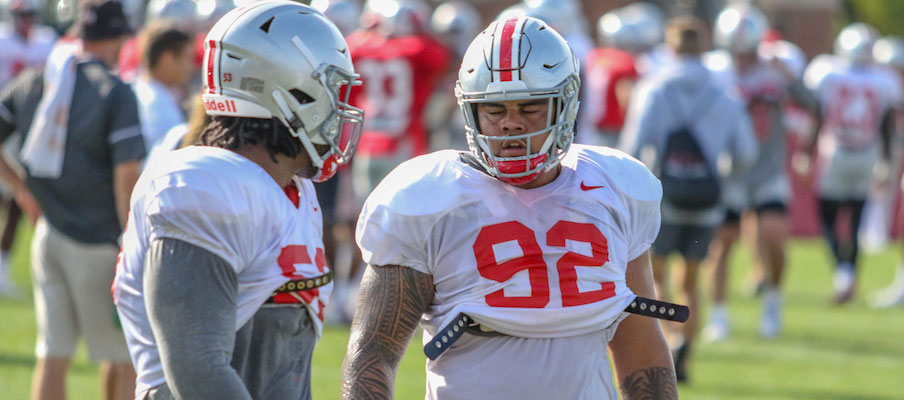 Johnson often rotated as many as six defensive tackles over the course of games last season, so there could be playing time to go around for all of them, but Johnson could have tough decisions to make – though certainly a good problem to have – about just how much playing time each of those players will get, while Cage and/or Jackson could also have a case to see playing time, too.
Beyond the questions about how the Buckeyes will rotate their defensive line in their 4-3 base defense, the other question is how exactly their "Rushmen" package – which consisted of Bosa, Holmes, Hubbard and Lewis last year – will look this year.
The presumable lineup for the Buckeyes' nickel pass-rushing package would be Bosa, Jones, Young and Cooper, but Cornell, Landers and even Smith are also among the players who could see snaps in that lineup. It's also possible that the Buckeyes could experiment once again with a five-man defensive front, which they did early last season, though that package proved to only be moderately successful.
What there isn't much question about, though, is that the Buckeyes' defensive line should be highly disruptive – and likely, the strength of their defense – once again.
Position Outlook
It's hard to deny that the best defensive line in the country resides in Clemson, South Carolina, where the Tigers return four starters – Christian Wilkins, Dexter Lawrence, Clelin Ferrell and Austin Bryant – who are all projected to be early-round NFL draft picks.
Should the Buckeyes' defensive linemen play up to their potential, though, they might not be far off.
"No surprise to anyone in Buckeye Nation, Larry Johnson has another talented group this year," Ohio State interim head coach Ryan Day said in a statement on Friday. "It doesn't take much to notice how close this unit is, and the leadership from Nick Bosa, Dre'Mont Jones, Robert Landers, Jashon Cornell, Davon Hamilton, Jonathan Cooper and Chase Young.
"We're really impressed with the young freshmen as well; there are some individuals in that freshman class who are positioning themselves to play this fall. Depth at this position group might be the strongest on the team."
The pairing of Bosa and Young at defensive end, with Cooper, Cornell and potentially Smith rotating is, is one that will give opposing offensive tackles and coordinators nightmares.
Jones is an underrated star who could break through in a big way in an expanded role, while Landers is another player whose ability to create disruption is often overshadowed by his teammates around him. Hamilton and Garrett could emerge as impact players, too, and Togiai and Vincent look like future stars who could be ready to provide a real spark to the Buckeyes' defensive line this year.
All of that talent will allow Johnson to do what he likes to do – rotate his defensive linemen throughout the game to keep them all fresh, and give opposing offenses a wide variety of different looks – and should result in a unit that both harasses opposing quarterbacks as pass-rushers and makes it difficult for anyone to run the ball up the middle against them.