They don't usually fit into the next day's headlines and they're not quite accustomed to stepping into the limelight, but don't be fooled, Ohio State's group of offensive linemen have just as much to do with the team's success as any attention-grabbing skill player.
After a year in which the Buckeyes finished as the seventh-ranked team in the nation in total offense, racking up 506 yards per game, the program returns three of five starters across its offensive line.
The unit will take on the responsibility of protecting sophomore quarterback Dwayne Haskins and creating holes for running backs J.K. Dobbins and Mike Weber, both challenges they've met with a prolific history of success over quite some time.
Our Season Preview continues by taking a look at the projected starters up front, and who the Buckeyes have waiting in the wings in case of emergency.
What We Know
In terms of endurance, Michael Jordan could be a poster child. The 6-foot-7, 312-pound junior left guard returns after earning first-team All-Big Ten Conference honors last season, a year in which he led the entire team with 925 snaps played.
Jordan has started every game in his college career, one that began in 2016 as he became the first Ohio State offensive lineman to start as a true freshman since Orlando Pace did so in 1994.
He'll likely be joined on the interior by right guard Demetrius Knox and, for now, center Brady Taylor. Knox, standing 6-foot-4, 312 pounds, took over for an injured Branden Bowen last year and started in eight games. Taylor, a fifth-year senior, has played in a total of 29 games in his career, including 13 of 14 last season, and is attempting to win the position after following in the footsteps of back-to-back Rimington Trophy winners — Pat Elflein and Billy Price.
Season Previews
Mixed in with those five will be Bowen, who started the first six games at right guard last year, as well as redshirt freshman Josh Myers — who's spent much of his time this year competing directly with Taylor for a starting gig.
At tackle, sophomore Thayer Munford is expected to start on the left side, while senior Isaiah Prince patrols the right. Both are behemoths as Munford is listed at 6-foot-6, 319 pounds while Prince, not to be outdone, carries measurements of 6-foot-7, 310.
Redshirt senior Malcolm Pridgeon and redshirt freshman Wyatt Davis are also among those who could see playing time at guard. Davis has drawn praise for his development from offensive line coach Greg Studrawa, while Pridgeon's improvement has also been well-documented.
What We Don't Know
There's still speculation as to who will start at center, even though all signs have pointed towards Taylor, who has never started a game under Urban Meyer.
The question of whether or not Jordan could slide over into the position has been asked many times. If it happens, it certainly wouldn't be the first time a guard switched to center in Columbus and it's usually a task asked of players with significant experience, like Jordan.
For now, though, the job appears to be Taylor's to lose.
Studrawa commented on Taylor's progression after spring practices.
OHIO STATE'S OFFENSIVE LINEMEN

| NO. | NAME | POS. | HT. | WT. | YEAR | HOMETOWN (HIGH SCHOOL) |
| --- | --- | --- | --- | --- | --- | --- |
| 50 | NATHAN BROCK | OL | 6-4 | 288 | JR | Powell, Ohio (Olentangy Liberty) |
| 52 | WYATT DAVIS | OL | 6-4 | 313 | RS FR | Bellflower, California (St. John Bosco) |
| 54 | MATTHEW JONES | OL | 6-4 | 299 | FR | Brooklyn, New York (Erasmus Hall) |
| 58 | JOSHUA ALABI | OL | 6-5 | 305 | RS JR | Detroit, Michigan (Cass Tech) |
| 59 | ISAIAH PRINCE | OL | 6-7 | 310 | SR | Greenbelt, Maryland (Eleanor Roosevelt) |
| 60 | BLAKE PFENNING | OL | 6-5 | 292 | SR | Wapakoneta, Ohio (Wapakoneta) |
| 61 | GAVIN CUPP | OL | 6-4 | 308 | RS SO | Leipsic, Ohio (Leipsic) |
| 62 | BRANDON PAHL | OL | 6-2 | 299 | SR | Cutler, Ohio (Warren) |
| 63 | KEVIN WOIDKE | OL | 6-6 | 300 | SR | Cleveland, Ohio (St. Ignatius) |
| 66 | MALCOLM PRIDGEON | OL | 6-7 | 310 | RS SR | Central Islip, New York (Central Islip) |
| 71 | JOSH MYERS | OL | 6-5 | 308 | RS FR | Miamisburg, Ohio (Miamisburg) |
| 73 | MICHAEL JORDAN | OL | 6-7 | 312 | JR | Canton, Michigan (Plymouth) |
| 74 | MAX WRAY | OL | 6-7 | 305 | FR | Franklin, Tennessee (Franklin) |
| 75 | THAYER MUNFORD | OL | 6-6 | 319 | SO | Cincinnati, Ohio (Massillon Washington) |
| 76 | BRANDEN BOWEN | OL | 6-7 | 312 | RS JR | Draper, Utah (Corner Canyon) |
| 77 | NICHOLAS PETIT-FRERE | OL | 6-5 | 288 | FR | Tampa, Florida (Berkeley Prep) |
| 78 | DEMETRIUS KNOX | OL | 6-4 | 312 | RS SR | Fort Worth, Texas (All Saints Episcopal) |
| 79 | BRADY TAYLOR | OL | 6-5 | 295 | RS SR | Columbus, Ohio (Bishop Ready) |
"Brady did really well this spring," Studrawa said. "He got more consistent. I needed him to do some certain things and I still need to see him do some certain things based on what we do in our offense with the center position. So he has to grow with some other things we're working on this summer and being a powerful run blocker is one of them. But Brady had a good solid spring and it's going to be a battle when the fall comes, there's no doubt."
One would think that a transition wouldn't take place this late into the process. But stranger things have happened. If Jordan makes the move to center, it could open a position in the starting lineup for Bowen, who missed the last six games of last season with a broken tibia and fibula.
Speaking of Bowen, he's in a strange medium. Most seem to believe that Knox will retain his starting role at right guard. However, it's important to note Bowen's production before he suffered his leg injury.
Coming in as the rookie within last year's starting five, Bowen saw 388 plays in his first six contests — a leading stat in the position group. He was also named a team "champion" by coaches after wins over Indiana and Army.
There's no denying Bowen's talent. But has he done enough to win back his starting role? That's to be determined.
Position Outlook
In an overall sense, Ohio State ranked 17th in the nation in rushing offense — 243.2 yards per game — and 36th in passing offense — 262.8 yards per game — in 2017.
Buckeye quarterbacks were sacked 22 times, tied for 42nd-lowest in the Football Bowl Subdivision and an average of 1.57 each outing.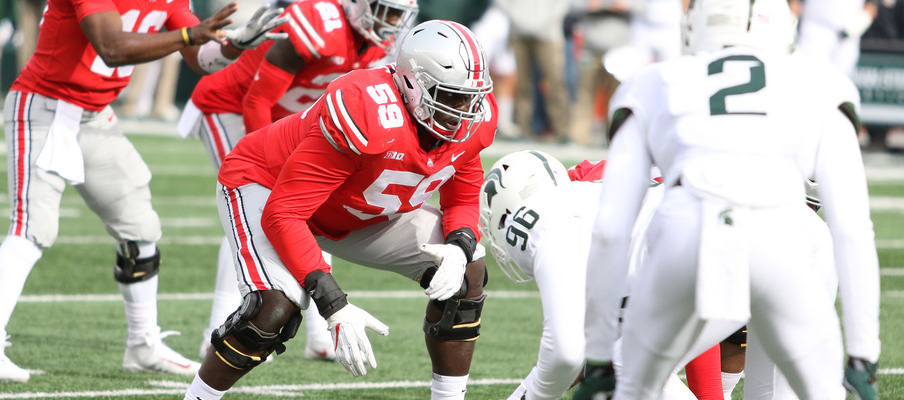 That same unit ranked eighth in adjusted line yards at 119.8, fifth in standard downs line yards per carry at 3.46, third in stuff rate at 12.2 and second in opportunity rate at 46.1.
If you're familiar with those statistical categories, you know Ohio State put up good numbers. If you're not, the explanations to each category can be found here.
The Buckeyes have a reputation of developing superb offensive line play. Studrawa, who's in his third season with Ohio State, has coached the Big Ten's Offensive Lineman of the Year in each of his first two seasons.
With size, experience, depth and talent, Buckeye fans should feel good about who their program has recruited to protect Haskins and company.
The group oozes talent.
Are there still questions to be answered? Yes. Does anybody but Meyer know the five names who will start on Sept. 1 against Oregon State? He may not even know.
But the Buckeyes will send out the five athletes they feel are best suited to get the job done, and they've made that clear. And whoever that five may be, they've been coached and conditioned to get the job done in a resounding way.
Saying that this offensive line unit could emerge as one of Ohio State's greatest strengths isn't a huge stretch of the imagination.