Ohio State could be in the process of moving its most experienced guard to the center position for the third year in a row.
The Buckeyes appeared to be at least considering that possibility during their fourth practice of fall camp on Tuesday – the first practice that was open to the media this preseason – when Michael Jordan, Ohio State's starting left guard for the past two seasons, took snaps at center.
In the early portion of practice that was open to all media, Jordan was simply seen snapping the ball in various drills, with Brady Taylor still lining up at center with the first-team offensive line.
Big Ten Network representatives, however, were allowed to watch more of the practice, and BTN's Dave Revsine posted a video from later in the practice that appeared to show Jordan working as the center with the first-team offensive line – with Malcolm Pridgeon taking his place at left guard – during a team drill.
Been fun to watch Chase Young today - will be a handful, to say the least pic.twitter.com/Me9wb5zKpT

— Dave Revsine (@BTNDaveRevsine) August 7, 2018
The Buckeyes' decision to experiment with the possibility of moving Jordan to center shouldn't come as a huge surprise, considering that they have placed a huge premium on experience at the position – which Ohio State head coach Urban Meyer has described as the "apex" position – in recent years.
In each of Greg Studrawa's first two seasons as Ohio State's offensive line coach, the Buckeyes have followed the same formula of sliding their most experienced guard one spot over to man the middle of the line. In 2016, Pat Elflein moved from right guard to center for his fifth-year senior season, and he won the Rimington Trophy. In 2017, Billy Price made the same move for his fifth-year senior season, and he also won the Rimington Trophy.
Jordan is just a true junior, but he was a first-team All-Big Ten left guard for the Buckeyes last year, and he offers the same potential to be one of the best centers in the country.
Ultimately, though, Ohio State's decision on whether to move Jordan to center or keep him at left guard might have more to do with the Buckeyes' other interior offensive linemen than it has to do with Jordan himself.
Taylor, Ohio State's backup center for the past two seasons, could still emerge as the starting center for this season. This is Taylor's last chance, as a fifth-year senior, to seize a spot in the Buckeyes' starting lineup, and he has drawn praise from his coaches and teammates dating back to the spring.
"Brady did really well this spring," Studrawa said after the conclusion of spring practices. "He got more consistent. I needed him to do some certain things and I still need to see him do some certain things based on what we do in our offense with the center position. So he has to grow with some other things we're working on this summer and being a powerful run blocker is one of them. But Brady had a good solid spring and it's going to be a battle when the fall comes, there's no doubt."
Redshirt freshman Josh Myers, who made the move from guard to center in the spring, could also still be a contender to earn the starting job at the position.
That said, the Buckeyes also have at least three potential candidates to start at guard outside of Jordan, including another fifth-year senior in Pridgeon, who is also looking to crack the starting lineup for the first time and drew considerable praise for his improvement this spring.
"He's a big, powerful man," Studrawa said of Pridgeon after spring practices. "I couldn't be more excited about him. That's going to be a battle there, too, to find a place where that guy's going to play."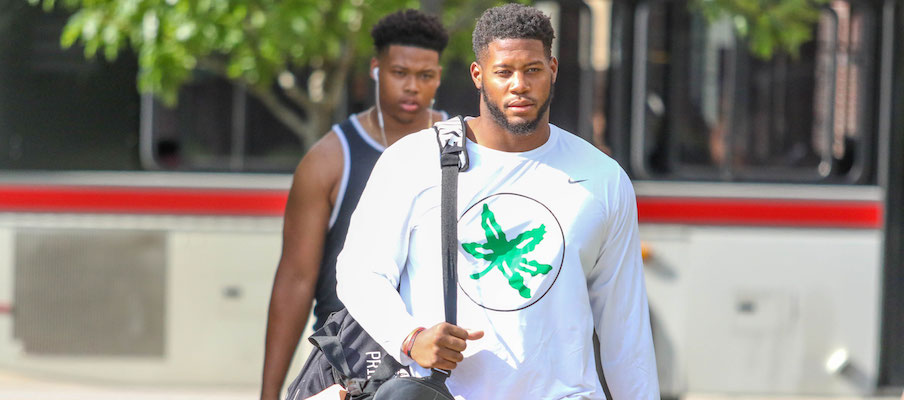 Demetrius Knox, who started the final eight games of last season at right guard, appears to be in line to remain the starter at that spot, but Branden Bowen, who started the first six games of last season at right guard before fracturing his tibia and fibula, is also a candidate to earn his way back into the starting lineup that he is back on the field practicing.
Redshirt freshman Wyatt Davis – a five-star recruit in 2017 – could also thrust his way into the competition for a starting guard spot.
All together, that quartet of players gives the Buckeyes the depth they need at the guard position to move Jordan to center if they ultimately decide that to be in their best interest.
Ohio State's objective is to form a lineup that puts its best five offensive linemen on the field, and Meyer – who is currently on paid administrative leave and unable to evaluate the competition taking place in fall camp – said at Big Ten Media Days that he "would be disappointed" if the Buckeyes had to field a lineup that didn't consist of their best five offensive linemen.
Jordan, of course, still must prove that he is capable of making the transition to center – and handling the snapping and the responsibility of calling out plays that comes with it – for the Buckeyes to make that move. If he does, though, that flexibility will make it easier for Ohio State to determine its best five, and where he plays will likely be determined by who else joins him among that best five.
Jordan and fellow third-year starter Isaiah Prince are locks to be among that five, while Knox is widely expected to be, too. Thayer Munford, who is currently running as the first-team left tackle, also appears likely to be in that five.
If all of that is true, then it's likely the last spot will come down to Taylor, Pridgeon and Bowen.
Should Pridgeon or Bowen prevail, that could mean Jordan snapping the ball to Dwayne Haskins when Ohio State plays Oregon State in its season opener on Sept. 1.