Ohio State's lack of production at the tight end position in recent years has been well-documented. Will this be the year that finally changes?
A look at the talent that the Buckeyes have at the other skill positions, combined with their lack of experience at tight end, would suggest it probably won't be. While none of Ohio State's tight ends have ever started a game for the Buckeyes, they return all six of their wide receivers who played regularly last season and a pair of star running backs.
It's arguable, though, that Ohio State's current roster of tight ends is its most talented roster of tight ends in several years. And despite their inexperience, Ohio State's coaches have expressed confidence that they could have as many as four tight ends who are capable of making a significant impact on the team this season.
Our Season Preview continues to by taking a look at those tight ends and forecasting what kind of impact they could realistically make for the Buckeyes this season.
What We Know
Although he played only 107 snaps, appeared in only eight games and caught only two passes for 19 yards last season, Luke Farrell is in line to be the Buckeyes' starting tight end this season. Ohio State head coach Urban Meyer said as much after the spring game, and reiterated during Big Ten Media Days that Farrell would begin fall camp with the first-team offense.
Season Previews
That means that Farrell has moved ahead of Rashod Berry, who played the most snaps (215) among returning tight ends last season, catching six passes for 100 yards and two touchdowns and seeing the field in every game. Berry is still somewhat raw as a tight end, having switched between that position and defensive end on multiple occasions in his Ohio State career, but the 6-foot-4, 255-pound redshirt junior is one of the most freakish athletes on the team.
While Berry isn't in line to start, Meyer said he has been impressed with his development, along with that of redshirt sophomore tight end Jake Hausmann, who is looking to earn more playing time after seeing just nine snaps in three games last season.
"Rashod Berry's had a great summer, and so has Jake Hausmann," Meyer said on July 24, the last time any Ohio State coaches or players spoke to the media before Meyer was placed on paid administrative leave.
The newest tight end on the roster is Jeremy Ruckert, a four-star freshman from Lindenhurst, New York, who was ranked as the second-best tight end in the recruiting class of 2018. But while we don't know how ready he is to play at the collegiate level, Ohio State's coaches have expressed that they expect him to play this season.
"Unless something happens, Jeremy will play," Meyer said.
A trio of walk-ons – Brock Davin, Tate Duarte and Derrick Malone – complete Ohio State's roster of tight ends.
What We Don't Know
Once again, the biggest question surrounding the tight ends going into the year is whether the Buckeyes will start throwing the ball their way more regularly.
Ohio State's Tight Ends

| No. | Name | Pos. | Ht. | Wt. | Year | Hometown (High School) |
| --- | --- | --- | --- | --- | --- | --- |
| 37 | DERRICK MALONE | TE | 6-5 | 245 | SR | Dayton, Ohio (Thurgood Marshall) |
| 38 | RASHOD BERRY | TE | 6-4 | 255 | RS JR | Lorain, Ohio (Lorain) |
| 48 | TATE DUARTE | TE | 6-5 | 245 | SR | Poland, Ohio (Poland) |
| 81 | JAKE HAUSMANN | TE | 6-4 | 245 | RS SO | Cincinnati, Ohio (Archbishop Moeller) |
| 84 | BROCK DAVIN | TE | 6-3 | 235 | JR | Cincinnati, Ohio (St. Xavier) |
| 88 | JEREMY RUCKERT | TE | 6-6 | 240 | FR | Lindenhusrt, N.Y. (Lindenhurst) |
| 89 | LUKE FARRELL | TE | 6-6 | 250 | RS SO | Perry, Ohio (Perry) |
While Ruckert has the potential to be Ohio State's best pass-catching threat at the position in many years, and Berry and Farrell have both flashed playmaking ability as receivers, Ohio State's offense simply hasn't emphasized throwing the ball to tight ends since Meyer's arrival – and the Buckeyes have plenty of other, more experienced weapons at wide receiver and running back that Dwayne Haskins and Tate Martell could throw the ball to.
Beyond that, questions remain about the abilities of all four Ohio State tight ends, considering that none of them have seen significant playing time for the Buckeyes (or in Ruckert's case, any at all).
Earning the starting job suggests that Farrell has demonstrated he can be both a reliable intermediate pass-catcher and a strong blocker, but now he has to prove it in real game action. Berry has shown an ability to make big plays, but he must demonstrate more consistent fundamentals – especially as a run blocker – in order to earn more consistent playing time.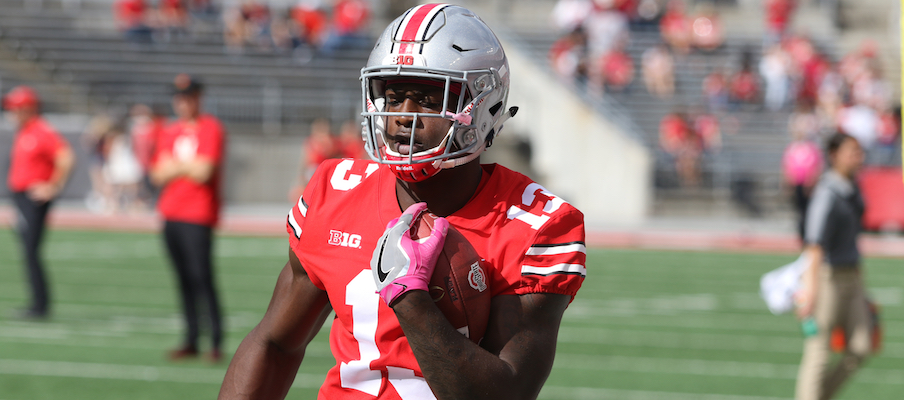 Ruckert is likely gifted enough to make an immediate impact as a pass-catcher, but whether he will be strong enough to block collegiate defenders this season is a complete unknown, and will likely determine how much playing time he earns.
If Farrell, Berry, Hausmann and Ruckert all perform well enough to demonstrate that they deserve a role in the offense, then the other big question will be determining how to divide playing time among them.
Ohio State experimented with some two-tight end sets during the latter part of last season, and offensive coordinator and tight ends coach Kevin Wilson suggested at the conclusion of spring that the Buckeyes could use them more often this year.
"I like it when you can go from 12 (personnel) and still spread out. In a perfect world, when you can move guys around, it puts a lot of stress on the defense," Wilson said. "We did it more this spring than we did last year. We'll see if we can keep it moving, especially with Jeremy coming in as we have more depth."
The problem with using more two-tight end sets, though, is they mean playing one less wide receiver, a position where the Buckeyes could face even tougher decisions about how to divide playing time. So the Buckeyes will have to determine whether playing two tight ends at once on a regular basis would actually be to the benefit of their offense.
If not, it could be difficult for the Buckeyes to get more than two tight ends into the rotation regularly.
Position Outlook
Even though the entire roster at the position is unproven, there's reason to believe Ohio State's tight ends could be better this season. While Marcus Baugh was a solid tight end who provided adequate play as both a receiver and blocker, Farrell could be an upgrade as a blocker while Berry and Ruckert are gifted athletes who could offer a different level of field-stretching playmaking ability from the position.
Ruckert, in particular, enters the season as an intriguing player to watch because of how highly touted a recruit he was. He likely won't be ready to be an every-down player in 2018, as he'll be expected to block much more at Ohio State than he was in high school, but he has the natural athleticism and receiving ability that could enable him to emerge as a real pass-catching threat in Ohio State's offense – and present another challenge to opposing defenses – by the end of the year.
"I think Ruckert's going to be in that line to be that really good receiving guy," Wilson said this spring. "Very natural, just naturally fluid."
Because the group as a whole is inexperienced, and there are so many other pass-catching options around them, it's hard to predict this to be the year that the Buckeyes will have a sudden uptick in tight end receiving production. Realistically, though, the Buckeyes might not need their tight ends to make more substantially more plays in order for their offense to be better.
With J.K. Dobbins and Mike Weber running the ball behind them, the most important role for Ohio State's tight ends will continue to be blocking effectively in the running game. The coaches' hope is that Farrell can do that consistently, and that Berry, Ruckert and Hausmann can also do so when called upon.
In the passing game, it's likely that the wide receivers – including Parris Campbell, K.J. Hill, Austin Mack and Binjimen Victor, among others – will continue to see the majority of the targets. But if Farrell can make some catches in the intermediate passing game and red zone to move the chains and score touchdowns, and Berry and/or Ruckert can add some big plays from the position, the tight ends still have the potential to provide a significant spark to Ohio State's offense.