While Luke Farrell has already been named as Ohio State's starting tight end coming out of spring, there could still be opportunities for at least one more Buckeyes tight end to see substantial playing time.
Although Rashod Berry entered this past spring as the frontrunner to start at tight end, while Jeremy Ruckert is set to arrive this summer as the most highly touted tight end recruit of the Urban Meyer era, Farrell separated himself during spring practice as the Buckeyes' top tight end in the eyes of his coaches. According to offensive coordinator and tight ends coach Kevin Wilson, the biggest way in which Farrell separated himself from his peers this spring was the improvement he demonstrated as a blocker.
"I think initially, he can be at the point of attack as good a blocker or maybe better than Marcus (Baugh, Ohio State's starting tight end in 2016 and 2017) was a year ago," Wilson said following the conclusion of spring practices. "I think Luke's going to be stronger. I think he's going to hold the point and be more physical at the point of attack. I think he'll be better in pass pro."
But while Wilson believes Farrell can be an upgrade over Baugh as a blocker, he also believes Baugh offered more athleticism and playmaking ability than Farrell as a receiver.
"I don't know if he'll flash on some of those pass plays where Marcus would hurdle over somebody. Not that Luke's not athletic, but Marcus was a very, very good pass receiver," Wilson said. "(Farrell)'s pretty good in the passing game, it's just Marcus was a very athletic, natural receiving tight end. Marcus sometimes could run routes and you thought it was a wide receiver if you didn't know who was who. So Luke is not a poor receiver, I just think that was Marcus's definite strength."
Last season, Baugh played the vast majority of snaps among Ohio State's tight ends. While Baugh was on the field for a total of 706 offensive plays, the Buckeyes' other tight ends – Berry, Farrell and Jake Hausmann – combined to see the field for just 331 offensive plays.
That said, the difference between Baugh's ability as a receiver and Farrell's ability as a receiver opens the door for a No. 2 tight end to see more playing time this season if he can show comparable playmaking ability to that which Wilson believes Baugh brought to the offense.
Even though Wilson said he thinks Farrell, a redshirt sophomore, "is going to be very, very complete and competent," he also said he expects the Buckeyes to complement him by playing other tight ends as well.
"I think we're going to need three guys playing to get a great group there," Wilson said. "I think we're finally going to get that group to have value, instead of just one guy. When I got here (last year), we had one guy (Baugh) and a bunch of young guys. I think our group can have value, and I think we're going to need our group."
Berry, who missed time this spring after suffering a pair of stingers, might still be the top candidate to see significant playing time at tight end in a complementary role. Berry has demonstrated the athletic potential to be a dangerous weapon in the passing game, but Wilson and his fellow coaches still want to see more out of the redshirt junior.
"Rashod is very, very, very talented," Wilson said. "We've got to keep him coming along."
Hausmann, who played only nine total snaps last season as a redshirt freshman, demonstrated the necessary improvements this spring to also potentially see more playing time this fall.
"Jake Hausmann really started to progress this spring," Wilson said.
The wild card of the group, though, is Ruckert, who Meyer has said "might be the best tight end prospect" he has ever recruited. Ruckert has yet to even practice with the Buckeyes, and Wilson says he'll need to demonstrate he can hold up as a blocker in order to see significant playing time this season.
"It's a developmental position, so for him to really play significantly, how strong is he in the blocking game? And how does he hold up? Because you're going to have to block defensive ends," Wilson said.
At the same time, Wilson believes Ruckert has a skill set as a pass-catcher that could make him an immediate asset, which gives him a shot to earn a role in the offense as a true freshman.
"It will be interesting, because he's very talented but very much so in a skill setting, as a big receiver and great in the passing game," Wilson said. "I think he'll be in the mix to play early as a receiver. And to be a complete player, is he strong enough and mature enough to block?"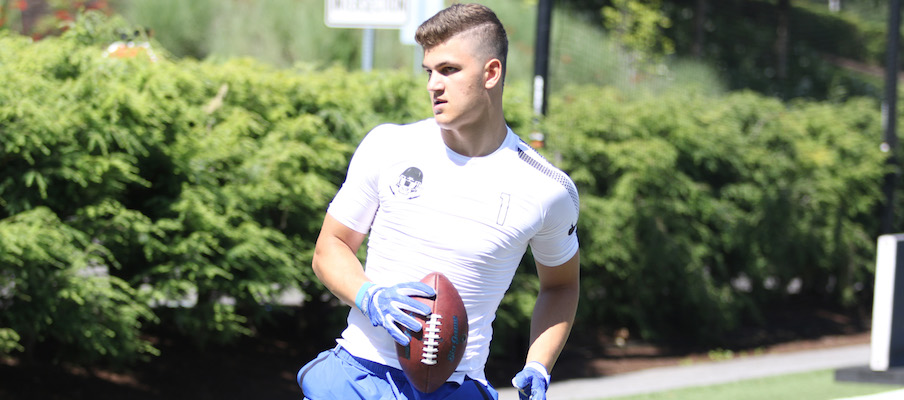 With four tight ends who all have the potential to make an impact for the Buckeyes this season, Wilson said the Buckeyes did implement more two-tight end sets in spring practice than they did last season, making it possible that they could also use them more in games this fall.
"I like that a lot. Not because it's my guys, but I like it when you can go from 12 (personnel) and still spread out. In a perfect world, when you can move guys around, it puts a lot of stress on the defense," Wilson said of using two-tight end sets. "If we can keep that tight end group coming along, we'll have a lot of toys to play with and move guys around."
There's still reason to be skeptical about how much extra playing time there might be to go around for Ohio State's tight ends, not only given that the Buckeyes only used two-tight end sets sparingly last season, but that they have also discussed using two-running back sets and are deep at wide receiver. In order to put two tight ends on the field, the Buckeyes will need to take other talented skill-position players off the field, which could make it a tougher sell.
Additionally, Meyer's offenses at Ohio State have not had a reputation for utilizing their tight ends as regular pass-catchers. Through Meyer's first six seasons as Ohio State's head coach, the Buckeyes' tight ends have never combined to catch more than 37 total passes in a year.
Ohio State's offense is expected to attack defenses in different ways this season, however, with Dwayne Haskins taking over as the starting quarterback, and one way for the Buckeyes to do that could be to use two-tight end packages and throw to the position more regularly – especially if Ruckert, Berry or Hausmann can emerge as a playmaking complement to Farrell.