To be successful in college football, a sport in which teams must replace key players and integrate new players into their offenses and defenses each year, a coaching staff must be willing to make adjustments in order to fit its personnel.
When asked this spring how Ohio State would go about doing that, Buckeyes head coach Urban Meyer said the first step at the end of spring would be to figure out who the players are that their offense and defense would need to be built around.
"At the end of spring we'll list our top 20 players in order on offense and defense, and that will determine what kind of style offense and defense we are," Meyer said.
We decided to take a look at who those 20 players on each side of the ball could be, starting on offense.
Ohio State's most distinct adjustments for the 2018 season from the 2017 season are expected to be seen on offense, where second-year offensive coordinators Ryan Day and Kevin Wilson – along with Meyer – will be tasked with retooling the Buckeyes offense around a new quarterback. And how the offense ultimately looks this fall could depend significantly upon whether Dwayne Haskins, Joe Burrow or Tate Martell is named as the starting quarterback after all three competed for the opportunity to replace J.T. Barrett this spring.
"There's been times we've been more of a downhill (offense), there have been times we've been more of a perimeter run game. That's going to be dependent upon who our best players are," Meyer said. "And obviously, we've got a little different style quarterback, potentially. If it's Dwayne, a little bit different (from Barrett). Joe can do both (pass and run), and Tate's a little bit more in the J.T. mold (as a running quarterback.
"The good thing," Meyer added, "is it's very flexible. You can't name a play that we don't have. It's fitting that together with our personnel."
(Update: Joe Burrow announced Tuesday that he has decided to transfer from Ohio State. The following rankings have been updated to reflect Burrow's decision.)
The Buckeyes haven't released a post-spring depth chart (they typically don't), nor have they have even named a starting quarterback yet, at least not publicly. But by looking back at what we've seen from players in past seasons and this spring, who drew praise from their coaches this spring and who received the most first-team reps this spring, we can speculate on which Buckeyes will make the lists of players that the coaches build their game plans around.
Note: The following rankings are not intended to project who Ohio State's top-performing offensive players will be this season, but rather to project which players are on the coaches' post-spring list of top offensive players and in what order.
1. J.K. Dobbins, RB
After breaking Ohio State's freshman rushing record with 1,403 yards last season, Dobbins is positioned to be the centerpiece of the Buckeyes' offense this season. While Dobbins will continue to split carries with Mike Weber, it would be a surprise if Dobbins isn't the starting tailback and if his already proven playmaking ability isn't heavily utilized.
2. Parris Campbell, WR/H-Back
Campbell's ability to make plays with the ball in his hands, with his versatility to do so as both a downfield receiver and an H-back out of the backfield, is likely to be another focal point of Ohio State's offense in 2018. The returning captain's standing among the coaching staff as one of the Buckeyes' top players is clear, with Meyer describing him as an "elite leader."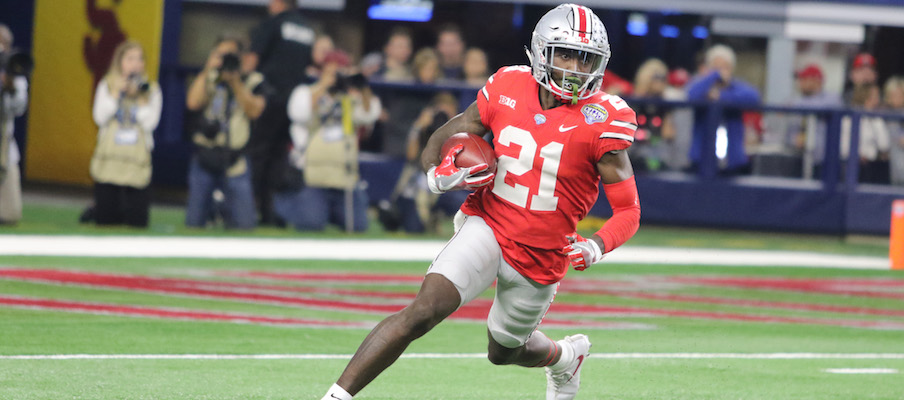 3. Michael Jordan, LG
Despite missing the spring while recovering from shoulder surgery, Jordan is still Ohio State's top offensive lineman as he enters his third season as the Buckeyes' starting left guard. The only returning player among four Buckeyes who earned first-team All-Big Ten honors in 2017, Jordan is expected to be a leader up front following the departures of fellow first-team all-conference linemen Billy Price and Jamarco Jones.
4. Terry McLaurin, WR
McLaurin, like Campbell, is a returning captain who has also been described as an "elite leader." Some will argue that McLaurin should be lower on this list, as there are other receivers who have shown more actual receiving ability, but his standing as one of Meyer's favorite players on the team is clear, and he is the Buckeyes' best perimeter blocker.
5. Isaiah Prince, RT
Like Jordan, Prince is entering his third season starting on the offensive line and is expected to be a leader for that unit this year. His standing might have dropped a bit this spring, as he failed to lock down the left tackle position that he was originally slated for, but he's still locked in as a starter at right tackle after demonstrating tremendous improvement at that spot last season.
6. Mike Weber, RB
After rushing for 19 touchdowns and more than 1,700 yards in his first two playing seasons at Ohio State, Weber would be the starting running back for the vast majority of teams in college football. He likely won't be for the Buckeyes because of Dobbins, but he should still plenty of carries in the rotation, while Ohio State has also worked on potentially implementing a two-back set.
7. K.J. Hill, WR
Like Jordan, Hill missed the spring while recovering from shoulder surgery and like Weber, Hill could be blocked out of the starting lineup by another one of the Buckeyes' top offensive players (Campbell). Hill led the Buckeyes in receptions despite coming off the bench behind Campbell last season, though, and should continue to play in heavy rotation at slot receiver.
8. Austin Mack, WR
Mack started 11 games for Ohio State last season at X receiver, and appears primed to remain the Buckeyes' top player at that position once again this year. He wasn't a consistent target for Barrett last year, but he has flashed promising potential and could potentially flourish in an offense that places a greater emphasis on downfield passing.
9. Johnnie Dixon, WR
Like Campbell and McLaurin, Dixon is a fifth-year senior who also appears in line to be a leader for the Buckeyes' offense this year. He's stuck behind McLaurin on the depth chart and only caught 18 passes last season, but turned those into eight touchdowns and still see regular playing time in the Buckeyes' wide receiver rotation.
10. Demetrius Knox, RG
Knox performed well after taking over as the starting right guard for the final eight games of last season, and he was treated like an established starter at the position this spring. While Branden Bowen could still get a shot to earn the job back in fall camp, the job appears to be Knox's to lose at this point, while Knox is also another fifth-year senior who could emerge as a leader for the Buckeyes offense this season.
11. Thayer Munford, LT
The only reason Munford isn't higher on this list is that unlike the 10 players above him on this list, he has yet to start a game or see substantial playing time for the Buckeyes. That said, Munford was as consistently praised as any player on the entire team this season, and appears set to take over as the Buckeyes' starting left tackle. Joshua Alabi will have a chance to continue to compete for that spot in fall camp, but it's clear Munford is held in very high regard by his coaches.
12. Luke Farrell, TE
After playing only occasionally for the Buckeyes last season, Farrell was named as Ohio State's starting tight end this spring after separating himself from the Buckeyes' other returning players at the position. Farrell was also named by Meyer as one of the Buckeyes' most improved players this spring, so he'll certainly be taken into account as Ohio State works on designing its offense over the summer.
13. Dwayne Haskins, QB
Whoever wins Ohio State's starting quarterback competition will certainly be far more than the 13th-most important player in the Buckeyes' offense this fall, but as of now, Ohio State has yet to name a starting quarterback and none of the quarterbacks on the roster have ever started a game for the Buckeyes. Haskins, though, has demonstrated the potential to be a star passer for the Buckeyes and is the quarterback who most expect to win the job. As mentioned by Meyer, Haskins is also the quarterback who could lead to the biggest adjustments for Ohio State's offense, as he is a better deep thrower but a less inclined runner than Barrett. (Update: Haskins became Ohio State's presumptive starting quarterback after Joe Burrow announced his decision to transfer on Tuesday.)
14. Brady Taylor, C
Like the starting quarterback, the starting center will certainly be far more than the 14th-most important player in the Buckeyes' offense this fall. But while Taylor was named as the starting center at the end of spring, offensive line coach Greg Studrawa also indicated that he expects Josh Myers to continue pushing for that job in preseason camp. So while Taylor appears to be in line to play a crucial role for the Buckeyes offense this season, his role within the offense doesn't appear to be as secure as most of the players on this list above him.
15. Joe Burrow, QB
Burrow's inclusion on this list behind Haskins comes with an asterisk, as Burrow graduated from Ohio State on Sunday and indicated after the spring game that he would likely transfer if he did not win the starting job. If Burrow stays, though, it's presumable that he and Haskins will be right near each other on the coaches' offensive player rankings – regardless of who is in front – after Meyer said there was little separation between the quarterbacks this spring. An offense in which both Haskins and Burrow play regularly probably isn't going to happen, but they're surely both among the Buckeyes' top 20 offensive players if they remain on the roster. (Update: Burrow announced his decision to transfer from Ohio State on Tuesday.)
15. Branden Bowen, RT/RG
Bowen started Ohio State's first six games last year at right guard before suffering a season-ending leg injury. Now that Knox appears to be an established starter at that spot, however, Bowen is expected to move back to tackle. He missed the entire spring while continuing to recover from that broken leg, but once he's healthy, he should be one of the Buckeyes' top offensive line backups with his experience playing both tackle and guard.
16. Tate Martell, QB
While Ohio State's starting quarterback is expected to be Haskins, Martell competed for the job all spring and was praised by his coaches for his development and running ability. As such, it appears that Martell will rank among the top 20 offensive players on the coaches' depth chart for the upcoming season, and if so, the Buckeyes could find a way to get him on the field situationally to take advantage of his ability to make plays with his feet.
17. Malcolm Pridgeon, LG
Pridgeon's coaches and fellow offensive linemen talked about him this spring as if he was a starter. The Buckeyes don't actually have a starting spot available to him on the offensive line, but they sound inclined to find a way to get the fifth-year senior – who worked with the first-team offensive line in place of Jordan all spring – on the field for the more significant playing time that he has earned.
18. Binjimen Victor, WR
Although Victor was one of Ohio State's six wide receivers who played regularly last season, he played all the way into the final series of the spring game – after all of Ohio State's other first-team or equivalent players were out of the game – because Meyer felt like he needed to see more from the rising junior. It would still come as a surprise if Victor isn't in the rotation – considering that Meyer has also described him as one of the most talented receivers he's ever had – but his standing on the depth chart doesn't appear as solid as the Buckeyes' top five receivers.
19. Demario McCall, WR/H-Back
With six receivers and two running backs ahead of him, McCall still appears to be on the outside looking in for a spot on the offensive two-deep, but he's too talented for the Buckeyes not to find a way to incorporate him in their offense this year. Returning kickoffs and punts are expected to be his top priority, but his combination of speed and agility give him the potential to be a real spark for the offense, too.
20. Joshua Alabi, LT
Alabi had a "tremendous spring," according to Studrawa, and will have a chance to competing with Munford for the starting left tackle job in preseason camp as a result. It still seems unlikely that he'll beat out Munford, considering how highly Munford was praised this spring, but the Buckeyes could be inclined to find a way to get him on the field for more playing time than just mop-up duty.
Other Candidates
Because of the impressive depth that Ohio State has built up on its roster, it's tough to pick just 20 players who could make an impact for the Buckeyes offense this season, as there are several others who could also factor in to play significant roles.
Like Alabi, Josh Myers is expected to continue competing for a starting spot in preseason camp, as Brady Taylor is not yet locked in as Billy Price's replacement at center, so he could easily be in the top 20 as well.
Meyer said after the spring game that he believed Jaylen Harris was "very close to being in the rotation" at wide receiver, so he also could certainly be in the coaches' top 20. Former walk-on C.J. Saunders was recently placed on scholarship, suggesting that he could also be making a push for a spot in the rotation after seeing some playing time at wide receiver last season.
Rashod Berry, the presumed frontrunner to start at tight end entering the spring, was set back by stingers this spring but has the talent to earn more playing time if he can have a strong preseason camp.
Ohio State's post-spring top twenties presumably won't include any players who haven't arrived on campus yet, but highly touted tight end Jeremy Ruckert is another candidate to push for significant playing time when he arrives on campus this summer. H-back Jaelen Gill and offensive tackle Nicholas Petit-Frere also offer that potential, though the amount of talent on the depth chart at their respective positions could steepen their paths to immediate playing time.
While the top 12 to 14 players on the above list should be safe in terms of their standing as significant players in Ohio State's 2018 offense, the rest will face plenty of competition from other Buckeyes who could make a strong case for playing time.