Ohio State's loss could be a big gain for someone else.
Joe Burrow's decision to transfer from Ohio State on Tuesday didn't come as a big surprise, as the redshirt junior quarterback and recent Ohio State graduate had previously stated on multiple occasions that he would consider transferring if he didn't win the starting job.
But while Ohio State will now proceed forward with Dwayne Haskins as its likely starting quarterback, Burrow also has the potential to be one of college football's best quarterbacks, and as such, the graduate transfer should immediately become the top player available on college football's version of a free-agent market.
Burrow hasn't given any indication yet about where he might ultimately transfer to, only saying on Twitter that he has decided to "explore other options" and that he will decide where to play next year "in the coming weeks." That said, there are already several schools that have been rumored as potential destinations.
According to Land of 10's Ryan Donnelly, schools that are being considered as possible destinations for Burrow include Florida, LSU and Nebraska, while Cincinnati, Ohio and UCLA are also among the schools that could be in the market for the redshirt junior, who has two remaining years of eligibility and will be eligible to play immediately.
Its the first three schools that are expected to be major contenders here. An evaluation process will occur for other programs moving forward. https://t.co/gzJ2gOF0YH

— Ryan Donnelly (@L10Ryan) May 8, 2018
HuskerOnline.com's Sean Callahan, meanwhile, reports that LSU, Arkansas, Wyoming and Arizona State are among the schools "that have already shown early interest in Burrow."
Logical connections can be made between Burrow and many of those schools, as well as several others, but one consideration is likely to stand out above the rest as Burrow makes his decision: He's going to want to transfer somewhere that he can start immediately, and where he can be set up to succeed right away.
With that in mind, we take a look at 12 possible landing spots – starting with some of the most prominently rumored destinations – and break down why or why not each school might be a good fit for Burrow to finish out his collegiate career.
Florida
The Gators are rumored as an early frontrunner for Burrow, with 247Sports' Bill Greene among those who have heard Florida is interested in the quarterback. It makes sense: The Gators' quarterback situation is unsettled coming out of spring, and Florida head coach Dan Mullen is an Urban Meyer protege – which means Ohio State's head coach, along with the fact that he used to be Florida's head coach, could certainly be inclined to recommend Florida to Burrow, and vice versa, if asked for his opinion.
That said, the Gators do have other options to potentially be their starting quarterback – Feleipe Franks appears to be the frontrunner coming out of spring, while Kyle Trask and former Ohio State commit Emory Jones have also competed for the job – which could create enough uncertainty to deter Burrow unless he is guaranteed the starting job upon transferring. Mullen, who previously said that Florida wasn't planning to add a graduate transfer quarterback, said that nothing had changed after Burrow's decision on Tuesday night, according to SEC Country's Ryan Young.
LSU
Another marquee SEC program with an unsettled quarterback situation for the upcoming season, LSU has also been rumored as a landing spot for Burrow, with SEC Country's Sam Spiegelman reporting that "multiple sources on the Ohio State side have informed SEC Country that LSU is squarely in the mix for Burrow." According to The Advocate's Ross Dellenger, LSU coach Ed Orgeron said last week that it is "very possible" the Tigers could add a graduate transfer quarterback.
The Tigers had a three-way quarterback competition this spring between Myles Brennan, Justin McMillan and Lowell Narcisse, but LSU offensive coordinator Steve Ensminger – according to Dellenger – told all three quarterbacks why they had not been named the starter after the spring. So even though Brennan was a highly touted recruit, the door appears to be open for a quarterback with Burrow's talent to come in and take the job.
There is no clear connection between Burrow and LSU's coaching staff. That said, LSU has been granted permission to contact Burrow, according to a report from Sports Illustrated's Andy Staples.
Nebraska
Nebraska has always been rumored as a potential transfer destination for Burrow because of his family history. Burrow's father, Jimmy, played at Nebraska and was later an assistant coach there. Burrow's older brothers, Jamie and Dan, also played for the Cornhuskers.
From a roster standpoint, it makes sense, too: the Cornhuskers do not have a single quarterback eligible to play this year who has thrown a pass in a collegiate game. True freshman Adrian Martinez, who was also recruited by Ohio State, looks to be the frontrunner for the starting job coming out of spring, but Burrow's experience could certainly be coveted by the Cornhuskers.
According to Callahan, however, "it doesn't look like the Huskers are in the mix." New Nebraska coach Scott Frost apparently likes what he has seen from Martinez and his other young quarterbacks, and Burrow's dad told The Blade's Nick Piotrowicz last fall that they moved on from Nebraska after failing to receive an early offer from the Cornhuskers when he was initially recruited. It's also possible that Ohio State could block Burrow from transferring to Nebraska, considering that the Cornhuskers are set to play the Buckeyes in each of the next two seasons.
UCLA
Like Florida, UCLA stands out as a possible destination for Burrow because of Meyer's relationship with the head coach. Chip Kelly and Meyer are close friends, and Kelly's high-octane offensive system could certainly be appealing to Burrow while earning Meyer's recommendation.
The Bruins also have an unsettled quarterback situation, leaving the door potentially open for Burrow to transfer there and win the starting job. That said, the Bruins already have one graduate transfer from the Big Ten in former Michigan quarterback Wilson Speight, which could take them out of the market for Burrow and/or cross the Bruins off Burrow's list.
Boston College
Boston College is another school that makes the list in part because of Meyer's close ties to the head coach, Steve Addazio, who like Mullen was one of Meyer's offensive coordinators at Florida and remains one of Meyer's closest friends in the profession to this day. Addazio previously attempted to recruit Burrow to Boston College out of high school.
The Eagles' starting quarterback from last season, Anthony Brown, completed only 51.9 percent of his passes in 2017 and missed this past spring while continuing to recover from a season-ending knee injury. So while it isn't clear whether Boston College would actually be in the market for a graduate transfer, Burrow would presumably be an immediate upgrade.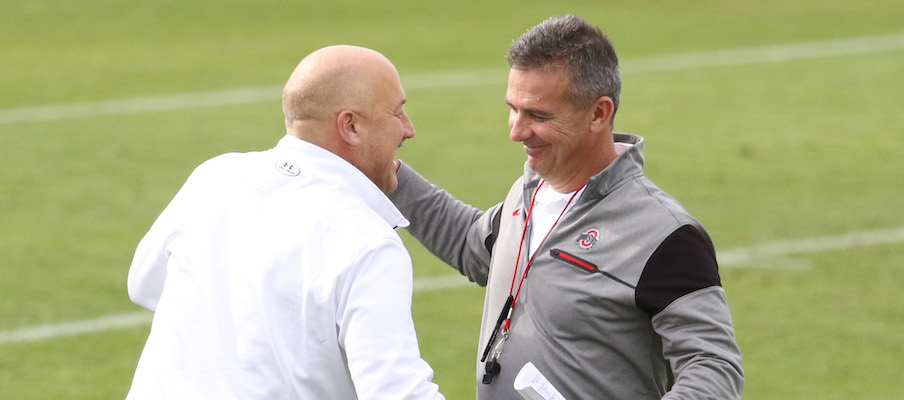 Cincinnati
If Burrow prefers to stay in his home state of Ohio, he could certainly be pursued by the second-biggest college football program in the state, whose head coach Luke Fickell already knows Burrow well from his time as an Ohio State assistant coach.
Hayden Moore is entering his third year as the Bearcats' starting quarterback, but Burrow would likely be an upgrade, and Cincinnati has also been granted permission to contact Burrow, according to Staples. That said, it's questionable whether Burrow would want to play in the American Athletic Conference when he should have interest from Power 5 programs.
Ohio
No potential landing spot has stronger ties to Burrow than Ohio University, where his dad Jimmy has been the defensive coordinator since 2005. Burrow grew up in Athens, and would certainly be an immediate fan favorite in his hometown.
Like Cincinnati, though, Ohio will have to compete against Power 5 schools for Burrow, who might have his sights set higher than playing in the Mid-American Conference.
Iowa State
Like Boston College, Iowa State was another school that recruited Burrow out of high school, and the Cyclones are led by one of the top offensive-minded young coaches in college football – Matt Campbell – who could also connect to Burrow with his own Ohio roots.
That said, the Cyclones have returning starting quarterback Kyle Kempt back on a sixth year of eligibility, and he played well enough last season to potentially keep the Cyclones from making a run at a quarterback who would expect to start immediately.
Texas
Considering that Tom Herman recruited Burrow to Ohio State back when he was the Buckeyes' quarterbacks coach, it's logical that Burrow could consider going to Austin to play for Herman and the Longhorns. That said, the Longhorns already have two talented quarterbacks in Sam Ehlinger and Shane Buechele, and while neither one has been named as the starter yet, they wouldn't simply be pushed aside for Burrow. That means Burrow would have to enter a three-way competition to start with no guarantees.
While Burrow's familiarity with Herman as well as fellow former Ohio State quarterbacks coach Tim Beck, who is now Herman's offensive coordinator at Texas, would presumably enable him to make a smooth transition into the Longhorns' offense, it might not be the right fit for either side because of the quarterbacks the Longhorns already have.
Arkansas
The Razorbacks are replacing their starting quarterback from last year, Austin Allen, and don't yet have a clear frontrunner to replace him.
The Razorbacks also don't have clear ties to Burrow, but if Burrow is interested in going to an SEC school where he could have a chance to start immediately, Arkansas could be as good of a choice as any.
Wyoming
A Mountain West school wouldn't stand out as an ideal landing spot for Burrow, but it just might if he has sights set on emerging as an NFL draft prospect over the next couple years. The Cowboys' starting quarterback of the past two seasons, Josh Allen, was just selected with the No. 7 overall pick in last month's NFL draft. Before going to Wyoming, Cowboys head coach Craig Bohl and offensive coordinator/quarterbacks coach Brent Vigen were at North Dakota State, where they helped Carson Wentz in his development to eventually become the No. 2 overall pick in the 2016 NFL draft.
Burrow would presumably be an immediate upgrade over redshirt freshman Tyler Vander Waal, who was named the Cowboys' starting quarterback coming out of spring practice.
Arizona State
The Sun Devils don't stand out as an obvious choice for Burrow, as they already have an established starting quarterback in Manny Wilkins, but new Arizona State coach Herm Edwards has already made it clear that he's not afraid to shake things up.
Edwards has expressed a desire to run his program like an NFL team, and bringing in a potential upgrade off the free-agent market would certainly fit the bill. Whether Burrow would want to go to Tempe to compete with Wilkins at a school where he has no obvious ties, however, seems questionable at best.