In case you haven't heard, Ohio State has a few quarterbacks on its roster with tremendous potential and contrary to what some might think, one of those players is J.T. Barrett. 
You also might have heard in recent days that the Buckeyes ran a plethora of run-pass options against Army, because they better fit Barrett's skill set. But what about preparing backup Dwayne Haskins for game action, should something happen to Barrett? 
Urban Meyer said Wednesday that the offensive coaching staff is attempting to strike a balance between putting together a game plan that fits Barrett's best traits, while also preparing Haskins - who has a different skill set - for his time when it comes. 
"It's good to have both, and I have had that before and they are somewhat different," Meyer said of Barrett and Haskins. "I don't know if it is drastically different, but it's somewhat different. The good thing is, we have it all."
The skill sets of each bring a different weapon to Ohio State's offense, that much is clear. Barrett's ability to execute the zone read and RPO plays have been a strength of his for four years, while Haskins finally got to show off his big arm against Army, completing all four of his passes for 46 yards in mop-up duty.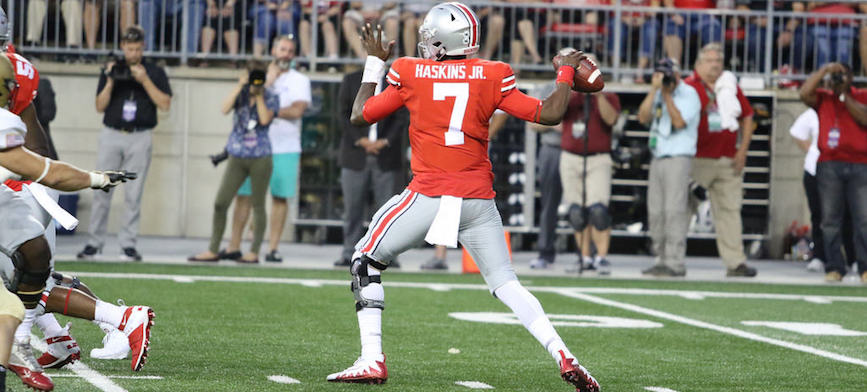 Perhaps lost in the shuffle has been Joe Burrow, who broke a bone in his throwing hand just before the season started. After missing the first three games, Burrow is back on Ohio State's depth chart and at about 90 percent health-wise, Meyer said Wednesday. 
The Buckeye head coach added that Burrow's skill set is almost a combination of Barrett's and Haskins'. 
"He is probably in between the skill sets," Meyer said. 
With the differences between Barrett and Haskins, both Meyer and offensive coordinator Kevin Wilson acknowledged the Ohio State offense changes, but only slightly. 
"Yes, a little bit," Meyer said when asked if the play calling changes from Barrett to Haskins. "Not drastically, but a little bit."
Wilson explained Monday that the plays aren't necessarily changing, but the progressions and reads for the quarterback will. Wilson used Ohio State's RPO scheme as an example when explaining the slight changes that happen when Barrett comes off and the pass-first Haskins comes in. 
"Years ago if you had one quarterback that was run-oriented and a quarterback that wasn't, it was like two different offenses," Wilson said Monday. "Now the difference is you can block the read player and let the throwing guy read a linebacker or a safety or perimeter player. If you have a running guy, you have him read the defensive end and let him be a run threat, but the linemen are blocking the same play."
Wilson has experience in playing with multiple quarterbacks in his career, especially at Indiana. In 2013, Hoosier quarterbacks Tre Roberson and Nate Sudfeld split time as Roberson played the role of the running threat while Sudfeld was the tradition drop-back passer. 
Now the offensive coordinator, Wilson said that while the play calling might look different, the changes are minute so as not to confuse the rest of the offensive players. 
"It's really not a new play, but a subtle adjustment," Wilson said. "Right now, J.T. has run options and throw options and when Dwayne is in, he had a couple of run options in the few plays he had (against Army). You play to the strength of the guys. It's not two different offenses, and that helps the right guard, and the receivers. It's not a big deal personally, but playing with what the (quarterback) can do."