If you were expecting Ohio State's offense to look drastically different with Kevin Wilson as offensive coordinator, you've probably been disappointed by the Buckeyes' first two games.
So far, Ohio State's 2017 offense has looked similar to its 2016 offense, and the results have been similar, too: good enough to overcome its flaws and put up big points and yards against a defense with lesser talent (Indiana), but unable to establish any rhythm against a defense with comparable talent (Oklahoma).
Wilson and co-offensive coordinator Ryan Day were expected to have a clearly noticeable and immediate impact on the offense after a full offseason of working with the Buckeyes, but that hasn't been the case yet.
One reason for that might be that Wilson, Day and Ohio State head coach Urban Meyer are still figuring out how to mesh their offensive philosophies together.
Meyer has insisted that Wilson, the most established offensive coordinator he's ever hired, will have as much influence over the offensive system as any coordinator he's ever had. Wilson has insisted that he's been able to call the plays he wants to call. So the problem might just be that Wilson and Day are unable to sprinkle pixie dust – to steal a phrase recently used by former Ohio State offensive coordinator Tom Herman – on the offensive personnel they inherited.
Meyer acknowledged Monday, though, that the offense did not flow well in the Buckeyes' first two games, with the exception of the second half against Indiana, in which Ohio State overcame a first-half deficit to end up posting 49 points and 596 total yards of offense on the Hoosiers.
The Buckeyes were held to just 350 yards of offense and one touchdown in their 31-16 loss to Oklahoma on Saturday, after which Wilson described his offense as "out of rhythm" and "very disjointed."
"We had some plays we missed. But we also had some things we need to do better, whether it be (play) calling, structure, even (game) planning," Wilson said. "Just putting us in better positions going through the weeks. A lot of work to do. And we'll work hard to get moving strongly in a great direction."
It perhaps shouldn't come as a surprise that Meyer and Wilson and Day are still working through the kinks of running an offense together, considering that the trio is in its first season of working together. Meyer, an offensive-minded head coach, has always exercised his influence over his teams' offenses. Wilson is used to being at the top of the coaching hierarchy, having been the head coach at Indiana for the past six years. Day brings his own unique set of influences and experiences, having been an NFL quarterbacks coach for the past two years and an offensive coordinator at Boston College and Temple for three years before that.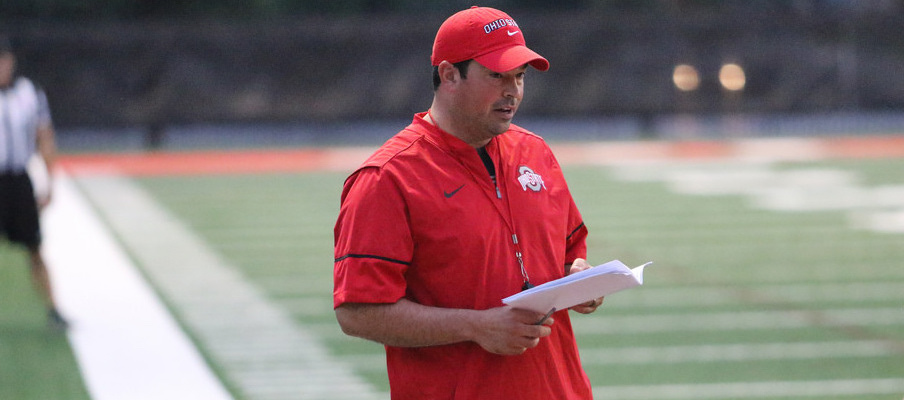 That said, Meyer said he will continue to work with Wilson and Day to more effectively merge their offensive philosophies together with his own.
"I would anticipate that you will continue to see a merging of ideas and concepts," Meyer said. "We're always constantly adding wrinkles to make things better."
Asked whether Wilson has autonomy over designing Ohio State's offense and calling the plays, Meyer implied that he still maintains a level of control over the offensive system, describing Wilson's role with the offense as "enhancing it and make it better."
"Like every coordinator we've had," Meyer said. "He's had that opportunity (to enhance the offense and make it better) and will continue to have the opportunity."
"I would anticipate that you will continue to see a merging of ideas and concepts."– Urban Meyer
Nonetheless, Wilson hasn't hesitated to point the finger of blame at himself after each of the Buckeyes' first two games for offensive play calls he made that didn't work out.
"We got to put it together, and tonight we didn't, and it's my fault, and I own that," Wilson said after Saturday's game.
What has become clear – perhaps too clear – is that Meyer's offense has maintained much of its identity from one coordinator to the next. At its best, that offense can be engineered to perform at a national championship level, as it did with Herman as offensive coordinator in 2014. The offense isn't nearly at that level right now, though, so Meyer, Wilson and Day have a lot of work to do.
Meyer and Wilson have each acknowledged that Indiana and Oklahoma did a good job of figuring out Ohio State's offense and scheming their defenses accordingly. Meyer, specifically, has noted that Indiana and Oklahoma dropped extra defenders into coverage and played zone coverage, which caused problems for the Buckeyes' passing offense because they practiced primarily against man coverage during fall camp.
Even so, Wilson says he does not expect the coaches to make "drastic changes" to the offense, believing that the work the Buckeyes put in during the offseason will ultimately come together and pay off.
"We do have to play in rhythm, we do have to play in sync, we do have to play collectively together, because J.T. Barrett is a really good quarterback when his surrounding parts are well. That includes the coaches and the game planning and the structure of practice to give those guys a great chance," Wilson said. "We own it, I own it. A very, very, very poor job. A lot of work to do. But not radical work. We got a bunch of great players, we had a great preseason. We were out of whack (Saturday). We're going to get it back on track."
Meyer does recognize, though, that his offense does need to evolve in order to keep up with what opposing teams are doing defensively.
"I think the evolution of defenses, especially the ones that have given us trouble over the last couple of years ... it's the multiplicity of defenses that have given us, and then other offenses, issues," Meyer said. "So, yeah, we're re-evaluating that. And it's constant change and (the offense is) much different than it was in 2012 (Meyer's first year). And there's a lot of people in that room working on it to keep it moving forward."