Yes, it is reasonable to expect a championship every year.

It is reasonable under Urban Meyer. It was the same under Jim Tressel, who went 6/6 over his final seasons in Columbus with no worse than a share of a Big Ten title. John Cooper made the Buckeyes national, annually relevant - and got close enough, often enough, to make it seem more than reasonable.
Pretty much every man in charge going back to Francis Schmidt operated this way, and Ohio State is equipped to prevent that expectation from becoming a fantasy no matter how common or infrequently a title comes to fruition. This entirely reasonable mindset is a vital part of our celebration that begins each year not when a trophy is hoisted at the end of a season, but when the team first reports for duty at the beginning of it.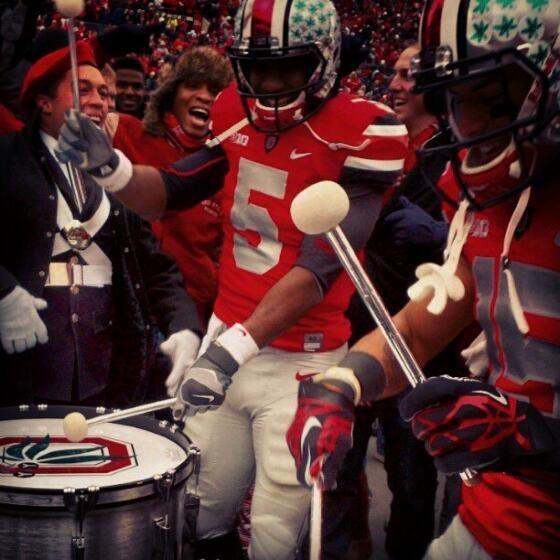 You're expecting another playoff appearance for 2017. Another title, which means two or three on-field stage presentations to conclude the season. Not just because the Buckeyes are loaded again, but because the Buckeyes are the Buckeyes. Expecting less would be unreasonable.
Tressel reached three title games. Coop was arguably Ohio State's finest September coach, and for six straight seasons title contention was in the Buckeyes' grasp heading into the final Saturday. Nobody, not Bo Schembechler, won more than Earle did while Earle was coaching. Woody did things that resulted in statues of his likeness and buildings and streets with his name on them. And he was preceded by two Hall of Fame coaches.
So our reasonable expectation conservatively dates back to World War II, which means it's hardwired into our culture. You would have to be pushing 80 to remember Ohio State football being any other way. Reasonable has been our annual tradition for at least that long.
We've reached Meyer's sixth season in Columbus. His first five teams have delivered, at worst, a tie-broken piece of the division crown every year. Each of those seasons began as planned celebrations with one glaring exception; one that sticks out in his tenure and every one that preceded it. That would be 2012, which was a preordained death march from the moment it began after NCAA sanctions abruptly canceled our season of being reasonable.
Those Buckeyes promptly turned their wake into a spiteful celebration by running the table. But that was our year without a ranked team to cheer for (or even the threat of one), a planned celebration, a trophy, a big dream or a reason to be reasonable.
It was also a season without a loss. The 2012 Buckeyes died undefeated and inglorious. And when you think may that never happen again it's less about having NCAA sanctions and far more about being robbed of the opportunity to reasonably expect an Ohio State championship when the team first reports for duty in August.
URBAN'S five seasons have produced four reaffirmations of the only vows we've ever taken, AND one unfortunate BUT exceptional celebration of life.
Meyer is from Ohio and not pushing 80, which means he has no memory or reason to be unreasonable about Ohio State's championship readiness or deservedness. The leather couches with the College Football Playoff logo prominently embroidered on them that greet everyone immediately upon entering the Woody don't exactly scream Capital One Bowl or bust to visitors, coaches, current players or future ones.
Whether his team is the youngest one in all of college football (last year!) or a shadow NFL roster masquerading as collegians (the year before that!) the celebration remains unchanged. The 2017 season ended terribly - in the playoff, in a rebuilding year - and at least one good coach lost his job because Ohio State failed to meet reasonable expectations.
There are no rebuilding years, and lowered expectations aren't reasonable to the current or any head coach - which leaves no reason for any fan to think otherwise. The past five seasons have produced four reaffirmations of the only football vows we've ever taken, along with one unfortunate and exceptional celebration of life.
You're concerned about secondary depth, punter and right tackle? Don't do that. Do what you and I and the people who preceded us have always done, which has been rewarding up until the moment it wasn't: Expect the greatest things. Celebrate the journey before it even starts.
Look forward to the Buckeyes returning to where they should always be. It's a reasonable expectation to have.