So Ohio State just beat Michigan for the tenth time in 12 years.
So the Buckeyes managed to double their win total over last season.
So Urban Meyer and his staff have already programmed their recruiting machine for ludicrous speed, which can only be safely maintained without the speed bumps that accompany bowl preparations. 
So the last time Ohio State lost a regular season game it was to Michigan, whom they've since beaten.
So Urban's most recent loss as a head football coach happened two years ago today.
So Urban became Ohio State's head football coach one year ago tomorrow.
So in five of Urban's last eight seasons he has coached his teams to either zero or one loss.
So that's an insane statistic, even without considering that it includes three very different programs.
So the Buckeyes won the only game that matters on Saturday and in its aftermath the talk was about how the other team's offense was way too telegraphed and predictable.
So this is what the other side of that play-calling fence looks like.
So the most recent senior class to leave Michigan with a winning record against Ohio State enrolled in college before any of the Wolverines' incoming freshmen for 2013 were potty-trained.
So before you try to figure that out, it was their freshman class of 1997.
So now you feel kind of old but you shouldn't – because you still look terrific.
So last year's Ohio State offense lost its four-year starting center, both tackles, its best receiver and two best tailbacks yet they just averaged 37.2 points per game running an offense none of them had ever played in prior to this season.
So that's two full touchdowns more per game over last season using, for the most part, last year's backups and disappointments.
So two more touchdowns per game would have resulted in the 2011 Buckeyes going 12-1 instead of 6-7.
So that's overly simplistic, but that's why it's called football and not supersymmetric quantum mechanics.
So Ohio State's passing offense finished 101st nationally this season, which sounds terrible until you realize that is actually 14 spots better than it finished in 2011.
So Braxton Miller has now had the benefit of a real position coach and offensive coordinator for exactly one season and he has two left in Columbus.
So according to Urban, Braxton still is not even close to scratching the surface for his potential.
So Braxton is the reigning Big Ten QB of the Year, and yet he hasn't begun to scratch yet.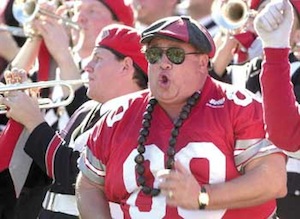 So Ohio State's offense jumped 61 spots in NCAA statistical rankings (108th in 2011 to 47th in 2012) despite adopting an entirely new system using players largely recruited to run something much different.
So the Buckeyes finished 35th in total defense nationally despite being forced to make ambulatory roster moves just to field a starting team.
So the Silver Bullets didn't lose a single game despite having Ryan Shazier, a career fullback and a guy who broke his leg in week six as its linebacking corps against Wisconsin and Michigan.
So this was supposed to be a rebuilding year, and if you look at the gruesome details behind the gaudy record...it definitely was.
So as gratifying as 2012 was – especially compared to 2011 – it turns out that this reversal of fortune was fairly predictable.
So Urban took over a 2-9 Bowling Green team and went 8-3 in his first year and 9-3 in his second, and that was rebuilding too.
So Urban took over a 5-6 Utah team and went 10-2 in his first year and 12-0 in his second, and that was rebuilding too.
So Urban took over a 7-4 Florida team and went 9-3 in his first year and 13-1 in his second, and that was rebuilding too. 
So Urban took over a 6-7 Ohio State team and went 12-0 in his first year, and counsel has no further witnesses.
So Urban seems to be as predictable with rebuilding success as Al Borges is with 2nd half play-calling.
So us laughing at other teams for telegraphed play-calling is kind of like abruptly losing 150lbs and then immediately making fun of fat people.
So imagine knowing during that horrendous offseason of 2011 that the Buckeyes would run the table in 2012.
So consider what that knowledge would have done for your fragile mental state, general well-being and antacid consumption.
So think about what this team and its incoming freshmen will do this offseason without the burden of a roster fire drill or the need for wholesale physical and philosophical transformation.
So the idea that this 12-0 season was all for nothing fizzles when you consider the inertia that it carries into next season's polling.
So once Ohio State is allowed back into the Coaches Poll it will debut no worse than fifth and control its own BCS destiny through a dozen games where it will be both a giant target as well as a prohibitive favorite.
So despite all of that, over the next 42 days you'll be ruthlessly subjected to the B1G title* game and then three dozen bowls not featuring the undefeated Buckeyes.
So this will make you sad, wistful and melancholy.
So what.