Ohio State football don't mess. 
Eight national titles, 35 Big Ten titles, nearly 900 wins, over 80 All-Americans and seven Heisman Trophies, among a slew of other accolades, set the Buckeyes apart from virtually every other college football program. 
As the offseason continues tormenting our souls, I'm filling my Thursday slot bastardizing my postgame Five Things article with offshoots looking at various aspects of Buckeye history. 
So far, I've covered the most ridiculous streaks of individual greatness, acrobatic receptions, crushing defeats, one-hit wonders, the baddest dudes to ever lace 'em up in Ohio Stadium and last week, a power ranking of Buckeye anthems. 
This week, I present Five Kings, aka the legends among legends in Buckeye football lore. 
WAYNE WOODROW HAYES

Obviously, Woody Hayes anchors this list of kings. 
The man who elevated Ohio State to a true college football blue blood did so via 205 wins, 54 All-Americans, 18 Academic All-Americans, 13 B1G titles, five national titles and three Heisman Trophies. 
It might be a surprise to some but Woody remains the only Buckeye head coach with multiple national titles in Columbus on the ole resume. 
Beyond Woody's stewardship on the field, the old man pads his status on this list with a stint in the US Navy as a Lieutenant Commander from 1941-1946, his countless visits to local hospitals to show empathy for the sick, his commencement speech from March 14, 1986 and a host of other anecdotes. 
ARCHIE MASON GRIFFIN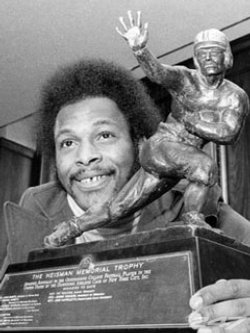 The greatest running back in the history of Ohio State football, Archie remains the lone collegian boasting two Heisman Trophy awards. 
During Archie's run in Columbus the Buckeyes went 40-5-1 with four B1G titles and four Rose Bowl bids. 
Ohio State's all-time leading rusher with 5,589 yards, Griffin tallied 26 touchdowns, averaged 6.0 yards per carry and still holds the NCAA record for consecutive regular season games with at least 100 yards rushing with 31 such outings. 
The two-time Heisman winner also captured a pair of Silver Footballs, two Walter Camp awards, was a three-time All-American and gained entrance into the College Football Hall of Fame in 1986. 
Off the field, Archie remains as classy as they come. He spent 11 years serving as president and CEO of Ohio State's alumni association and remains an impeccable ambassador for the university.
CHARLES WILLIAM "CHIC" HARLEY

Ohio State's first three-time All-American, Chic Harley did work as a halfback, safety, punter, punt returner, kickoff returner and place kicker. 
During Harley's run from 1916 - 1919 (he missed the 1918 season serving as a pilot during WWI) the Buckeyes went 21-1-1 winning a pair of B1G titles (the school's first in history) and losing another on the last play of the last game of the 1919 season. 
With crowds spilling out of old Ohio Field in hopes of witnessing Harley's legendary exploits, Ohio State's Board of Trustees approved a resolution for the construction of Ohio Stadium on the day of his last game, hence the Shoe being known as "The House That Harley Built." 
Part of Harley's efforts to put Ohio State football on the map included the program's first ever win over Michigan, a 13-3 decision in which Chic tallied four interceptions. 
A charter member of the College Football Hall of Fame, Harley's playing style was described by James Thurber as "kind of a cross between music and cannon fire, and it brought your heart up under your ears."
JAMES PATRICK TRESSEL

The last lock for my list, The Vest captured the 2002 national title and six B1G titles while racking up a 9-1 record against Michigan.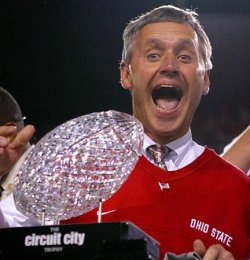 Tressel wasn't the sexy name when he arrived in Columbus via Youngstown State but after proclaiming we'd be proud of his boys in 310 days in Ann Arbor, Michigan at halftime of an OSU hoops game, he suddenly became an attractive choice among Buckeye faithful. 
To his credit, Tressel backed up what qualifies as major trash talking from the Senator, becoming the anti-Cooper and restoring order to sport's greatest rivalry. 
With Tressel at the controls Ohio State won 83% of its games going 106-22 and finished in the top-10 of the AP and Coaches Polls eight of 10 years, including seven top-5 finishes. 
Tressel wasn't the recruiter Urban Meyer is but churned out 24 All-Americans and had a knack for finding diamonds in the rough, including but not limited to, Malcolm Jenkins, Bradley Roby, James Laurinaitis, A.J. Hawk, Nick Mangold and Jonathan Hankins.
URBAN FRANK MEYER

I wasn't sure Meyer should be on this list yet, I stress yet, since he's only been in Columbus five years. 
I considered names like Chris Spielman (who wound up as my 6th man), Eddie George, Orlando Pace, Paul Brown and a few others but I kept going back to Urbz. 
Over his first five seasons, Meyer has a 61-6 overall record including a 39-2 mark in the B1G.
He boasts a national championship, a Sugar Bowl win over Alabama, a Fiesta Bowl stomping of Notre Dame, a 59-0 dismantling of Wisconsin in a B1G title tilt, a perfect 5-0 record versus Michigan and somehow it can be somewhat reasonably be argued he's underachieved. 
He's also revolutionized recruiting in Columbus and its impossible to foresee Ohio State failing to challenge for a College Football Playoff bid until he decides to hang up the whistle.