SCHOLARSHIP RECEIVERS


| PLAYER | YEAR |
| --- | --- |
| PARRIS CAMPBELL | RS JR |
| JOHNNIE DIXON | RS JR |
| ELLIJAH GARDINER | FR |
| ERIC GLOVER-WILLIAMS | JR |
| TREVON GRIMES | FR |
| JAYLEN HARRIS | FR |
| K.J. HILL | FR |
| AUSTIN MACK | SO |
| DEMARIO McCALL | SO |
| TERRY McLAURIN | RS JR |
| BINJIMEN VICTOR | SO |
Since arriving in Columbus with Urban Meyer in 2012, Ohio State wide receivers coach Zach Smith has seen six receivers selected in the NFL Draft.
Despite that production and a roster that included two draft picks in Curtis Samuel and Noah Brown, the receivers looked as pedestrian as the entire offense through large swaths of the 2016 season.
A similar output in 2017 would almost certainly doom Ohio State's championship hopes. So it needed a culture overhaul even before losing its top two receivers.
To the receivers' credit, they're aware of the onus entering this season.
"Coach Smith is taking a different approach this year. He's telling us that he's going to be more on his stuff than last year," redshirt sophomore K.J. Hill told reporters during spring practice. "We all came together in a meeting, so we know that he's on a different tip this year with doing things different."
WIDE RECEIVERS — HERE WE GO AGAIN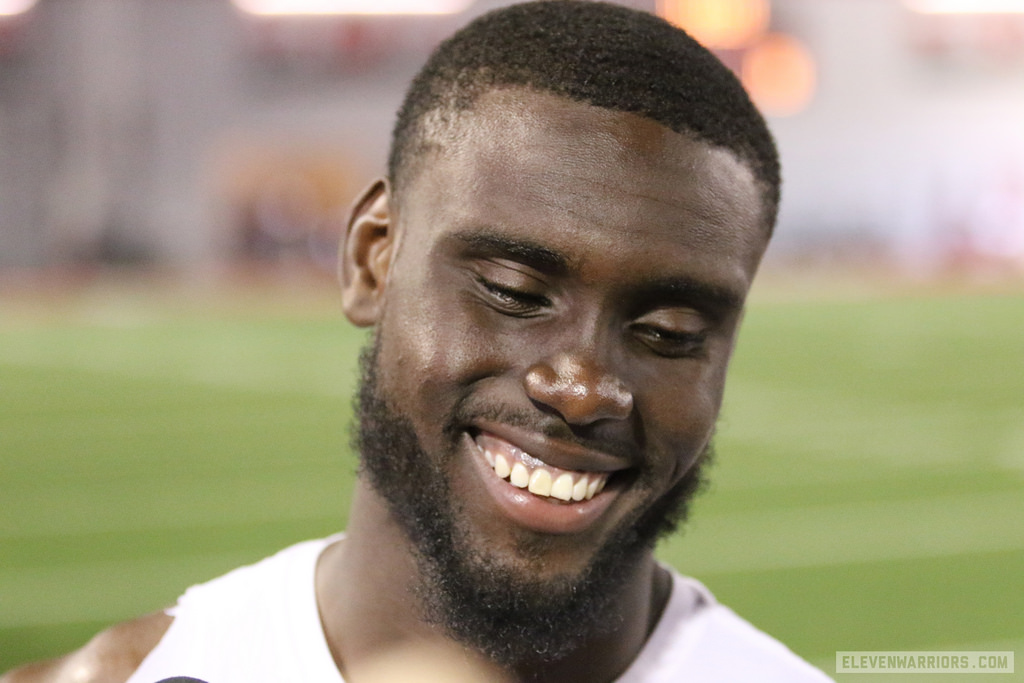 The quest for redemption begins with replacing Brown, who despite a big frame and massive catch radius never developed a consistent chemistry with quarterback J.T. Barrett outside of one magical night in Norman, Oklahoma.
While Ohio State has a pipeline of receivers flowing into the pros, Meyer's team has never had a statistically dominant receiver. New Orleans Saints breakout receiver Michael Thomas never topped 800 yards in Columbus. Former New York Jets receiver Devin Smith only caught 33 balls in 2014.
The most intriguing option is sophomore Ben Victor. Now listed at 6'4" and 195 pounds, Victor was one of two freshmen receivers to earn playing time in 2016. Like most freshmen, he battled inconsistencies from knowledge of the offense to route running.
With another year under strength coach Mickey Marotti, Victor is bigger and stronger entering this season. He also dedicated himself to learning the offense.
"I don't know if i've ever had [a receiver] with as high a ceiling as he does," Smith told reporters earlier this month. "Just his ability – he is a 6-foot-4 kid with a seven foot wingspan that can run; he's loose; he can get in and out of breaks; he plays physical at times."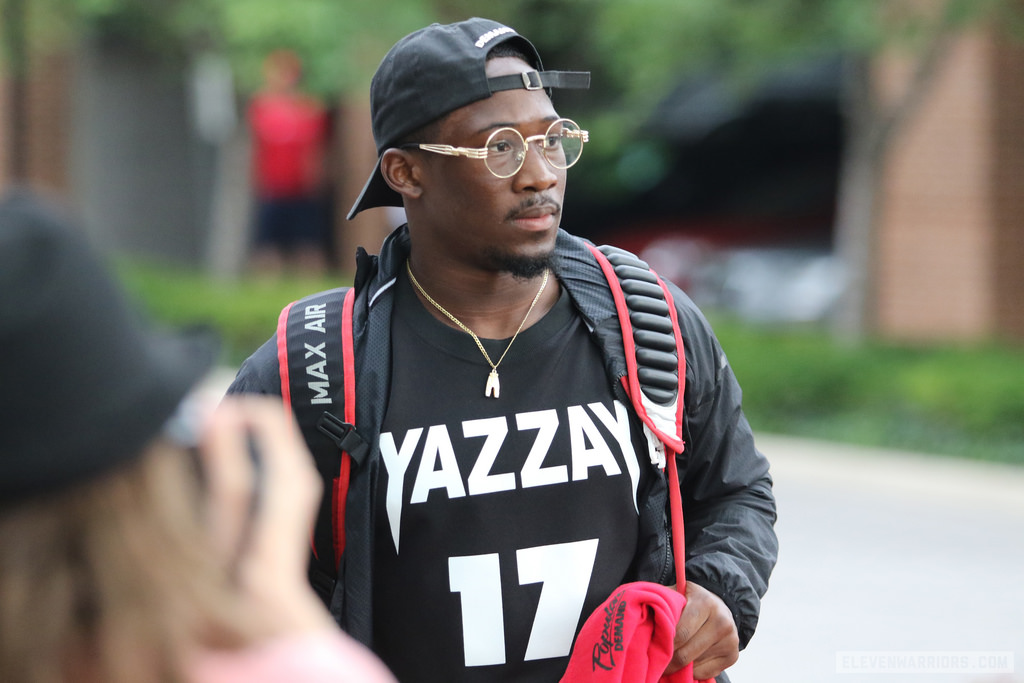 Another intriguing option is redshirt junior Johnnie Dixon, who arrived on campus in 2014 with the usual expectations attached to a blue-chip receiver lured from South Florida. 
Tendinitis in both knees robbed Dixon of his freshman season and large swaths of the previous two as he compiled only seven catches for 55 yards. He entered the spring as a medical hardship waiver candidate before a funny thing happened.
Fully coalesced, Dixon participated in every spring practice for the first time in his career and pulled down two touchdowns on 108 yards in the annual spring game. Now, it's just about keeping that momentum (and health) through the season.
Terry McLaurin is another redshirt junior looking to breakout in 2017. A former four-star recruit from Indianapolis, McLaurin appeared in all 13 games last season after venerable special team performances in 2015.
Meyer has called him a "program guy" in the past, meaning McLaurin brings the steady hand of veteran leadership to a unit room without having to stuff a stat sheet. With an increased focus on the deep ball this year, McLaurin could become the vertical threat Ohio State has lacked since the departure of Devin Smith.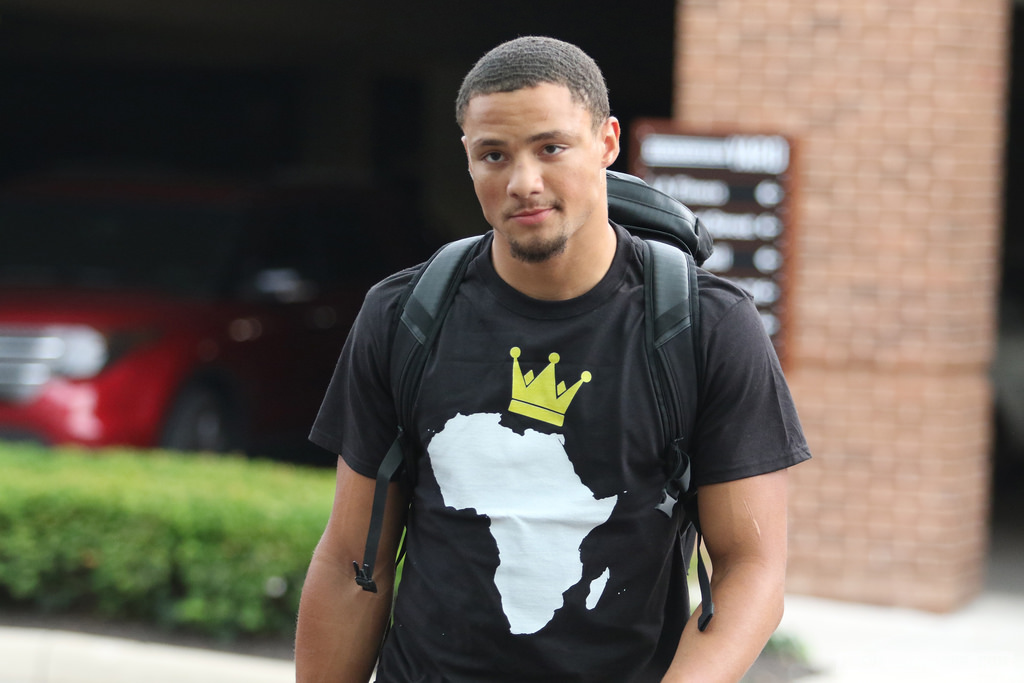 Another four-star receiver from Indiana, sophomore Austin Mack, seemed destined for a breakout freshman campaign after becoming the first freshman to lose his black stripe in spring practice. Mack, however, hit the dreaded freshman wall before the season and only produced two catches for 15 yards.
"I think I'll be in the rotation. But my expectation, by the end of this fall camp, is I'll be one of the starters," Mack told reporters earlier this month. "That's the expectation I have for myself. So I'm going to push myself to hopefully reach that expectation."
Five-star freshman Trevon Grimes seemed destined to earn at least rotational minutes, despite tearing his ACL during his final season at St. Thomas Aquinas. Meyer, though, doused the expectations surrounding the electric athlete Monday when he said Grimes may not make the travel roster.
The breakout freshman could very well be four-star Cleveland Heights receiver Jaylen Harris. At 6'5" and 205 pounds, Harris has the body of a go-to receiver. And unlike a lot of members of the unit, Harris played receiver throughout high school and isn't a converted athlete.
Meyer and Smith have praised Harris in the past, though always noting the uphill battle for any receiver to make that jump in his freshman year.
Three-star freshman Ellijah Gardiner flipped from Missouri a week before National Singing Day. While he is an intriguing mix of size and speed, he will need at least a year under Marotti to see the field.
H-BACKS — OPTIONS GALORE BEHIND PARRIS CAMPBELL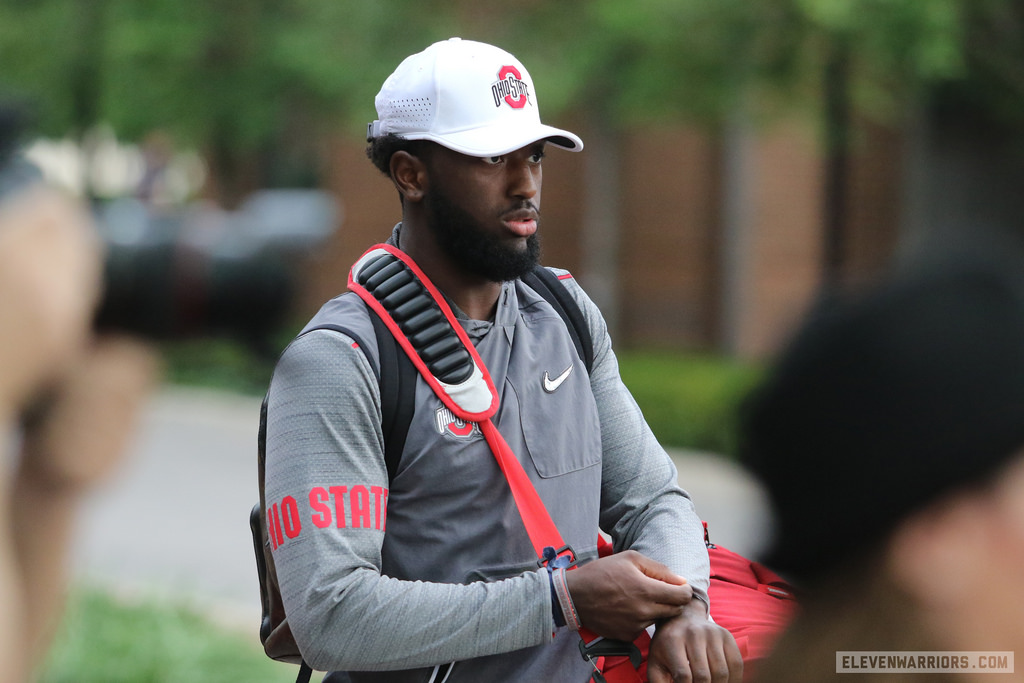 Replacing second-round draft pick Curtis Samuel will be the tallest task facing Zone 6. Samuel surpassed 1,600 total yards of offense last year. Thankfully the Buckeyes will not lack for options in finding a replacement.
Redshirt junior Parris Campbell will get the first crack. Campbell has long been a special teams ace—Meyer considers him to be the best return gunners in the country—and has been in the weight room all summer. If he can reach his potential, he will follow Samuel to the NFL.
His position coach just wants him focused on being "the guy."
"He's always been a role player, always been a really good player, but he's never had to be the guy," Smith told reporters earlier this month. "Now it's Parris' turn to be the guy. Every year we've had one receiver that is kind of your dude. And I'd like it to be more than that, I think it's got a chance to be more than that, but it's Parris' time to go be the guy on offense."
K.J. Hill will also lineup at H-Back, though he can play outside as well if needed like last season against Bowling Green. Hill had a decent outing for a redshirt freshman, compiling 18 receptions for 262 yards and a touchdown. Given the overall improvements of the offense, Hill should easily pass that this season.
Another dynamic option is Demario McCall, who seemed like a natural candidate to replace Samuel from the beginning. Curiously, McCall practiced with the running back throughout the spring and start of fall.
After the emergence of freshman running back J.K. Dobbins, McCall remains excited about his new home. He could still lineup in the backfield, too.
"I like the position I am in right now," McCall told reporters last week. "I am still working at tailback, but I am in the receiver room. I am in a great position right now."
Campbell, Hill, and McCall will all factor into the return game, as well.
The dark horse of the race is converted safety Eric Glover-Williams, who has the physical skills to succeed at either position.
Glover-Williams lacks the traditional size (5'9", 180 pounds), but if he gets the ball in space, defenses should look out as secondary coach Kerry Coombs says he has the skills to "make somebody miss in a Port-o-Let."
Tight ENds — IS *THIS* THE YEAR OSU USES TIGHT ENDS?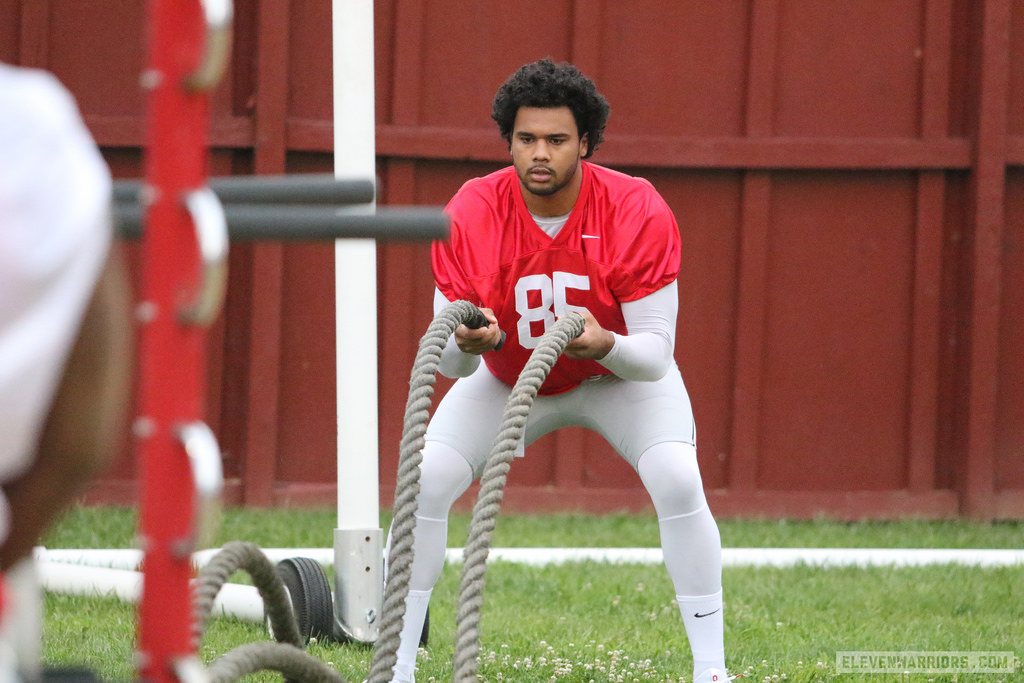 SCHOLARSHIP TIGHT ENDS


| PLAYER | YEAR |
| --- | --- |
| A.J. ALEXANDER | RS SO |
| MARCUS BAUGH | RS SR |
| RASHOD BERRY | RS SO |
| LUKE FARRELL | RS FR |
| JAKE HAUSMANN | RS FR |
| KIERRE HAKINS | RS FR |
Ohio State, never known for its heavy usage of the tight end in the passing game, has continued that tradition under Urban Meyer.
Nevertheless, his program has put two tight ends into the NFL in Denver Bronco Jeff Heuerman and Seattle Seahawk Nick Vannett. 
Coming off a season in which the entire offense disappointed, Meyer reshuffled his offensive braintrust and brought in former Indiana coach Kevin Wilson to coordinate his offense and coach tight ends.
While it might not lead to two tight ends going over 1,000 yards on the season, Wilson has an intriguing mix of talent at his disposal should he decided to prominently feature the position in his offense.
It all starts with Marcus Baugh, who replaced Vannett last season after twice battling out of Meyer's doghouse. When Baugh caught the ball, he proved a threat. No better example than when he bulldozed four Penn State defenders en route to a 26-yard touchdown reception in Happy Valley).
Unfortunately, Baugh struggled with dropping the ball. He did so seven times in 2016 on 45 targets (15.5%) — the highest percentage on the team. He was also an inconsistent blocker.
Baugh missed spring practice after a shoulder procedure but recovered in time for fall camp.
Talented albeit unproven depth lurks behind him. The Buckeyes, however, will be without redshirt sophomore A.J. Alexander, who suffered a knee injury while playing pickup basketball and will miss the entire season.
Ohio State signed three tight ends in the 2016 class and went on to redshirt all of them. Jake Hausmann, Luke Farrell, and Kierre Hawkins will all battle to backup Baugh.
The most intriguing option, however, might be converted defensive lineman Rashod Berry.
The redshirt sophomore starred in football and basketball as a Lorain high schooler and and arrived on campus weighing 235 pounds. He is now up to 260 and back to playing tight end, a position he originally wanted to play.
Berry obviously needs to master the intricacies of the position that can only be learned through reps, but one thing is clear: His blend of size and athleticism would make him a nightmare for defenses to cover in the red zone and on third down.