Though not making the playoffs will forever sting a little bit, Ohio State earned a laudable consolation prize in a 44-28 pasting of Notre Dame in the Fiesta Bowl, sending the seniors out with 50 wins in 54 games. 
The lopsided victory improved Urban Meyer to 10-2 in career bowl/playoff games and 16-6 against Top 10 teams. 
Ohio State raced out to a 28-14 halftime lead and was never threatened down the stretch despite losing Joey Bosa to a 1st quarter ejection thanks to an efficient offense with simply too much firepower for Brian Kelly's program. 
With Bosa along with Ezekiel Elliott and Cardale Jones having already said they'll turn pro, we must now wait and see which of a handful of juniors will also opt to take their talents to the next level. 
While we wait on those guys to levy their decisions, here's a look at Five Things from Ohio State's fourth straight win over the Notre Dame Fighting Irish. 
---
J.T. THE QB
Following a lackluster performance in Ohio State's only loss of the season aided by horrendous play calling, J.T. Barrett came through with electric performances against both Michigan and Notre Dame. 
In Ann Arbor, Barrett racked up 252 total yards and four touchdowns in a Buckeye rout, though much of that damage came via the ground (19 for 139, 3 TD). 
Yesterday Barrett was more impactful through the air completing 19 of 31 throws for 211 yards with a touchdown and an interception and added another 23 carries and 96 yards on the ground yielding 307 total yards of offense. 
Barrett hit seven different receivers with a 27-yard connection to Marcus Baugh on an out-and-up on OSU's first possession and a 3rd and 6 hookup with Nick Vannett for 14 yards as highlights. The throw to Vannett was most impressive in that it was through a tight window over the middle moving the chains en route to a field goal. 
Barrett did mix in a few bad reads and poor throws but overall his performance was a solid springboard into next season when, barring anything fluky, there won't be a quarterback controversy or injury to create unrest at the most important position in college football. 
Over J.T.'s final two games of the 2015 campaign he tallied 559 yards and five touchdowns as the Ohio State offense churned out 86 points. 
FAREWELL, ZEKE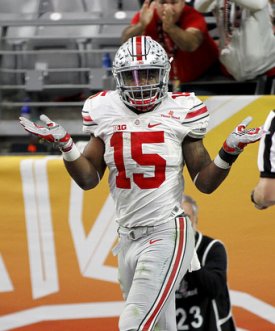 In a performance that can only be described as "the usual," Ezekiel Elliott bid adieu to Ohio State fans with a 27 carry, 149 yard, four touchdown effort featuring another heavy dose of bone crushing lead blocks and soft hands (1 catch, 30 yards) to key the rout. 
Zeke's final score of the day, a 47-yard gallop up the gut, put the game out of reach at 35-21 midway through the 3rd quarter gave him 43 rushing touchdowns in his OSU career allowing him to join Pete Johnson (56), Keith Byars (46) and Eddie George (44) as the only Buckeyes with at least 40 rushing trips to pay dirt. 
On the heels of a sophomore season in which he tallied 1,878 rushing yards and 18 touchdowns, Elliott's junior campaign went for 1,821 yards and 23 scores including 363 yards and six touchdowns in wins over Michigan and Notre Dame. 
The heart and soul of the offense for two incredible years, Zeke's place in Buckeye lore is secure. Hat tip to a true gamer that improved in every facet of the game during his time in Columbus. 
THROW THE D
With Adolphus Washington suspended in the week's leading up the Fiesta Bowl, Tommy Schutt out with injury and Joey Bosa ejected in the 1st quarter, Ohio State's staff got a long look at what next year's defensive line might look like. 
Sam Hubbard was easily the most impactful man up front with four stops and a sack and it's a good bet he announces himself as an all-league worthy talent next fall. 
Tyquan Lewis has been a solid bookend all year but was quiet yesterday with one tackle though he did pick up a late sack of his own.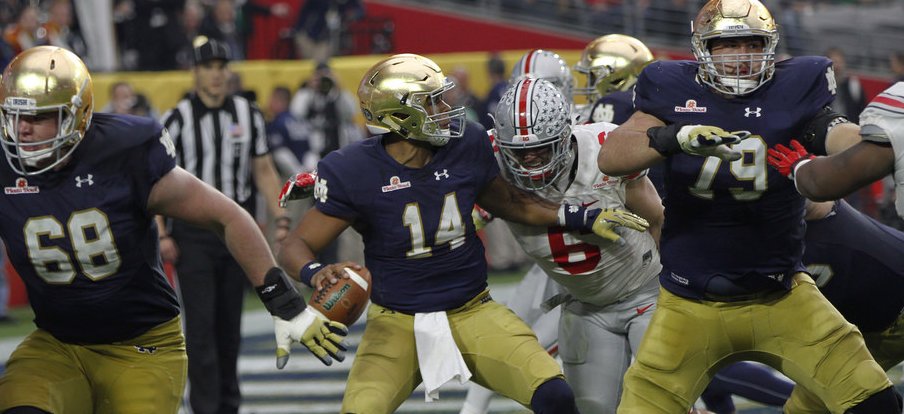 Michael Hill saw a ton of time as the heir apparent to a starting spot inside and picked up two tackles while Donovan Munger failed to record a tackle. Also inside, Tracy Sprinkle made a grown and sexy play late pouncing on a fumble forced by Darron Lee. 
On the downside, the defensive line produced only two sacks/TFLs spanning 70 snaps with both of those coming with the game already decided. 
On the plus side, the young guys saw valuable reps, helped hold the Irish to 3.8 yards per rush and showed heart led by Lewis and Hubbard. The obvious key this offseason is to get Hill, Sprinkle, Munger etc. ready to effectively clog the middle come next September. 
third is the word
I touched on Ohio State's dominance on 1st down yesterday and how that figured into the win but the Buckeyes were damn good on 3rd down as well.
Against an Irish unit ranked in the Top 20 in 3rd Down Conversion Pct Defense (33%), Ohio State converted 10 of 18 tries on 3rd down (56%).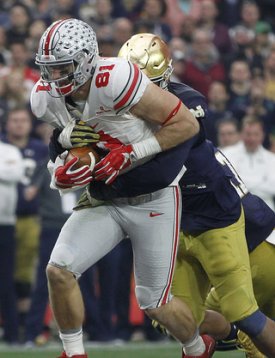 That number swells to 71% when you examine 3rd down plays of any significance as the Buckeyes converted four of six tries in the 1st half and six of their first eight in the 2nd half before largely calling off the dogs and being willing to settle for field goals after posting a 38-21 lead early in the 4th quarter. 
Ohio State's first 3rd down of the game occurred on the last play of the opening drive as Zeke plunged for a 1-yard touchdown to give the Buckeyes a 7-0 lead. 
Barrett picked up a pair of conversions via the run three possessions later allowing Elliott to record his second touchdown of the day to make it 21-7 good guys. 
My favorite conversion of the afternoon occurred on a 3rd and 5 play that saw Barrett roll right behind flowing action the same direction only to stop and throw back to Mike Thomas for 13 yards. Too bad OSU didn't run that play about 10 times this year. 
Another nifty conversion saw Barrett's noted throw just over an outstretched linebacker and in front of a closing safety, finding Vannett for 14 yards on a great throw down the seam to keep the chains moving. 
The balance on 3rd down was fantastic to see as the Buckeyes threw it 10 times and ran it eight, picking up five 1st downs through the air and another five on the ground to help break Notre Dame's spirit. 
just kickin' it
Having lost his starting job to graduate transfer Jack Willoughby only to earn it back ahead of the 10th game of the season, it was a rough 2015 for sophomore placekicker Sean Nuernberger. 
A highly touted leg coming into Ohio State, Nuernberger served as the squad's starter during the national championship season but made only 13 of 20 tries triggering Meyer's willingness to give Willoughly a look this fall but the Duke product couldn't hold the spot after hitting seven of 11 tries through this year's first nine games. 
Having not even attempted a field goal since missing a 29-yard chip shot way back on November 14th at Illinois, Nuernberger was perfect against Notre Dame connecting from 37, 38 and 35 yards  – all in the 4th quarter – helping OSU pad an insurmountable lead. 
Yeah, I know it's hard to get amped about kickers but with an eye on 2016, these were important boots for a kid that will be a true junior with likely no competition for the starting role next season. 
Throw in the fact Ohio State will be breaking in a ton of new starters on both sides of the ball and the likelihood of more close games is real. Hopefully yesterday's effort can be a springboard of sorts for Nuernberger moving forward.