Raekwon McMillan didn't play much against him, but former Michigan State running back Jeremy Langford is, in the linebacker's opinion, the standard at the position among players he's faced in college.
"I always compare running backs to Langford from last year. He was a hard runner, every part of his game was well-developed when I played against Michigan State," said Ohio State's sophomore middle linebacker Monday, who had four tackles in his team's win at Michigan State last November. "He's a great running back just like anybody else, but anybody who plays on this level is."
McMillan was asked if he thought Indiana's Jordan Howard — the nation's leading rusher with 675 yards and the guy the Buckeyes take on Saturday — is on the same level as Langford, who's currently battling to be Matt Forte's backup with the Chicago Bears. The linebacker's response is about what you would expect from someone as business-like as McMillan.
"We'll see," he said.
The Buckeyes are sure to get well-acquainted with Howard early and often Saturday afternoon in Bloomington, Ind. The junior transferred from UAB in the offseason after the Blazer football program went under, granted an NCAA waiver to play right away at a new school.
"We've gotta focus on tackling, getting him down on the ground. When we make contact, not let him get yards after contact."– Raekwon McMillan on Indiana RB Jordan Howard
Howard's nearly a perfect fit to replace Tevin Coleman, the man who burnt Ohio State for 228 yards and three touchdowns on 27 carries in Columbus last November. Coleman is now in a backfield rotation with the Atlanta Falcons, and though he may be faster than Howard, his successor packs a powerful punch.
"We've gotta focus on tackling, getting him down on the ground," McMillan said of Howard. "When we make contact, not let him get yards after contact."
Ohio State's rushing defense had holes against Western Michigan Saturday, as 2014 MAC Player of the Year Jarvion Franklin found space to work right up the middle. He finished with 68 yards on just 12 carries, and Jamauri Bogan tallied 93 yards on 23 carries against the Buckeye front seven.
"There's always something to work on and the interior run game, run defense, was one that we're working on hard this week," Ohio State coach Urban Meyer said Tuesday on the Big Ten teleconference.
On Monday, Meyer noted how Ohio State's defensive front was "exposed a little bit" against the Broncos, given the 169 rushing yards allowed in the game. He's not pleased with it, and neither are the linebackers.
"They did a great job of scheming us up. They had some of those plays that we had never seen before. We're trying to come up with answers and I think we did toward the end," senior Joshua Perry said Monday. "(We were thinned out) a little bit. That's still not an excuse. We take pride in that."
Howard presents perhaps the biggest challenge for Ohio State's defense from a run-game standpoint so far in 2015. He became the first FBS running back in the last 20 seasons to rush for at least 140 yards in the first four games of the season after racking up 168 on 33 carries in a 31-24 victory at Wake Forest Saturday.
"People have been talking about him a lot and what he's been able to do," Perry said. "They throw the ball pretty well, so obviously they've got some talent out there on the edges and so we're just going to have to find out ways to defend it."
Indiana boasts the Big Ten's best offense from a statistical standpoint when it comes to total yards (522.3 yards per game), while sitting at second in passing (285.8) and rushing (236.5). Howard is a big reason why, and Meyer isn't keen on the idea of letting him get space like Franklin and Bogan did last Saturday.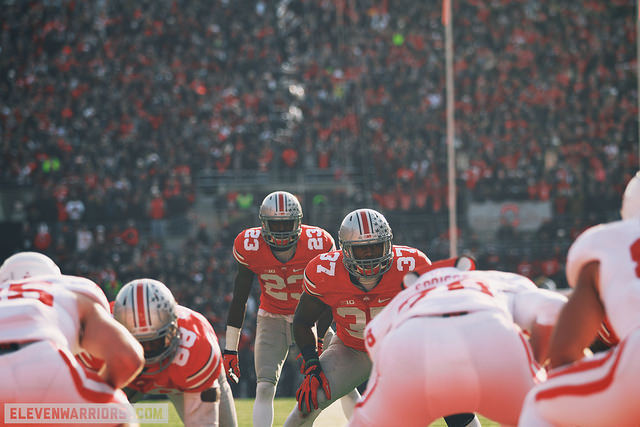 "They made some good throws and caught some good balls on us," Meyer said Monday of the Western Michigan win. "That wasn't as alarming as the fact that you saw that running back separate our defense a couple times."
He might not be on the same level as Langford, but McMillan and company know they can't allow Howard to play the way he likes if Ohio State wishes to leave Bloomington victorious.
"It's always good to have a challenge, man. We never want to go into a game where we know we're just going to dominate somebody physically," McMillan said. "When you know that you're going to dominate somebody then you become lackadaisical during practice, don't really prepare like you should. Knowing that they're the first-rated passing offense, I think, and the second-rated rushing offense, we've gotta prepare during the week."