In some ways, Jalin Marshall called his shot.
"I got with the unit and just said, 'Look, we gotta change the game right here. I think we're going to get a good chance and if we do that, the game will go a whole different way. If we don't, you'll never know,'" Marshall said Monday. "So I caught the ball, had all the 10 guys in front of me working hard and blocking every man they could to get me in the end zone and once that happened we didn't look back from there."
Ohio State's sophomore H-back is talking about the the 54-yard punt return he had against Indiana last November, where he darted left, juked by a pair of defenders and raced up the middle of the field for a touchdown that tied the game.
"I see a person who just wants to help the team win. Wherever I gotta play, they played me at many positions, and every position that I've played at, I've enjoyed being there."– Jalin Marshall
"I think Indiana was backed up into the end zone and I knew that if the defense made a big stop we would have this momentum and if I ran this punt return back, it would change the game," Marshall said.
It did change the entire course of the game for the Buckeyes and Marshall, who continued erupting on his way to four second half touchdowns in the 42-27 victory against the Hoosiers. In a way, it changed Marshall's season, too, as it happened a week after a forgetful performance at Minnesota where he fumbled three times amid frigid temperatures.
He caught a pair of touch passes from J.T. Barrett in the fourth quarter — one he took 54 yards to the house — and snagged another bullet from the quarterback with one hand in the period to officially waste the Hoosiers and clinch the Big Ten East Division title for Ohio State. Simply put, Marshall did it all that day, which is exactly what he was brought to Columbus to do.
"I see a person who just wants to help the team win," Marshall said of himself. "Wherever I gotta play, they played me at many positions, and every position that I've played at, I've enjoyed being there."
Marshall lined up at quarterback, in the slot and at wide receiver in addition to his punt returning duties last season to help Ohio State win the national championship. He's done the same this season, but has yet to take a direct snap in the Wildcat.
"He's starting to really grow through the immaturity that he experienced when he first got here," Urban Meyer said of Marshall Tuesday on the Big Ten teleconference. "So I like the trajectory he's on right now and I'm very pleased with the way he's working."
Now a sophomore, Marshall's eager to continue carrying the bulk of the load, though he hasn't yet had the opportunities in 2015 like he did against Indiana last year. Suspended for the season opener at Virginia Tech, Marshall's caught six passes for 91 yards and a touchdown and returned six punts for 79 yards in the three games since.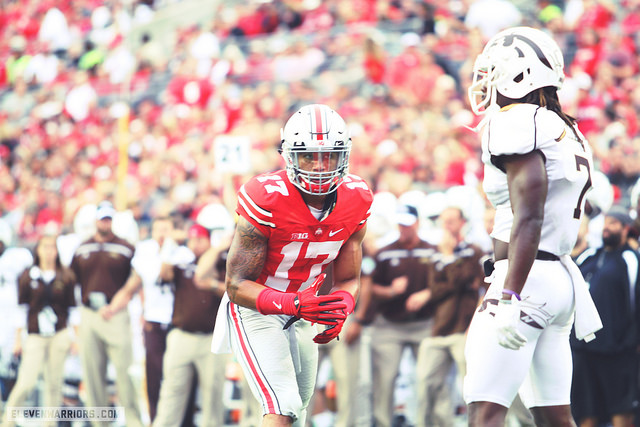 "I think I'm pretty balanced," Marshall said of his repertoire when it comes to the Buckeye passing attack. "I think I can go deep, but I also can go underneath."
Saturday, Meyer went as far as to call Marshall and Corey Smith Ohio State's best deep threats for Cardale Jones, who under threw both players in a 38-12 victory against Western Michigan. With the graduation of Devin Smith, Meyer's been looking for someone to fill the void within the offense as the guy who can take the top off opposing defenses.
Marshall believes he can be that guy.
"Being able to beat your man, stack your defender and go out and catch the ball when it's thrown past you," Marshall said. "Be able to open up the routes that are underneath you. I think that's a big part of it, that's what Devin did well. That's what we're trying to make happen now. It all ties into one."
Jones possesses a monster arm that took the offense to new heights during the 2014 post-season, but is still working to build trust with his receivers down the field. Every team is different, and Ohio State's without Smith and Evan Spencer is no exception.
Marshall dropped a deep ball against the Broncos Saturday, something he blamed himself for and said shook Jones' confidence down the field the rest of the game.
Saturday, Ohio State visits 4-0 Indiana for the first time since 2012 — a close 52-49 victory they don't forget — and Marshall won't soon be forgotten by the Hoosiers for what he did to them last year.
It was a full display of his skills, and even now he said his goal is to become more of a threat down the field like Meyer wants. Just another day in the life of Jalin Marshall.
"Just know everything and be ready when your number is called. Execute at a high level," Marshall said. "Everybody's expected to do that and know everything, but the one that does know the most will play the most. I kind of have it on myself to know as much as I can to stay out there on the field and help the team.