Nestled off Olentangy Road in the northern shadows of Ohio Stadium sits a building that towers above all others around it, a bit of a spectacle. It's aged brick rests in the Columbus sun, housing offices for some of the most powerful men in Ohio State athletics.
Vice President and Director of Athletics Gene Smith's office sits near the top of the Fawcett Center, stories above a restaurant, WOSU Public Media and hotel rooms. Near him are athletics communication personnel, but there's one on the 10th floor that holds perhaps the most important behind-the-scenes individual. At least when it comes to Buckeye football scheduling, anyways.
Meet Martin Jarmond, Executive Associate Athletics Director and Smith's right-hand man, who asked when he was hired in 2009 if he could be the man in charge of aligning who the Buckeyes line up against in future non-conference games.
"(Football scheduling) was something that was really important to me, that I said I really wanted to do and tackle and help him accomplish the vision he wants to accomplish," Jarmond told The Lantern last fall.
It might not necessarily be in his job description to worry about gridiron slates, but Jarmond's constantly working to find the best fit for those schedules that are on the horizon, but not really that far off.
"The year 2017, that's really soon," Jarmond said Friday. "There's a lot of schools that we contacted already who are either not interested in playing or who already have plans for that. So, 2018 is kind of what I'm focusing on and then also 2019 and 2020."
Tuesday, the school announced a pair of games to fill out the 2017 and 2019 schedules in Army and Florida Atlantic, finalizing each year's slate at Jarmond's discretion.
"Does it make sense to play this kind of team when we've got The Team Up North, Michigan State, Wisconsin in the same year? Maybe not. You kind of have to look at it a little bit, but it does impact it because you just don't have the inventory. Everybody scrambles to try to fill these games."– Martin Jarmond
The 2018 season still has a hole, but big-name opponents like Oklahoma, Oregon, TCU, Notre Dame, Texas and Boston College are on the docket for the next eight seasons.
While some might not be pleased with playing another service academy or a Conference USA opponent, making things match with premier programs each year is no easy task — especially with the Big Ten going to nine conference games in 2016.
"It makes it more challenging because of the inventory issue," Jarmond said. "With the nine games and now, it's only three — everybody scrambles to try to get those kind of games. Because you have to look at your schedule. I don't know the years off hand, but we've got TCU and Penn State and someone else, I don't know if we need to be playing USC. That's how it affects it."
With college football heading full speed into the Playoff era in 2014, in order to be in position to compete for national championships now require being one of the top-4 teams in the country, instead of the top-2. Facing off against teams like Oklahoma and Notre Dame year in and year out could jeopardize that even further, but that doesn't mean Ohio State wants to play just cupcakes every year in the non-conference, Jarmond said.
"Gene's philosophy has always been, and I think it was maybe two or three years ago, where he really wanted to start scheduling stronger," Jarmond said. "It was like the year before the College Football Playoff that was his directive. So we were kind of moving away from the FCS, Youngstown State model, because we want a competitive, challenging schedule."
Big Ten Commissioner Jim Delany announced in July a unanimous decision among conference contingents to schedule only FBS starting next year in addition to the nine-game conference slate, in an effort to bulk up conference competition.
"Everybody agreed," Delany said. "We have the nine conference games. We have a commitment to schedule an intersectional game. We have a conference championship (game). And we have the commitment to play only (Football Bowl Subdivision) opponents."
It looks good on paper, but how it's received certainly cannot be determined until the calendar flips to 2016 and beyond.
Sept. 7 marks the end of an Ohio State home-and-home with Virginia Tech, with the towering names mentioned above coming down the pipe. When Urban Meyer was hired prior to 2012, the schedules were mostly already in place up until this point, and Jarmond said the head coach usually doesn't share his philosophy with him and Smith about scheduling.
"Gene and I meet with Coach, but he doesn't have that much involvement at all," Jarmond said. "He might just share kind of what he thinks, are there programs out there that would be really good that he would think to match up. But he honestly really doesn't, he's got other stuff to focus on."
Jarmond also added that Ohio State's approached "every year" about playing a neutral site game at a professional stadium early in the season, but it must fall in line with what the school is looking to accomplish from a fiscal standpoint.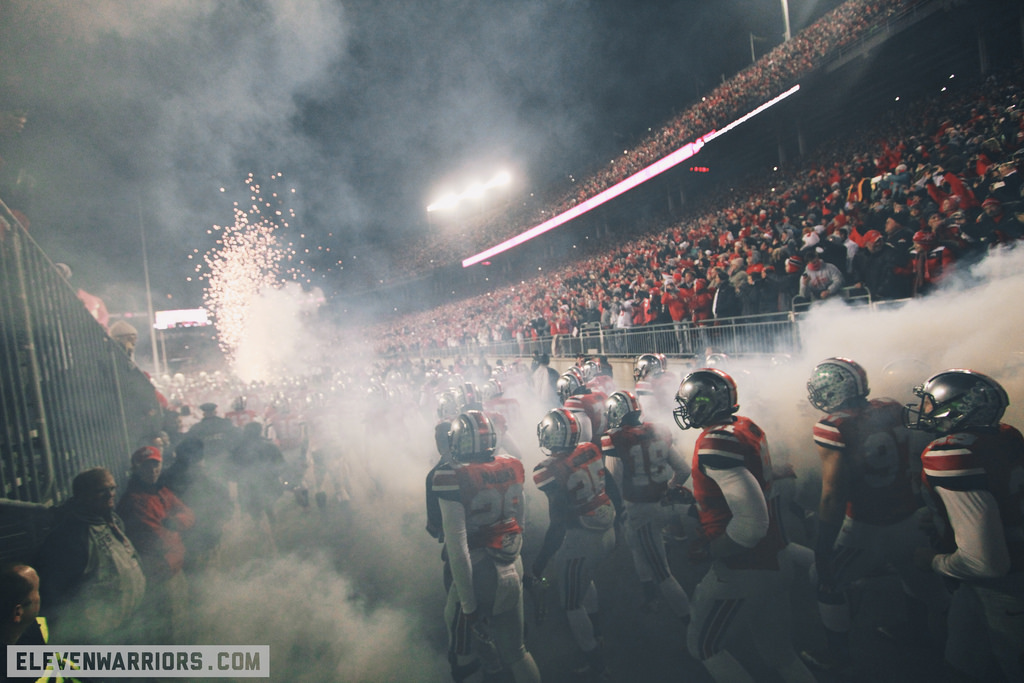 "Gene is open to looking at that, but again it's gotta work financially for us," Jarmond said. "Because of our stadium, we would be sacrificing a little bit more financially than Purdue would or Wisconsin even would. Not every neutral site venue can provide the kind of return that we would need."
Ohio Stadium's capacity is 104,944, much larger than even the largest NFL stadium — Metlife Stadium in New Jersey has a capacity north of 82,000.
Such considerations must be made by Jarmond, Smith, Meyer and their staffs constantly, however. It's why Jarmond employs a massive white board to shift names and numbers around in his office, noting how teams have performed in the last five years, the direction each program is heading in addition to Ohio State's Big Ten slate.
It all happens roughly a mile from Ohio Stadium on the 10th floor of the Fawcett Center.
"Does it make sense to play this kind of team when we've got The Team Up North, Michigan State, Wisconsin in the same year? Maybe not," Jarmond said. "You kind of have to look at it a little bit, but it does impact it because you just don't have the inventory. Everybody scrambles to try to fill these games."