"Why do soldiers fight?"
Urban Meyer posed the question that's been studied by countless countries for generations. The research that's followed has produced a variety of possibilities ranging from fighting gets them closer to coming home to some humans simply enjoy violence.
He made the query at the Urban for Autism event in Perrysburg earlier this summer. Meyer delicately qualifies invoking military references when discussing trivial things like sports by revealing his intentions: Ohio State's head coach is always researching combat methodology to see what might applicable to making his football teams better.

Meyer isn't the first football coach to do this. He's not even close to being the first Buckeye coach to do it either, but as varied as the research to his question is his answer was straightforward and reflective of the culture he now has installed heading into his fourth year in Columbus.
"They don't fight because of the hatred of those in front of them," he told the crowd, "they fight because of the love of those behind them."
Camaraderie was front and center on all three of the podiums the Buckeyes danced on last December and January. Every microphone put in front of Meyer during the postgame celebrations in Indianapolis, New Orleans and Arlington amplified his message about resilience, togetherness, closeness, trust, unity, affection and respect for and among his players.
He did not make one single mention of scheme. Ohio State has gone 38-3 under Meyer following a formula that of course requires artistry, talent and execution - but relies heavily on trust and unity. It's not mushy, feel-good lip-service either: the latter happens to be an accepted answer to the question of why soldiers fight.
Ohio State football operates aN AWFUL lot like Soviet hockey did.
Combined with a unique, evolving scheme and building unshakable trust in players, Meyer's team culture and combat-based philosophy at Ohio State looks suspiciously like the one installed by Anatoli Tarasov, the father of the Soviet Union's Red Army hockey program.
Yes, it's true - modern Ohio State football operates an awful lot like the dominant Soviet hockey did. The Soviets. Woody Hayes is throwing yard markers in his grave.
---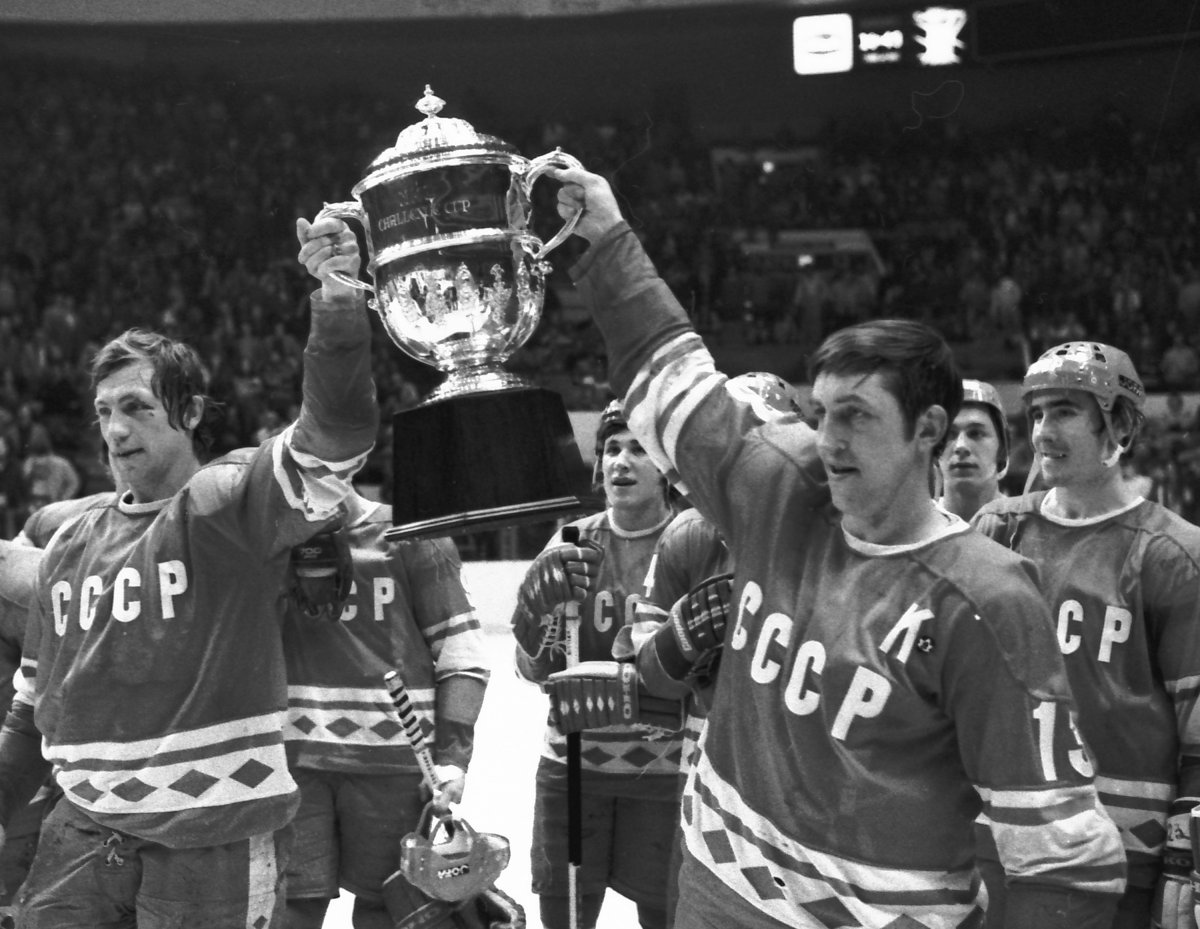 Most Americans can only remember one U.S.S.R. hockey game and it's the one it lost in Lake Placid to Team U.S.A. in the Miracle on Ice. That was the greatest American sporting event of my lifetime - and it grossly overshadows the unparalleled majesty that was Soviet hockey in 20th century athletics. 
The Soviet national team participated in nine Olympic Games. It took the gold medal seven times; the silver in 1980 when the U.S. team pulled the upset and the bronze in 1960. It medaled in every Olympics that its country existed and also medaled in every World Championship it didn't boycott, winning the gold there 19 times. 
Keep in mind ice hockey did not exist in the Soviet Union until after WWII when Tarasov was chartered with creating the national program. He was a soccer coach by trade and literally started his mission by finding a hockey rulebook so he could learn the game he was now in charge of and build an empire with it. 
Here's how he did that. Take a deep breath; you will pick up on some comforting, familiar aromas.
---
Artistry
Tarasov crafted the Soviets' game strategy from scratch by first surveying how hockey was already being played internationally - and most notably by the game's dominant country, Canada - and then innovating around it. There would be no copying. As he put it, "if you follow someone else's road you will never get ahead."
The dominant, Canadian strategy was predicated on the puck-handler's ability, resulting in four skaters depending on one. The game flow was almost linear, up and down the ice and the Canadians generally relied on superior ability to overpower their competition.
The new Soviet strategy put more emphasis on what the skaters without the puck would be doing. That opened the ice and spread out the defense. One skater now depended on the other four. He had options and could dictate the game to where the skaters were going to be, rather than to where the already were. They put the same premium on skill and ability as the Canadians did.
But the players without the puck were the engine that powered and differentiated Soviet hockey.
When Meyer came to Ohio State there was some trepidation around the style of play that would come to define the Buckeyes - a program that is traditionally an I-formation power team. The idea that the Buckeyes would now dink their way down the field with three-yard bubble screens had many fans clutching their pearls. That would be a wholesale departure from a comforting identity; Rich Rodriguez had failed spectacularly to install a similar philosophical shift in Ann Arbor just one year earlier.
Philosophically Meyer's offenses have always spread out the opposition and forced them to defend the entire field, but what the Buckeyes have shown in his first three seasons is that they are a power-running team first and foremost. They just operate out of spread formations.
The 2014 Buckeyes closed their championship season piling up 301, 281 and 296 rushing yards in elimination games against defenses that had successfully stopped the run all year, easily doubling what they had allowed per game on the season. It wasn't just running backs and linemen doing the work, either. 
"If you follow someone else's road you will never get ahead."– Anatoli Tarasov
The players without the ball were the engine that powered and differentiated the Ohio State rushing game. Think of a ball carrier cruising to an 85-yard soul-crushing touchdown made possible by a wide receiver obliterating two linebackers by himself.
This isn't the old basketball-on-grass spread offense. Ohio State is forcing teams to defend the entire field and then smashing them to their core with a ruthless power running game. Its artistry, though conducted through elite talent and conditioning. 
If you follow someone else's road you'll never get ahead.
---
Trust
Tarasov's promise to his players was that they would be international stars operating within his team-first concept - which would prove to make them even better men. The foundation of Soviet hockey was unending trust in both directions.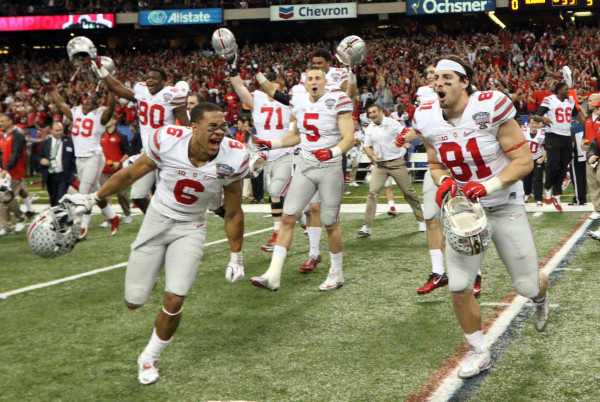 In order for that to materialize there could be no factions or walls between them. Players had to completely let go and entrust their development and careers to Tarasov's vision. In turn, the players were trusted to execute in all situations. Soviet hockey was cruelly efficient in large part because it rarely handicapped itself with an overly conservative strategy. 
Some people might call this running up the score, but they simply trusted themselves enough to execute for the balance of the game, every game. Sitting on a lead might have suggested a lack of confidence. The Soviets didn't sit on leads. It wasn't their job to stop themselves.
Nor did they fracture in those exceptionally rare moments when they found themselves trailing in a game - which may sound familiar to Ohio State fans who themselves might have panicked a little early on in the Sugar Bowl:
They literally did not feel that trouble. This wasn't because they had some rah-rah moment of brotherhood and pluck. This didn't fall into the bulging sports file of pulling it together out of having "something to prove."

This was because they believed, one after the other through the merry late-night locker room, that the 21-6 score midway through the second quarter did not reflect accurately the goings-on on the field.
That is uncompromised trust in the strategy, the development, the effort and the execution. Teams aren't held captive by fear of mistakes when there is this level of trust across the organization. That's the kind of confidence that allows teams to shrug at a mutli-score deficit to a juggernaut like Alabama, the number one team in the country at the time.
Teams aren't held captive by Fear of Mistakes when there is Trust Across the Organization.
When this isn't in place, difficult decisions are rendered impossible. However, when mutual trust is installed as a vital cog in the organization's culture, allowing a wide receiver to throw the first and last pass of his college career in the red zone with the entire season on the line doesn't seem all that crazy.
By the way - if you're still wondering why Evan Spencer was Ohio State's MVP instead of a quarterback or Ezekiel Elliott, don't. Zeke is marvelous in every way, but Spencer as a senior embodied exactly what Meyer is trying to develop out of every player.
---
Unity
They don't fight because of the hatred of those in front of them; they fight because of the love of those behind them.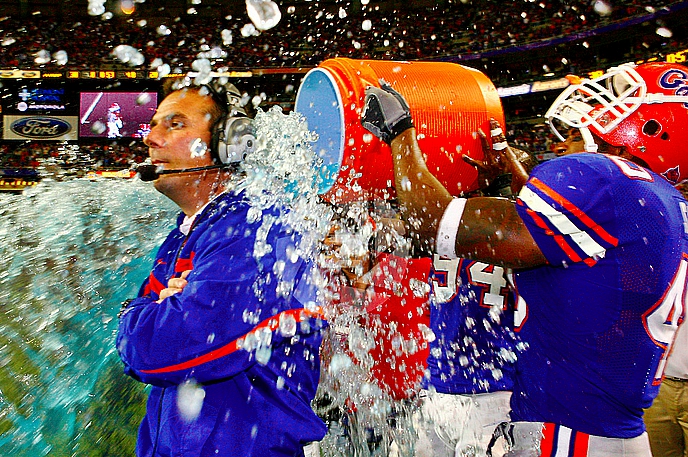 As hard as we have tried to forget about the conclusion of the 2006 football season, peeling back the layers of Florida's ascendance under Meyer reveals an important change in how the Gators perceived themselves:
When Florida reached the BCS Championship Game in Meyer's second season, players there told of atmospheric shifts in the program. Linebacker Brandon Siler said the emphasis had changed to value togetherness so that, "We play for each other and we care about the guy next to us."

Receiver Jemalle Cornelius managed to mention "going bowling and hanging out all the time." Offensive tackle Steve Rissler said, "I didn't really go to my coach's house in the last coaching staff. This time, I have been numerous times and hung out with their kids. I know his wife."
Tarasov would preach to his players they needed to treat each teammate like the love of your life. He believed that love was the strongest emotion to fuel a team; far stronger than hate - and that if his team truly loved itself it would be incredibly difficult for any other team to break it.
Meyer's Buckeyes win when they are nine units strong. They lose when they aren't.
Granted, Tarasov managed soccer and hockey teams during his career which involved coaching a couple dozen de-facto professionals. Having 85 scholarship student-athletes plus walk-ons as the loves of your life is too broad, sort of like assigning the national championship as the goal ahead of a season.
Meyer understands this which is why he makes it more manageable by preaching unit cohesion. Ohio State doesn't talk about winning titles, reaching Glendale to end this season or even going undefeated. It talks about being nine units strong. Meyer's Buckeyes win games because they are nine units strong. They lose games when they aren't.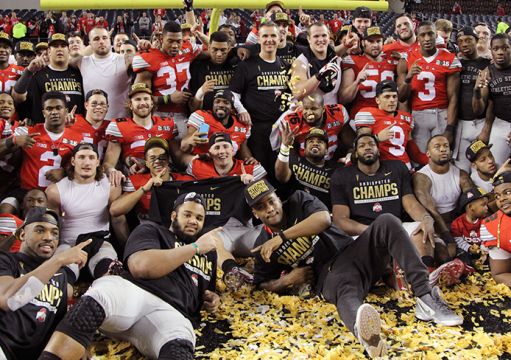 Unity got Ohio State through losing Braxton Miller 11 days prior to the start of the 2014 season. Love kept it whole after falling at home to Virginia Tech on the biggest recruiting night of the season, and then again after losing J.T. Barrett against Michigan. Artistry helped the Buckeyes tie or break 74 school records during that season. And trust kept it intact when it was losing to the Crimson Tide 21-6. They never wavered and finished off Alabama on a 36-14 run. 
Why do soldiers fight? Because they have something worth fighting for. As Tarasov - and now Meyer - have both shown, the right blueprint not only results in triumph; it can produce dynasties as well.
Dynasty. That's a word you will never hear any Ohio State coach or player utter this season or any other as long as Meyer is around. You'll have to settle for witnessing their artistry and constantly hearing their mantra: Trust. Unity. Nine units strong. You'll hear all of that said, repeatedly.
Like the methodical cadence of a sterile, efficient Soviet assembly.