"Who's got it better than us?"
Nooo-body!
That was Jim Harbaugh enthusiastically finishing off his introductory press conference on December 30 in Ann Arbor, delivering a reassuring message about Michigan football while abruptly ending an era that was even more humiliating than it was mediocre. 
Shortly after the only highlight of Michigan's bowl season was aired, Harbaugh's hypophora went viral for the first time - in Michigan circles. It quickly sprouted on Twitter, in message board signatures and on t-shirts. Four years ago San Francisco 49ers players and fans adopted it as their battle cry. 
Who's got it better than us? Nooo-body! was everywhere in the Bay Area from the team locker room to the requisite terrible rap song. When John beat Jim in Super Bowl XLVII Ravens fans condescendingly adopted it and also printed t-shirts of their own.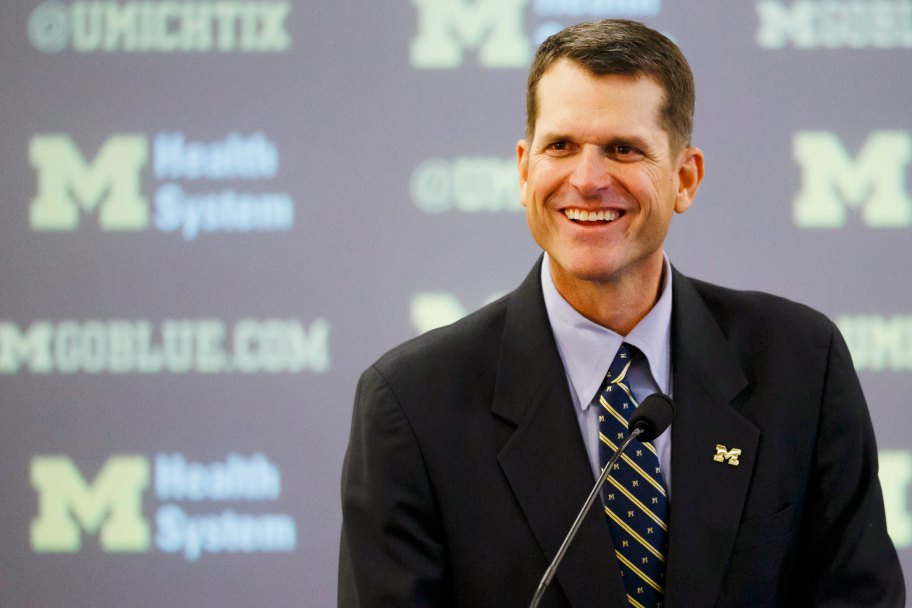 It could be heard at both Stanford Cardinal and San Diego Toreros games prior to that - you might even catch one of their fans still shouting it today; further evidence supporting Harbaugh's undeniably positive and lasting cultural efficacy. Now the question everyone loves to answer has arrived at Michigan.
This is the family slogan created in the 1950s and installed by patriarch Jack as a way of always remembering to be grateful for what you've got. All of the Harbaughs chant it routinely. Think of it as a more elegant version of O'Doyle Rules.
This type of battle cry is highly compatible with Michigan football culture where succinct phrases have always been warmly embraced and parroted by its fans: Brady Hoke's contribution was It's Michigan, fergodsakes. Bo had The Team, The Team, The Team and Those Who Stay Will Be Champions. Lloyd Carr's was I Only Got This Job Because Gary Moeller Punched a Cop.
The expression, as with the Harbaugh family itself and every Michigan football player or coach of significance since World War II originated in Ohio. Another expression Jim got from his father is 
Attack this day with an enthusiasm known to mankind. And don't take any wooden nickels.
He dropped the antiquated Depression-era currency part when he recently tweeted it a little more than 48 hours after Ohio State resoundingly claimed the first-ever College Football Playoff title. Two days after Harbaugh first answered his family question in Ann Arbor the Buckeyes advanced to the championship game by beating Alabama in the Sugar Bowl. Who's got it better than us?
This isn't to playfully snipe at Michigan only because Ohio State is currently on top of the college football universe; there's never an inappropriate time for rivals to do that to each other. Despite being lousy for most of the current century, Michigan and Ohio State are permanent football contemporaries.
Harbaugh's hypophora transcends one lousy decade of Michigan football.
It's written in blood, etched in stone and preordained: Until either program goes the way of Iowa Pre-Flight that's not going to change, and neither side likes to admit it but they're far more similar than different. Our dark underbelly fans - the generally craven and unpleasant types who tweet at recruits and rely on the success of a college football team to upgrade their personal self worth - can only be told apart by the colors of their replica jerseys.
Who's got it better than us? If you're playing the long game then it's hard to have it better than Ohio State and Michigan fans do. Harbaugh's heartening slogan transcends one lousy decade. It has the staying power of any phrase Bo ever dropped (or anything Harbaugh openly lifts from Woody, via Bo).
The short game is radically different: When Ohio State self-destructed in 2011 Michigan seized and secured several Ohio recruits whom you probably cannot remember, with one very loud exception. The Wolverines' upper hand - following a decade of terror by the hand of Jim Tressel - lasted exactly one season. It was the turning point in the rivalry that never materialized.
As a snapshot in time Ohio State categorically has it better than Michigan because the reigning national champion has it better than everyone. For the current century the scorecard shows a 5-1 advantage in BCS bowl victories, 4-0 in title game appearances, 2-0 in national championships and 12-3 head-to-head. This isn't breaking news, but it is why the long game at places like Michigan can situationally become the only game. It's the healthiest way of coping.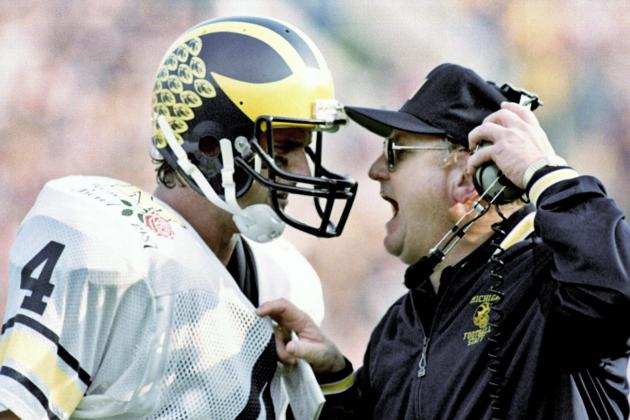 Kids entering college today have no memory of a time when the Wolverines were punching down when it came to dealing with the Buckeyes. Harbaugh is the coaching embodiment of what that dated emotion feels like; the face of the program during an era when Michigan was both feared and admired by everyone else.
During his four years at quarterback Michigan was ranked in the top ten more often than not. Few teams have had it better when Harbaugh - or any Harbaugh - is running things. Combine his family legacy with Michigan's and you don't have to think too hard to understand why he is the perfect coach for that school.
At the same time, try and name a single player, coach or thing Michigan owns that you would trade to have at Ohio State. There's nothing. The malevolence goes both ways and is extremely fluid; one week ago Michigan fans deeply coveted Mike Weber; today he's an enemy of the state.
Four years ago Kyle Kalis was Ohio State's recruiting class headliner. He's been our bloody punchline ever since. There's nothing Michigan has that Ohio State covets, and vice versa. You could say we Attack each other with an Enthusiasm Unknown to Mankind.
Whenever Ohio State or Michigan miss out on a player they both wanted (think: Woodson, Howard, Ginn, Spielman - the list really is endless) they don't wish they had them; they just wish they went anywhere else. No one personified this shared trait better than Woody Hayes who very quietly was Notre Dame's best recruiter for almost 30 years.
You will enjoy deeply loathing Harbaugh at Michigan. For those of us old enough to remember round one - we'll absolutely love hating him again. And as good as he is and will be at running things up there, you'll continue to be perfectly satisfied with Ohio State's own coaching situation, roster, traditions and legacy.
Because there's nothing and no one else you would rather have. Nooo-body.