Ohio State gained a bittersweet win against archrival Michigan on Saturday. The Buckeyes struggled early due to a sputtering passing game and a defense lacking sufficient numbers at the point of attack.
But the Buckeyes recovered with several critical runs and throws by J.T. Barrett and by limiting the Wolverines' second half running game. By making Michigan's offense one-dimensional and their own offense multi-dimensional, the Buckeyes were able to extend their lead.
Now the Buckeyes must prepare for the Big Ten Championship game against Wisconsin without Barrett. A plucky Ohio State team admirably rallied following Barrett's injury for an offensive and defensive score. They must rally again.
Below, I examine the Buckeyes' performance against the Wolverines. I then analyze how Urban Meyer and Tom Herman must prepare Cardale Jones to face Wisconsin's aggressive 3-4 defense, and how defensive coordinator Chris Ash must adjust his defense to contain Melvin Gordon and the Badgers' run offense.
Knives to a Gun Fight
The Michigan offense's goal was to control the clock and limit the Buckeye offensive possessions. After a Vonn Bell interception and Michigan punt, Brady Hoke's offensive staff ably mixed multiple tight-end looks with constraint plays and quarterback runs to keep the Buckeye defense off-balance (and left many Michigan fans wondering where such a game plan had been all year).
Although the Wolverines deployed a variety of multiple tight end sets, Ohio State did not adjust to the personnel grouping. This provided Michigan a numerical advantage against Ohio State's base 4-3 over, cover 4 defense.
Michigan often aligned in split back (11 personnel) from the shotgun or 12 personnel (1 RB, 2 TE) with the second tight end as a wingback. But walkout linebacker Darron Lee frequently remained outside the tackle box over the slot, rather then in a 4-3 stack. This provided Michigan six or seven blockers against six box defenders.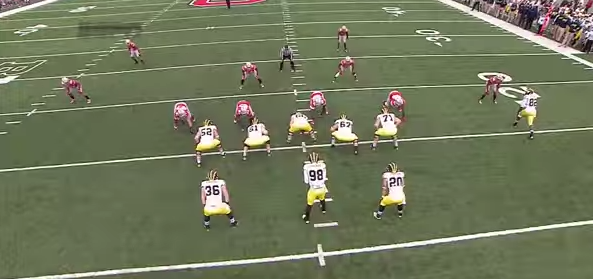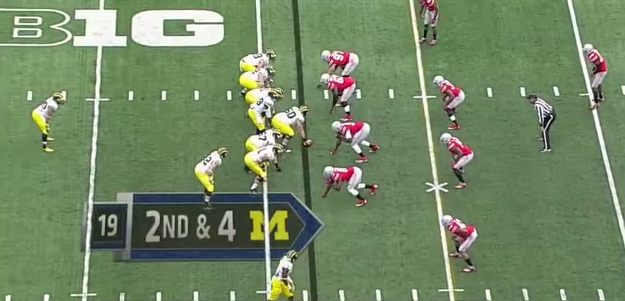 In fact, Michigan would occasionally use 13 (1 RB, 3 TE) personnel to create additional gaps. Ohio State countered with a bear front, but with split safeties the Buckeyes still lacked sufficient numbers to account for every gap.
Same Old Story
Ohio State's scheme deficiencies were exacerbated by a lack of run fits. The Buckeye defensive ends failed to maintain outside leverage, which allowed Michigan tailback Drake Johnson to bounce outside. The Buckeye inside linebackers too often failed to come downhill and fill gaps, a recurring problem. And safety Tyvis Powell continued to take poor angles, resulting in missed tackles.
By successfully running the football, the Wolverines could utilize play-action for outside comeback and flat routes. Michigan offensive coordinator Doug Nussmeier's play calling kept Ohio State on its heels and put the Wolverines in third and manageable situations. On an average third down, Michigan only needed 3.25 yards for a first down.
Devin Gardner was effective as a runner, particularly on third down. Ash frequently blitzed his inside linebackers. This left Gardner with open lanes and no one left to tackle the quarterback at the second level.
The upshot: despite having only three explosive plays (granted, one was a big completion to Devin Funchess), Michigan had five drives of either nine or more plays or 75 or more yards.
Tightening The Screws
The Buckeyes' defensive play improved in the second half with several adjustments. The Buckeyes resorted to more bear and under fronts, and Ash occasionally used single high safety looks with cover 1.
Perhaps more importantly, Ohio State's edge defenders played with better leverage. The defensive line maintained better lane discipline, and Lee and Powell were far more aggressive coming downhill against the run – perhaps a result of a scheme adjustment to cover 4. This hemmed in Michigan's runners, allowing the Buckeyes to gang tackle.
By putting Michigan in longer third down situations, Ohio State could take advantage of its pass rush. The result was five sacks, including Lee's fumble return touchdown. 
Pulling the Trigger
After an efficient opening drive attacking the edge, the Buckeye offense stalled. This was largely a reflection of an inefficient passing game. Barrett had ample protection, but – as he has been at times this season – he was hesitant to throw into tight windows. Buckeye wide receivers were too often covered, as Michigan frequently mixed cover 3 and 4 on first down, with man coverage on third and short and Tampa cover 2 in passing downs.
All it Takes Is One
Ohio State's offense got back on track in its two minute drill to end the first half. Barrett seemed to gain confidence after hitting Mike Thomas on a tightly covered hitch route. Perhaps more importantly, Barrett made several critical decisions to scramble – none more so than his touchdown run.
Barrett then made two critical throws to start the second half. On third and six, he hit Jeff Heuerman for the drive's first first down. On the next play, he connected with Devin Smith on a post-dig route for 53 yards against Michigan's cover 3 defense.
On the latter play, power read play action drew the Michigan linebackers and safety towards the line of scrimmage, leaving three deep defenders against three receivers. Michigan cornerback Raymon Taylor played Smith with outside leverage, expecting safety help from the middle of the field, but the post-dig combination creates a vertical stretch on the middle safety. The safety jumped the dig route, leaving Taylor in single coverage; Smith beat Taylor to the post, where he caught a perfect ball from Barrett.
With a more efficient passing game, Michigan could not corral the Ohio State run game. The Buckeyes introduced several wrinkles. For instance, the Buckeyes split Ezekiel Elliott wide and motioned him into the backfield – likely in an attempt to prevent the Wolverines from utilizing specific looks against Barrett as a runner in empty sets.
Ohio State also added a wrinkle to its quarterback counter trey play; Barrett would fake tight zone to Elliott, who would then turn and serve as Barrett's lead blocker.
The Buckeyes were also effective with their base power and tight zone run plays, none more so than on its 14-play, 81-yard drive in the third quarter. Ohio State's offensive line drove the Wolverine defensive tackles back to Michigan's linebackers, and Ezekiel Elliott ran with a low pad level and gained yards after contact.
But no run play was more important than Elliot's touchdown run on 4th and 1. As Kyle detailed, Ohio State unveiled a blocking scheme they only previously used for short yardage quarterback runs – split zone. With split zone, the offensive line blocks tight zone. But the wingback – here, Nick Vannett – blocks the backside end, preventing that end from crashing down. 
Michigan was in cover 0. So Vannett and Jalin Marshall's movement drew their secondary counterparts away from the hole, allowing Elliot to score untouched once he broke a tackle at the line of scrimmage.
Largely behind its running game, the Buckeyes scored on three of its four possessions in the second half to put the game away.
On Wisconsin
But the Buckeyes must face Wisconsin in the Big Ten championship game without Barrett. Under defensive coordinator Dave Aranda, Wisconsin operates an aggressive, 3-4 front.
Against the Buckeyes last season, Aranda put his defensive ends in a 4i techniques; in essence, a modified bear front.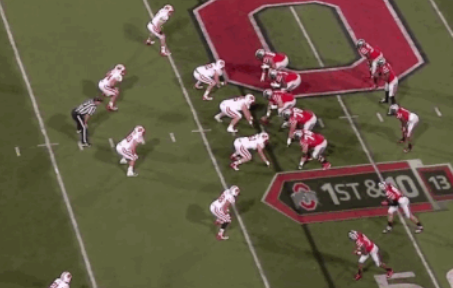 In the secondary, the Badgers frequently played cover 3 with their safety aggressively coming downhill against the run. 
Because the defensive end alignment made it difficult for the Buckeyes to read the end, Herman and Meyer conflicted the linebackers. Ohio State utilized bubble screens and jet sweeps to hold the linebackers and open the inside run game. And the Buckeyes hit several vertical routes off play-action against Wisconsin secondary defenders overly focused upon the run.
Aranda will likely be even more aggressive with Jones making his first start. The Buckeyes have not gotten a lot from their drop back passing game over the last three games, and the Ohio State offense may just needs Jones to hit a few throws. This will likely come in as quick hitch and slant routes against soft cover 3 corners, and vertical throws off of play-action. 
Jones has shown the ability to make these throws.
And they allow Jones to make quick decisions and not go through intermediate progression routes in the middle of the field, where interceptions for an inexperienced quarterback are more likely. Such routes, combined with wide receiver screens, the running back swing screen and the touch pass, should be enough to support the Buckeye run offense.
Where Barrett will be especially missed is his decision-making, both in the pocket and deciding whether to give or take on option plays. And the Buckeyes will also miss his short yardage running. Barrett repeatedly converted crucial third downs by using good vision, lowering his pads, and getting up the field.
For his size, Jones has not shown an ability to run with such effectiveness in short yardage. So Herman and Meyer may be particularly apt to use Marshall at quarterback in third and short or medium situations with plays such as counter trey.
In the run game, look for the Buckeyes to utilize more power, dart, and quarterback counter trey. Such plays not only go off tackle outside Wisconsin's tight defensive ends – but also reduce Jones' reads in the run game. 
A Helping Hand
But the burden is not only upon Jones. The Ohio State defense must also play better against the run. Last season, the Buckeyes limited Wisconsin to 104 yards rushing by primarily playing cover 1 with a safety aggressively coming downhill. Although wide receiver Jared Abbrederis had a big game, Ohio State ultimately limited the Wisconsin offense by forcing them out of their comfort zone.
Ash has traditionally deployed such a strategy against pro-style teams. But Ohio State has been reluctant in recent weeks against mixed shotgun teams such as Minnesota and Michigan.
But Michigan State was a notable exception. And Ohio State cannot limit Wisconsin if they are undermanned in the box, particularly against two tight end sets. Since Wisconsin does not have an Abbrederis this season, expect Ash to play Lee and his safeties far more aggressively against the run and allow his corners to play man – especially when the tight end is the end man on the line of scrimmage.   
The Ohio State defense must maintain its intensity. The Buckeyes play well for stretches, only to hit lulls where it seems everyone is waiting for someone else to make a play. It is incumbent upon the Ohio State defense to limit the Badgers' rush efficiency. They cannot leave the Buckeye offense with a new quarterback with only nine possessions, as occurred against Michigan Saturday.