It's Michigan State week; the most anticipated game on the schedule since last year's B1G championship disaster. It's a de-facto conference championship play-in tilt and has implications far beyond East Lansing (I'm talkin' playoffs). What I'm sayin' is...it's gonna be a banger. To give you the skinny I've summoned Michael, Johnny and Nicholas from the basement. Have at it fellas.
Is this the biggest game the Buckeyes have played under Urban Meyer? 
Michael: No, I think the B1G championship game was bigger last season and could have propelled Ohio State into the NCG last year. This year, there's no guarantee the winner of this game gets to the playoff, although I think it probably does, provided it wins out the rest of the way. This is certainly the team's biggest regular season game under Urban Meyer though.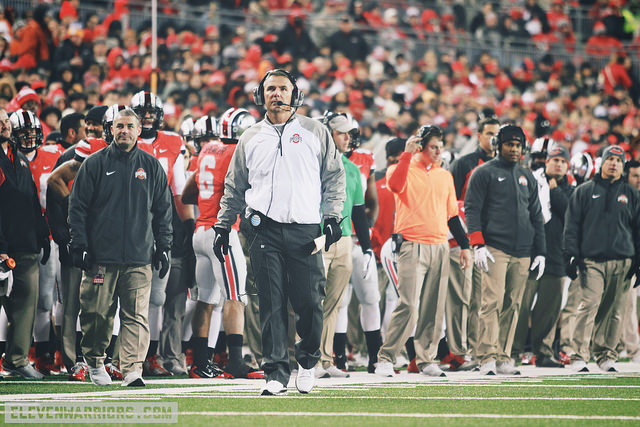 Johnny: No. I would go as far as saying that this really isn't that big of a game in general (aside from it being against an opponent with a pulse), but that'd be mostly me trying to downplay my expectations because I'm nervous about the game in general. The 2013 B1G championship was way bigger than this, and hopefully Meyer and company get more creative this time around.
Nicholas: No way. Winning this game ensures a division title, but even a 12-1 OSU team would be a long shot for the college football playoff. If the Buckeyes had beaten Michigan State, they 100% would have faced Florida State for the national title. It's not exactly like the Buckeyes are facing the Grim Reaper for their souls.
What concerns you most about Michigan State? 
Johnny: My biggest concern is Good Connor Cook showing up and their offensive line keeping him upright. We've got an excellent defensive line and possibly the best defensive lineman in the country, but a lack of a true edge rusher might hurt us if our linebackers and safeties can't keep contain. Not real wild about the possibility of death by a thousand cuts.
Nicholas: The Spartans could demolish Ohio State's interior line. Its defensive coordinator, Pat Narduzzi, is famed for two things: his love for the double-A gap blitz and his Borg-like adaptability. The double-A gap blitz will bring Taiwan Jones, Darien Harris and Ed Davis screaming at the center, and Jacoby Boren will only be able to take one of them. Even if the Buckeyes can use Oregon's tactics to neutralize the blitz, Narduzzi's knack for in-game adjustments means a shaky interior line will have to deal with pressure over and over again. After the Virginia Tech and Penn State games, that's a bad sign.
Michael: Their athletic defense is easily my biggest concern. We've already seen Virginia Tech and Penn State have success against Ohio State's offense. Michigan State has a better defense than both and has had two weeks to work on stopping J.T. Barrett and the offense. If Ohio State can run the ball early, I will feel much better about the Buckeyes' chances.
Is this Michigan State team better, worse or about the same as last year? 
Nicholas: Which 2013 team are you talking about? The Spartans began last year with a killer defense and a woeful offense, but over the second half of the season they morphed into a top-5 team. This team is somewhere in between: good on offense, great (though overhyped) on defense, meh at special teams. On a neutral site, I think the Buckeyes would rather face this team than last year's. Alas, Spartan Stadium is not a neutral site.
Michael: I don't see a huge difference between 2013 and 2014 Sparty. Connor Cook has another year of experience but the defense lost a little bit of talent. I'd say that's about a wash.
Johnny: They're better offensively and maybe slightly worse defensively. Maybe because of their crappy schedule we've willfully ignored the fact that Sparty has a top ten offense right now, they're actually a better offensive team statistically than Ohio State. That's some crazy late-stage Vonnegut crap right there, but it's enough for me to worry about.
What's the No. 1 thing the Buckeyes will have to do this weekend to leave East Lansing with a victory?
Michael: The defense has to win this game for Ohio State. If the Buckeyes hold Michigan State under 24 points, the Buckeyes can win. I also think it's hugely important to win the turnover battle.
Johnny: Get to Connor Cook. He's been incredibly inconsistent this year, but can and will drop bombs when he needs to. If he's given enough time, it becomes an inevitability as to when he'll make our secondary look bad on a really frustrating long pass for a touchdown.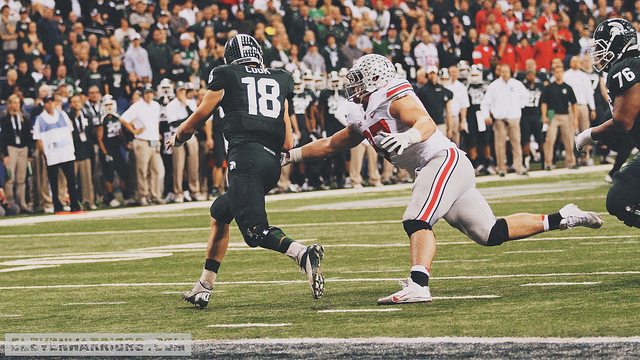 Nicholas: Keep Michigan State's secondary honest. The Spartans will try to cheat its safeties into the box to help against the run, especially if OSU's offensive line can handle the pressure. When that happens, Ohio State must punish them with play-action, vertical seams, pop passes and other constraint plays to exploit defensive backs who are out of position.
Without Darqueze Dennard shutting down an entire side of the field, is this secondary still the no-fly zone?
Johnny: The stats say yes, but really the only proven quarterback that MSU has played is Marcus Mariota, who made them look foolish to the tune of over 300 yards passing and three TDs. J.T. Barrett still isn't proven, especially since he's struggled against the two defenses with a pulse he's encountered, but Ohio State's passing offense should be a good deal better than most every team their secondary has played so far.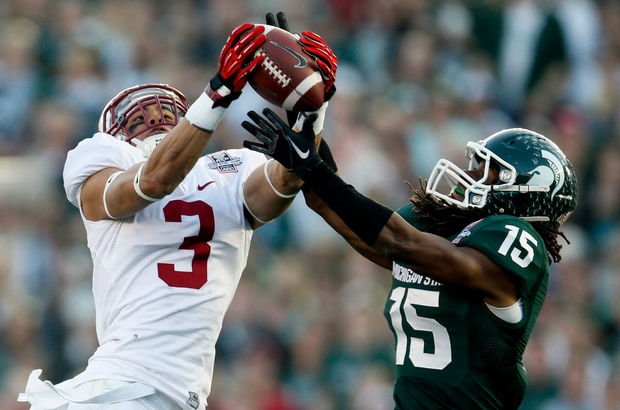 Nicholas: Point of order: Trae Waynes, the Big Ten's best cornerback, is still shutting down half of the field. But no, it's not.
Michigan State is 83rd in the country in allowing explosive drives (drives averaging 10+ yards per play) at 15.5%, more than double last year's rate. That's largely the secondary's fault for being prone to mis-tackles, poor angles and brain farts. They're still a top-10 pass defense, but if 2013 MSU is the gold standard then this secondary is silver at best.
Michael: It's still going to challenge every throw and force the Buckeyes to either go over the top or to at least be more creative in finding the holes it couldn't find last year. Barrett won't have time for long routes to develop so he'll need to adjust, find check-downs and move the chains.
Michigan State has given up just 5 sacks this season (tied for third best in the country) will Bosa and the boys be able to rattle Connor Cook this weekend?
Nicholas: It might not even matter. Cook's worst passing performance this season came against Nebraska in a game where he wasn't even sacked. The OSU and Nebraska defenses have two similarities: all-Big Ten defensive ends (Joey Bosa/Randy Gregory) and solid pass defenses (11th and 13th in Passing S&P+). Ohio State's other defensive linemen are better than Nebraska's, and they should be at least as disruptive even if they don't sack Cook.
Michael: I expect Ohio State to get to Cook a couple of times, but Cook doesn't seem to be the kind of guy who is easily rattled.
Johnny: Yes, but it's going to take a while for them to wear their offensive line out. The key will be for the secondary to hold up their end of the bargain until probably midway through the third quarter, when Bosa and company can start to make things dicey for the home team.
What's the best matchup to watch in this game?
Michael: The best matchup will be Ohio State's defensive line against Michigan State's offensive line, but the most important matchup will be Ohio State's offensive line against Sparty's defensive front.
Johnny: Ohio State's offensive line against Michigan State's defensive line. Michigan State is tied for 11th in sacks in the country (again, better than Ohio State) and averages 3.5 sack per game. Their run defense is 6th in the country, and what both of those disheartening stats mean is that OSU's offensive line better turn in a better performance on Saturday than the one that they gave against Penn State.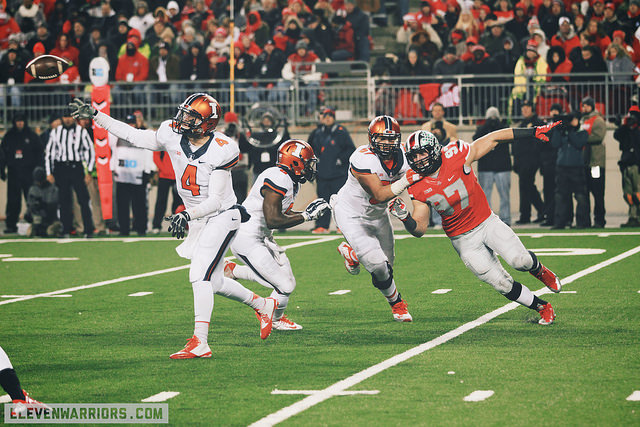 Nicholas: The Buckeyes match up really well against the Spartans on punt and kick coverage. Macgarrett Kings Jr. and R.J. Shelton are run-of-the-mill return men, and OSU's coverage teams are solid as always. When the Buckeyes need to punt (spoilers: they will, and often) at least they'll flip the field position.
What do you think the split will be between Michigan State fans and Ohio State fans at the stadium? 
Johnny: I think Dantonio has done some really great things up in East Lansing, so it should be a packed house with mostly green in the stadium.
Nicholas: Buckeye Nation will have a hard time making its presence felt at this game. Michigan State fans are energized, and this is their biggest home game since playing No. 4 Wisconsin in 2011. It'll be an 80/20 split at best, more likely 90/10.
Michael: Ohio State always travels well, but Sparty fans will make up at least 70-75% of the crowd.
What is your final score prediction?
Nicholas: Michigan State 34, Ohio State 17. I have a really bad feeling about this.
Michael: If I'm being honest, I see Sparty winning a close one at home, 27-23. I would love to be wrong and have the good guys come home with the win. I think a lot of people are sleeping on the MSU offense.
Johnny: 28-24 bad guys. I really like our defense and how they've progressed, but Narduzzi is going to throw every single thing he can at Barrett and one mistake by him will probably lead to some Sparty points. We'll make it close at the end, but I don't see this one going our way.
If you could swap one coaching staff member from both teams, who would you take?
Michael: I would like to have Pat Narduzzi install our defensive game plan instead of Luke Fickell, just to see how he'd try to stop Tony Lippett and Jeremy Langford.
Johnny: Special Teams coach Mike Tressel for Kerry Coombs. Because as much as I love Coach Coombs, having Jim Tressel's nephew on the staff would be some Game of Thrones ish that I could easily get behind.
Nicholas: Anybody smart would trade Luke Fickell for Pat Narduzzi, but the idea of Jim Bollman replacing Tom Herman and calling nothing but Power O and draws is too funny to pass up. If any playcalling style could give Urban Meyer cardiac trouble, it's Walrusball.