Your beloved Buckeyes aren't playing this week, but there's still plenty to discuss in this, your fourth week of college football. Hot takes from Ramzy, Tim and Vico are fresh out the oven. Let 'em cool before taking 'em down. This is your Eleven Warriors bye week roundtable.
Kent State: The Good?
Ramzy: Urban said Ohio State wasn't ready to play Virginia Tech the week of the game and well hahahaha he was right. The entire passing game plan was predicated on Barrett having time to find open targets and hit them while the defense dared the Hokies to find the hole in the defense on 3rd down.
There's not much you can take away from an in-state charity case game like Kent State to project for the rest of the season - except that the Buckeyes could have come out hung over and entitled. Instead they came out and did unnatural things to the Golden Flashes and made them earn their university's handout. That pleased me.
Tim: I've written a few times that everything we saw about this team when facing Kent
State needs to be taken in context. Kent is bad. Like, really bad. But one positive you can take from it, I think, is that Ohio State didn't struggle at all against the Golden Flashes. It dominated from start to finish against a really bad team and there's some value in that. How much value I think is still to be determined, though, but it's certainly better than struggling for any bit of time.
Vico: The game against Kent State is a noisy signal of the team's quality going forward. Most we can say is Ohio State annihilated a team it should have annihilated and covered the spread as a result. It was cathartic, which was nice.
Kent State: The Bad?
Tim: Honestly, there wasn't much against Kent that would be considered "bad" but there are still plenty of areas Ohio State can get better. Its offensive line is still a huge question mark. After struggling so much against Virginia Tech, it looked much better against Kent State. But again, it's Kent. I think the Cincinnati game will tell us a lot more about the improvements the team has made. Cincinnati doesn't have the athletes Virginia Tech did, but they've got some very talented players on the team. Also, Ohio State's wide receivers need to prove they can get open in one-on-one situations.
Vico: Ohio State still needs considerable work going forward. It's hard to say how much the OL improved in the Kent State game though improvement will come with time and reps. Wide receiver play is still a disappointment. The wide receivers we have are not great down-field blockers in the run game, don't create a lot of separation in their routes, and are body-catchers without reliably catching the ball. It's fine for Kent State, but Michigan State would eat that up.
Ramzy: Urban talked about the offense still trying to find its identity - but it seems as though those short passes and delayed running plays to keep defenses off balance strike the right tone. They also would have been quite useful against Virginia Tech, and no I still haven't moved on and can't until the Buckeyes convincingly beat Cincinnati.
But more than anything else: Ohio State's cadre of wide receivers' continued inability to catch perfectly-thrown passes. No, not you, Michael Thomas. Everyone else.
You're Urban Meyer. What are you spending the bye week working on?
Vico: Short answer: everything. If we want to be cynical, Ohio State is playing football on par with what we would expect of a team with a good shot to win the Outback Bowl. The offensive line needs reps to execute base run plays, wide receivers need to work on just about everything. Barrett and his tailbacks could use some help executing speed option plays to counter those bear fronts Ohio State has been facing.
Ramzy: Recruiting offensive linemen and Damien Harris. Other than that, finding ways to make that heralded defensive line adjust to life without Noah Spence.
Tim: Everything. Ohio State still has a long way to go to be a good team. The potential is there, but sometimes potential doesn't always pan out. This year's team doesn't really have one particular position or player it can hang its hat on (except maybe the defensive line), so everyone needs to get better each week. 
Your evaluation of J.T. Barrett after three games?
Ramzy: He's doing everything they're asking him to do, sometimes under sub-optimal pocket conditions. I think very highly of him. He's terrific.
Tim: More good than bad. He looked really good against Navy and Kent State, but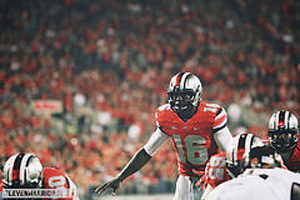 struggled big time against Virginia Tech — the only legitimate defense he's seen thus far. Now, a lot of that wasn't his fault as he was under constant pressure and the coaching staff didn't really seem well prepared for the scheme Ohio State faced, but Barrett still made a few decisions that made you scratch your head. He seems to throw a really nice ball and can run enough to make some plays, although I'm not sure I would call many designed runs for him. He's a well-spoken, sharp kid so I tend to believe all of the players and coaches when they talk about the type of leader he is. He needs help, though, and the players around him need to make some plays.
Vico: I'm quite keen on J.T. Barrett and have been since he signed with Ohio State almost two years ago. I think he is well ahead of Terrelle Pryor or Braxton Miller at similar stages in their development. He could be an exceptional quarterback for the Buckeyes.
I like Barrett's comfort in the pocket. Pryor and Miller, by contrast, were much antsier against even bad competition. This leads to an aborting of the play as it's called and a failure to trust the call from the coaches. Barrett, by contrast, feels much more comfortable in the pocket. If anything, he's too comfortable and may need to develop that sense of when the pocket around him is collapsing.
When he scrambles or decides to abort the play call, he needs to do so with more conviction. He's not as fleet of foot as Miller or Pryor and there may be a lingering issue of how mobile he is after his injury in high school. Still, I think he's tentative in scrambling so far. This should (and, to a degree, must) improve over the course of this season.
Should Raekwon McMillan start?
Tim: I'm not so sure he needs to start, but he definitely needs to play. Ohio State's linebackers have actually been very strong this year. Darron Lee has played three good games on the outside and contrary to what most people want to hear, Curtis Grant has been very solid, as well. McMillan isn't as strong as Grant is in pass coverage, but he's got a nose for the ball and seems to always be around it. So, I'm not sure he has to start the game on the field, but it's important for him to get significant reps because he's going to be a very good player when it's all said and done.
Vico: For as great as McMillan has looked in flashes this season, we should be mindful that he has not been asked to do a lot. He hasn't been taxed much with coverage in passing situations. While McMillan is having a great start to his young career, I'm not ready to fully invest in him as a starting linebacker right now.
Ramzy: Easing him into more playing time will pay dividends not only to team culture in the long run but should aid with the grind that comes following the second bye week. Whatever balance is needed to preserve some freshness while gaining experience would be optimal. 
I'm just glad we're not having another oh hey look Vonn Bell is light years better than Pitt Brown why did this take 13 games to figure out moment with Raekwon.
With 4 TDs through three games...is Michael Thomas the truth?
Vico: He's possibly the best of a mediocre bunch. I want to love him because he's from the San Fernando Valley and us Valley Buckeyes have to support each other. At the least, he should be an every-down wide receiver for Ohio State.
Ramzy: He is the truth and by truth I mean his twitter handle @CantGuardMike is the most truthful spoiler in college football today. Additionally, he carries the intimidation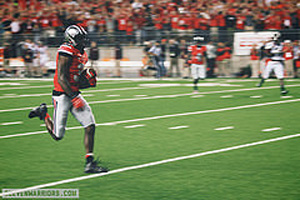 factor that no OSU WR has had since DeVier Posey. Receivers should be cocky, capable and unafraid. Thus far he's perfect.
Tim: I don't think there's any question he's Ohio State's best all-around receiver. He seems to always make a big play when he gets his hands on the football and unlike Devin Smith, it's not always on a fly route. There have been flashes of Thomas in the past, so it's nice to see him finally put everything together, but he's still got a long way to go to become a big time player.
Noah Spence...your thoughts?
Ramzy: 1) Football isn't all that important when you've got what appears to be a crippling addiction problem. 2) Football governors seem to believe Molly is a "performance enhancing drug" which is all you need to know about their future practicing medicine. 
He deserves another chance. Save the standing ovations for football players who conquer addiction instead of ones who knock their fianceés unconscious.
Tim: It seems like he's got a legitimate problem with drugs, so it's a good thing he recognized that and is willing to get help. That's the first step to dealing with a drug problem, so I hope he gets properly treated and gets back on the right track. I'm not sure if he's going to ever play for Ohio State again, however.
Vico: I wish him well in rehab and hope to see him back next year. Beyond that, I don't have much to add. 
What do you think Ohio State's offensive identity will be by the end of the season?
Tim: Urban Meyer has said he still doesn't even know what its offensive identity is, so I'm not sure it'll have one by season's end. Last year, you could give the ball to Carlos Hyde or Braxton Miller and they could bail you out when needed. Neither of those options are there anymore, so it's been kind of a total re-do as far as offensive identity. I definitely think the Buckeyes need to run the ball more consistently and mix in some short and intermediate passes. With a young offensive line and a redshirt freshman quarterback, getting the ball out quick is very important and Ohio State has some very fast players at the skill positions. Get them the ball in space and let them try to make some plays.
Vico: Since Barrett lacks the mobility of Miller and our offensive line will not match the performance of last year's unit, I suspect our offense devolves into a more horizontal attack rather than an offense that can attack vertically with inside zone and big passing plays off play-action.
Ramzy: It should look like what we saw against Kent State with the added ability to competently run between the tackles. They have got to figure that out. You can only abuse the edges for so long when the middle isn't an option.
What game(s) will you be watching during the bye?
Vico: I'll be at the Clemson-FSU game in Tallahassee because, actually, I don't know why I'm doing this. God help me.
Ramzy: The Big Ten is dominating the noon slot, so I'll watch them take on every directional school in the midwest plus BG and Pitt. I'll enjoy Florida/Alabama with Rutgers/Navy and Michigan/Utah on standby for the 3:30games. I'll peek at the snuff film Indiana/Missouri is going to be in the late afternoon. Cincinnati/Miami-OH at 7pm just to get a glimpse of the Buckeyes' Eleven Dubgate opponent. 
Arkansas/Northern Illinois is a nice barometer game for Bert, and if the Huskies win the Big Ten should replace Purdue with them since America is now taking a break from the astronaut business and Purdue has zero value beyond that. Oklahoma/West Virginia, Clemson/FSU and Miami/Nebraska all in prime time make this bye week a wonderful opportunity to spend 15 consecutive hours on the couch watching college football, and I plan to overachieve.
Tim: There aren't a ton of great games this weekend, but I'm definitely going to check out Auburn and Kansas Stateon Thursday and Florida State versus Clemson on Saturday night. I'll be seeing plenty of the Big Ten this year so I'm going to try and avoid watching that until I actually have to, but Miami against Nebraska might not be that bad this weekend.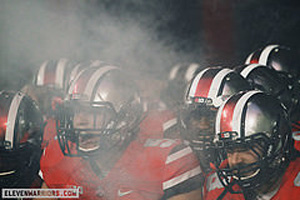 Should the chrome unis (0-2 in the last two outings) be burned?
Ramzy: The mojo is gone. Burn them. They're the least hideous of the Nike uNiFoRmZ Ohio State has had since 2009, so come up with something equally unhideous but different. These are officially poisoned.
Tim: I think Ohio State's losses have a little more to do with the teams it's playing than the uniforms, but what do I know?
Vico: Yes. But that's also because I hate alternate uniforms and just want to see my beloved Buckeyes look like the Buckeyes. Get off my lawn and stop using curse words. Doggone kids.