Urban Meyer has never beaten Tommy Tuberville.
It's the one scary statistic that jumps out when looking at coaching matchups for the 2014 Buckeye season and seeing a decent Cincinnati team sitting there on Sept. 27.
Tuberville, entering his second season with the Bearcats, leads Meyer's alma mater into Columbus looking for his third win in as many tries against an Urban-coached team. His previous two wins came in the 2006 and 2007 seasons, when both men coached in the Southeastern Conference. Tuberville's Auburn Tigers beat Meyer's Florida Gators 27-17 in 2006 and 20-17 in 2007.
In college football, just like with the stock market, past results are not necessarily an indicator of future success. Still, you have to take note of a coach whose team was 10 points better than Meyer's national champion Gators, because you still remember how good that team looked one January night in Arizona.
That team dismantled a Buckeye team that looked unstoppable and had beaten the No. 2 team in the country twice.
Auburn was ranked 11th in the country in the 2006 meeting, while Florida was second only to Ohio State. The Tigers held Chris Leak, Percy Harvin, Tim Tebow and the rest of the Gator offense scoreless in the second half of that game. Auburn's offense was nothing to write home about, but Tuberville's team, coming off a 27-10 home loss to Arkansas the week before, found a way to win by scoring on a fumble return and a blocked punt and kicking four field goals.
The next year, Tuberville's Tigers did it again.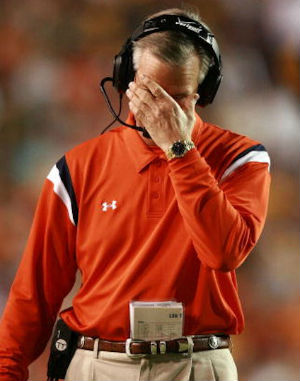 An unranked team that had already lost to South Florida and Mississippi State at home visited Ben Hill Griffin Stadium to face an undefeated No. 4 Florida squad bent on revenge for its only blemish the previous year. But instead, short touchdown runs by Kodi Burns and Ben Tate put Auburn ahead 14-0 at the half on the road in Gainesville.
The teams traded field goals in the third quarter before Florida mounted a comeback. Tim Tebow's six-yard scoring pass to Cornelius Ingram pulled the Gators within 17-10 early in the fourth quarter. Seven minutes later, Tebow ran for a two-yard score, capping an 89-yard drive and tying the game at 17. Tuberville's bunch got the last laugh though, on a Wes Byrum 43-yard field goal as time expired.
Tuberville was 2-0 against Meyer. Both wins were upsets.
Now he's at Cincinnati, where he led the Bearcats to a 9-4 record (6-2 in AAC play) last season and an appearance in the Belk Bowl. Tuberville was also 2-1 a year ago against teams currently in the Big Ten. The Bearcats lost 45-17 against Illinois, but destroyed Purdue and Rutgers by a combined score of 94-24.
Is a third upset win over Meyer on the horizon?
Three things: the case for Tuberville

1. The Buckeyes may be replacing four starters on the offensive line, manchild running back Carlos Hyde and the beastly Ryan Shazier on defense and others, but even so, they're not exactly Illinois, Purdue or Rutgers in the personnel department. Still, there will be inexperience on the field in key positions, including wide receiver and in the defensive backfield.
I'm not sure it's cause for concern, but it's out there.
2. Ohio State has a bye the week before facing Cincinnati. But bye weeks haven't always been a friend to Buckeye football. Jim Tressel's teams seemed sluggish after an off week. Meyer has had two seasons in Columbus and that trend hasn't changed a lot.
In 2013, Ohio State struggled against Iowa after one bye week and allowed a mostly dormant Illinois team to score 35 points after the open date. Meyer's bunch needed overtime to beat a good Wisconsin team on the road after a bye week in 2012. Although 3-0 after a week off under Meyer, the Buckeyes haven't looked too convincing in those games.
3. Cincinnati's kids will show up with a lot to prove, because that's what in-state colleges do against Ohio State. The Buckeyes cannot take the Bearcats lightly because their Ohio kids grew up playing against Ohio State's homegrown athletes. There will be no fear. And a team without fear plays more confidently and aggressively. They will want this game as a feather in their cap and as a signature win for their program. They may, in fact, play so far over their heads that their noses bleed for a week to 10 days.*
*h/t to the classic Bill Murray comedy Meatballs
Three things: the case for Meyer

1. Meyer's team will be battle tested by then. With a sneaky-good opening road opponent in Navy and a very formidable (especially on defense) Virginia Tech team in the season's first two weeks, the Buckeyes will have a chance to work out the kinks in their young players. Miller should have a rapport with his receivers, a primary running back will have emerged, and the secondary should be settled in. This team has talent everywhere and should be able to outclass the Bearcats if it avoids stupid penalties and turnovers.
2. It's a night game at Ohio State. The atmosphere will be insane, as it usually is for evening affairs. The crowd's energy should feed the Buckeyes and keep them from slipping into lethargy. It's generally taken the biggest of opponents (i.e. USC, Vince Young's Texas Longhorns) to overcome Ohio Stadium at night. Cincinnati is a good team with a lot of potential, but it is not USC or Young's Longhorns. The worst Buckeye team in recent memory beat Russell Wilson's Badgers at home in a night game. So…yeah.
3. The traditional Eleven Warriors pre-game banger is slated for the day of the UC game. Previously known as Eat Too, Brutus, this annual tailgate/fundraiser has never known an Ohio State defeat (4-0). The Buckeyes beat Miami (FL), Wisconsin, Nebraska and Wisconsin again during the previous 11W tailgate games. Despite the name change to Eleven Dubgate, we got this, right?