Penn State likes to playfully lay claim to being Linebacker U but Ohio State's list of past greats to play the position is every bit as impressive, if not more so. 
From Gradishar to Cousineau to Marek to Spielman to Pepper to Tovar to Katzenmoyer to Diggs to Wilhelm to Hawk to Laurinaitis, the Buckeyes featured a top flight tackling machine at linebacker nearly every year from the early 70's to 2008. 
Ross Homan did manage 108 stops in 2009 but simply wasn't on the level of those named above and didn't strike the same type of fear into opposing offenses though he and Brian Rolle formed a legit if not spectacular duo.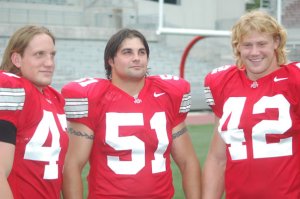 The following season, Rolle and Homan finished 1-2 on the team in tackles but Rolle's meager 76 total stops served as the lowest by the leading linebacker on an Ohio State team since Joe Cooper's 83 in 2001. 
That dubious mark was topped a year later as Andrew Sweat paced the Buckeye linebackers with only 72 stops in 2011. Even less impressive, Sweat finished 2nd on the team in tackles that season (Barnett, 75), marking the first time since that same 2001 team went 7-5 that a Buckeye linebacker failed to lead the team in tackles. 
The 2012 Buckeyes saw Ryan Shazier explode for 115 stops (and a ridiculous 17 TFL) after recording 57 tackles in 2011 but with Etienne Sabino injured and no other scholarship linebackers able to step up to fill the void, Urban Meyer was forced to convert fullback Zach Boren to stop the bleeding. Shazier was in the same league as the past OSU greats but the corps in total was a mediocre, patchwork group at best. 
The 2013 wasn't much better despite Shazier's all-world 143 tackle, 22.5 TFL effort as Curtis Grant didn't have the chops to man the middle and Josh Perry, while coming on late, wasn't the player he looks to be today. 
OHIO STATE LINEBACKER PRODUCTION: 2001-2013

YEAR
LB
TKL
rk
LB
TKL
Rk
LB
TKL
Rk
2013
SHAZIER
143
1
PERRY
64
4
GRANT
52
8
2012
SHAZIER
115
1
BOREN
50
6
SABINO
45
7
2011
SWEAT
72
2
SABINO
62
5
SHAZIER
57
6
2010
ROLLE
76
1
HOMAN
72
2
SWEAT
41
10
2009
HOMAN
108
1
ROLLE
95
2
SPITLER
38
10
2008
LAURINAITIS
130
1
FREEMAN
84
2
HOMAN
67
5
2007
LAURINAITIS
121
1
FREEMAN
109
2
GRANT
51
5
2006
LAURINAITIS
115
1
FREEMAN
71
2
HOMAN
28
10
2005
HAWK
111
1
SCHLEGEL
77
2
CARPENTER
46
5
2004
HAWK
141
1
CARPENTER
93
2
SCHLEGEL
84
3
2003
HAWK
106
1
REYNOLDS
81
3
CARPENTER
37
9
2002
WILHELM
121
1
GRANT
71
4
REYNOLDS
62
6
2001
COOPER
83
2
WILHELM
63
3
GRANT
56
4

 
Such collective middling play from an historically dominant positional unit has Buckeye fans (and coaches) running short on patience. The standard was set years ago and through the 2000's, it was a virtual lock that the Buckeyes would feature not just one but at least two legit linebackers studs like Laurinaitis and Hawk had more than capable sidekicks in Freeman, Schlegel and Carpenter. 
Aware of the talent deficiency, Meyer did his best to add a handful of linebackers to his first recruiting class in Columbus adding a trio of four stars in Josh Perry, David Perkins and Camren Williams. Perkins was with the program barely over a year before transferring to Ilinois State following an arrest. Williams registered 15 tackles in 13 games last season but missed at least that many tackles as he looked not ready for primetime in spot duty. Perry returns as the leading tackler among the 2014 linebackers and all signs point to him having a big season but doing so would represent a significant leap from his 2013 exploits.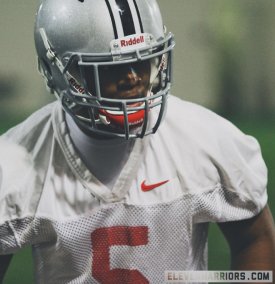 Meyer's 2013 recruiting haul again attempted to address the talent gap as he brought in five-star Mike Mitchell, four-stars Chris Worley and Trey Johnson, and Darron Lee who was initially pegged as more of a safety/star hybrid but could be on the verge of starting at the newly termed walkout linebacker spot which would replace the star position used heavily in the recent past. 
Lee's emergence is significant considering Mitchell left the program after his father fell ill and/or because he was redshirted last season. Worley should also remain in the mix at the walkout based on stellar play during spring  drills which leaves 2011 five-star Curtis Grant to man the middle, something he did in disappointing to marginally adequate fashion a year ago depending on your curve. 
Still looking for depth and future stars, Meyer brought in four more linebackers as part of the 2014 class headlined by Raekwon McMillan. The five-star out of Georgia could push Grant for playing time while four-stars Kyle Berger, Dante Booker and Sam Hubbard will have to wait their turn for a crack at restoring greatness to the starting linebacking unit in Columbus. 
It's hard to envision the starting linebackers in 2014 going down in history as one of the best units since the turn of the century but a return to glory may not be too far off in the future.