This Memorial Day weekend, as we have done since shortly after the Civil War, Americans take appropriate time to recognize those who died serving in the United States military. 
Originally dubbed Decoration Day, the day of remembrance was created to honor those who perished during the Civil War which still serves as the deadliest conflict in the history of the United States. After the United States became involved in World War I, the holiday grew to honor all service people who died in service to their country. In 1971, Memorial Day was officially declared a federal holiday.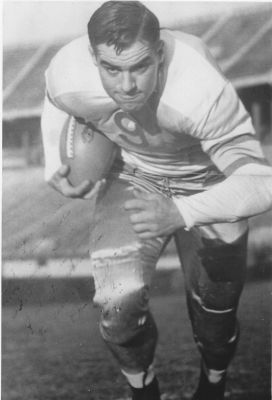 While we salute all American servicemen and women who died serving this great nation, today we would specifically like to honor the only two men in The Ohio State University's 285-man Varsity "O" Hall of Fame who died while serving in the United States military: Fred Norton and Don Scott. 
Don Scott arrived at Ohio State after a decorated high school career at Canton McKinley. At 6'2", 210 pounds, Scott showed off a versatility he would bring to Columbus as he played along both lines, served as the team's placekicker and punter while eventually taking on the left halfback / quarterback position as a junior and senior which caught the eye of Ohio State's football scouts. 
Eligible to play varsity football for the Buckeyes in 1938, Scott started at tailback for Francis Schmidt's 4-3-1 team. As told by the venerable Buckeye historian Jack Park, Scott switched to quarterback in 1939 as as the chief reason Ohio State surged to their first outright B1G conference championship since 1920. 
With Schmidt's job on the line, Scott came up huge in a 23-20 road win over a then-powerful Minnesota squad with three touchdown passes and two two-point conversions. Though they came up short against Michigan, Scott tossed a pair of touchdowns against the maize and blue on the way to capturing All-American and All-B1G honors.
After the football season, Scott laced up his basketball shoes and helped the 1939 basketball Buckeyes advance to the Final Four before they eventually lost 46-33 to Oregon in the national championship game.
The following year, Scott quarterbacked a disappointing 4-4 football team but managed to repeat as an All-American and All-B1G performer becoming the first OSU signal-caller to accomplish the feat.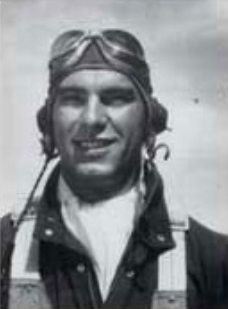 In early 2000, Scott was chosen by the Touchdown Club of Columbus as one of four quarterbacks on the Ohio State Football All-Century team alongside Joe Germaine, Rex Kern and Art Schlichter. 
Though Scott would be selected by the Chicago Bears with the ninth overall pick in the 1941 NFL Draft, the young man opted instead to volunteer his services in World War II. Scott had participated in the Civilian Pilot Training Program, a government funded program launched to develop men into pilots should a military need arise. 
After entering the United States Army Air Forces as a commissioned pilot, Captain Scott participated in nearly 10 bombing missions. On October 1, 1943, Scott perished at age 23 when his B-25 bomber crashed during training exercises in England. 
In honor of Scott, exactly one month after his passing, a vote by Ohio State's board of trustees christened the school's recently opened airport as Don Scott Field. 
---
Fred Norton came to Ohio State via Marblehead, a town some 120 miles north of Columbus, and quickly distinguished himself as the very definition of student-athlete. 
A 5'11", 175-pound kid dubbed "The Smiling Irishman", Norton became Ohio State's first four-sport varsity letterman thanks to exploits in football, basketball, baseball and track.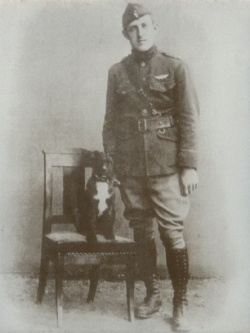 Captain of the baseball team, Norton hit .442 to earn team MVP honors in 1917. Norton also captained the basketball team but his biggest accomplishments came in football. 
As Chic Harley's lead blocker, Norton helped the 1916 Buckeyes capture the school's first B1G football title and undefeated-untied season. Not just a blocker, Norton scored five touchdowns in a 128-0 blitz of Oberlin and scored six touchdowns in the first half of a 46-7 thrashing of Indiana. 
A noted scholar who carried a 4.0 grade point average, Norton, a forestry major, was invited to join Sphinx, the most prestigious senior honorary at Ohio State. In later years, names like Woody Hayes and Jesse Owens would join be invited. 
Norton would soon enlist in the Reserve Corps, becoming a PFC in Ohio State's school of military aeronautics and in early 1918, he was headed to fight the Germans in France.
In July, Lieutenant Fred Norton was leader of the 27th "Eagle" Pursuit Squadron. After numerous successful dogfights, one in particular which earned him the Distinguished Service Cross, Norton took two anti-aircraft rounds to the chest in a dogfight just weeks later. He managed to land his Nieuport 28 behind Allied lines but eventually died from his wounds and complications from pneumonia. Norton passed at the tender age of 23 years old. 
Less than five years after his passing, the first airport in Central Ohio, which sits just south of what is now Port Columbus, was named Norton Field in honor of this great Ohioan and American hero. 
Sometime this weekend, as you're enjoying the freedoms made possible by the many American soldiers who made the ultimate sacrifice for this great nation, take a moment to tip your cap to them all, including Ohio and Ohio State's very own Don Scott and Fred Norton.