With the NFL draft squarely in the rear-view, it's time to start discussing the 2014 college football season in earnest. Sure there's a good three months before kickoff, but that doesn't mean we can't prognosticate around these parts. So, I've compiled a list of who I believe to be the front-runners for All-B1G selections at the end of the season. We'll do offense first, followed by defense next week. So, without further adieu I give you: The Eleven Warriors 2014 All-B1G Predictions: Offense.
QB: Braxton Miller – Ohio State
He's a two time winner of the Big Ten's Offensive Player of the Year award and the Silver Football, given to the conference's MVP. With another outstanding season he could become the first three-time recipient of the award. If he stays healthy, you've gotta like Miller's chances to top this list.
RB: Ameer Abdullah – Nebraska
Abdullah was a media and coaches' all-conference selection last season after leading the B1G in rushing yards with 1,690. The total was the fourth best in school history and the best since Ahman Green in 1997. He's a beast who will undoubtedly continue to terrorize defenses in 2014.
RB: Melvin Gordon – Wisconsin
Gordon was a Consensus All - B1G selection last season after leading the conference in rushing yards over the first half of 2013. His most impressive game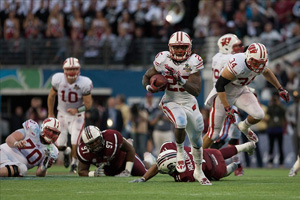 of the year was his last in which he rushed for 143 yards on 25 carries against Jadeveon Clowney's Gamecocks. Gordon won't have to share carries with James White this year which will only give him more opportunity to shine.
WR: Shane Wynn – Indiana
Wynn caught 46 passes for 633 yards and 11 touchdowns in 2013. His 11 TDs were good enough for second in the conference and tied him for 19th nationally. Hoosier receivers Cody Latimer, Ted Bolser and Kofi Hughes are now gone, leaving Wynn as a huge option for Indiana moving forward. Expect him to cash in on the opportunity.
WR: Stefon Diggs- Maryland
Diggs was an honorable mention All-ACC selection despite missing the final five games of the season due to injury. That should tell you something about Stefon's abilities. In just seven outings the sophomore racked up 34 catches for 587 yards and 3 touchdowns. In his first three games alone he tallied 387 yards and 3 TDs. If he can stay healthy, Diggs could be one of the conference's (nation's ?) best wide receivers.
TE: Devin Funchess - Michigan
Funchess made the media's All-B1G list last season and there's good reason for it. The sophomore tallied 748 receiving yards in 2013, the most all-time by a Wolverine tight end in a single season. With Jeremy Gallon's college days behind him, Funchess looks to be a huge piece of the Michigan aerial attack moving forward. His 2014 season will be a fun one to watch for Wolverine fans.
OL: Jack Allen – Michigan State
Selected as a second-team All – B1G lineman last season, Allen started the last 12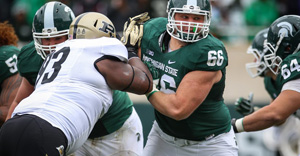 games at center as a sophomore. He truly shined in the Spartans' two biggest victories, tallying a team best seven knockdowns vs. Ohio State and was named to ESPN.com's Big Ten All-Bowl Team for his performance against Stanford in the Rose Bowl.
OL: Rob Havenstein - Wisconsin
Named a Second Team All – B1G selection by the coaches in 2013, Havenstein helped anchor a line that saw two rushers eclipse the 1,400 yard mark. Wisconsin always has enormous hog-mollies up front and Havenstein is no exception. The 6'8'' 327 pound goliath should be a handful for defensive lineman in 2014.
OL: Donovan Smith – Penn State
Smith will be the lone veteran presence on the Nittany Lion offensive line, after the departure of three starters from 2013. The coaching staff will look to build around Smith and there's good reason. The 6'5'' 322 pound tackle has been rock-solid since 2012, when he was selected to the ESPN.com B1G All- Freshman team. Look for Donovan to have a strong 2014 en route to an all-conference selection.
OL: Taylor Decker- Ohio State
Decker was part of a stellar Buckeye line that averaged 242 rushing yards per game,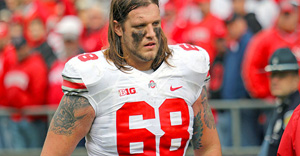 good enough for 10th in the country. Named one of the most improved players on the team last season, Decker will have to take on an increased leadership role as the lone returning starter in 2014. I believe he'll rise to the challenge and more, ultimately earning him a spot on this list.
OL: Brandon Scherff- Iowa
A coaches' All – B1G selection last season, Scherff started at left tackle in all 13 of the Hawkeyes games in 2013. The 6'5'' 320 pounder could have gone to the NFL, but passed on pro dollars to come back to Iowa City for his senior year. He'll anchor a Hawkeye line that might be the best in the conference when it's all said and done.
K: Michael Geiger - Michigan State
As a freshman, Geiger set a Michigan State season record by connecting on 93.8% of his field goal attempts (good enough for first in the B1G and tied for fourth in all of college football). In fact, Geiger missed just one field goal all season, going 15 of 16 and tallying 81total points (second on the team). To close out 2013, Geiger hit 13 straight field goals, falling just two-short of the school record. Not too shabby for a true freshman.