Virtually every young man entering Ohio State's football program does so with the dream of one day playing in the National Football League. 
Sure, kids know the odds are against them but when you're young, there's an aura of invincibility that has yet to be tempered by the reality of talent at the elite collegiate level.
As the years pass, players begin to realize just how tough it is to put themselves in position to have a chance at the professional level but the self-confidence it takes to even survive college football is usually enough to make a player believe they have what it takes to play on Sundays. 
A select few are good enough to leave school a year early while a larger population will enter the NFL Draft knowing they will at least be taken by a team at some point during the seven round affair. Then, there's an even bigger pool of players praying their phone will ring with an offer to join a team as an undrafted free agent. At that point, the dream is realized but more often than not, the dream is painfully short lived. 
Last week, we looked at how the last eight years of Buckeye draft picks have seen a drop in production. Today, we look at just how tough it has been for Ohio State's undrafted free agents to find a niche at the next level. 
As of early April, there were 34 former Buckeyes dotting NFL rosters with just 12 of those players picked up as undrafted free agents. A first glance,the fact 35% of Buckeyes currently on NFL rosters made it after going undrafted feels like a high percentage but the reality is that the professional career of an undrafted guy is woefully short. 
In 2013, seven former Buckeyes signed undrafted free agent deals and six can still be found on NFL rosters (Stoneburner, Boren, Howard, Johnson, Wiliams and Sabino) with Garrett Goebel as the lone exception.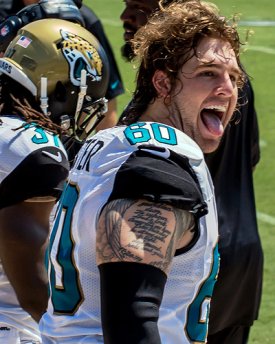 In 2012, however, three players signed undrafted free agent deals (Sweat, Shugarts, Brewster) but Brewster is the lone guy still on an active roster. 
In fact, of the 12 undrafted free agent Buckeyes still on NFL rosters, nine of them have three or less years of professional experience and none have more than five years in the league, paced by Alex Boone, a 2009 undrafted free agent who is currently kicking all kinds of ass in San Francisco. Of course, if not for his drunken early days, Boone would've never been undrafted in the first place because his talent was certainly NFL Draft worthy. 
Against those long odds, a contingent of Buckeyes not named Ryan Shazier, Bradley Roby, Carlos Hyde or Jack Mewhort hope to hear their name called during this year's NFL Draft which takes place next Thursday through Saturday. 
Corey Linsley and Corey Brown were invited to the scouting combine but while some think it's a virtual lock they'll be drafted, there are no guarantees. 
Christian Bryant, and Andrew Norwell project as possible 7th round selections with Kenny Guiton, Marcus Hall, C.J. Barnett and maybe Jordan Hall likely forced to wait until the event concludes to sign undrafted free agent deals that will secure them a spot at a camp, but nothing more. 
It truly is a crapshoot when projecting which undrafted guys might stick for a few years but assuming Linsley is drafted, I'll take Norwell as the most likely to carve out a role with none other than Smooth Jazz relying on a steady dose of intangibles and heart in an effort to carry a clipboard for a couple years.