The spring game is tomorrow and it feels a lot like Christmas Eve in April. So, just like any Christmas I'm going to put together a list of things I want. This is my spring game wish list.
Circle Drill
In his first spring game as head coach, Urban Meyer kicked things off with one of the rowdiest things I've ever seen. In a way, the circle drill signified a new era in Ohio State football. Gone was the senator, Urban had arrived.
The testosterone laden ritual encompasses everything we love about football: pads popping, hootin and hollerin and plenty of trash talking. We've already seen one circle drill this season, but that doesn't mean we can't get another one…right?
Freshmen Phenoms
Thursday Meyer said freshmen Curtis Samuel, Raekwon McMilan Sean Nuernberger and Johnnie Dixon were already in the rotation. This makes me downright giddy. Last year it was one freshman's name we were predominately hearing heading into the fall (Dontre Wilson). This season we've got a number of young-bloods on the hype radar. That's just Meyer's recruiting machine at work. Freshmen cracking the ones is the new reality in Urban's Columbus and that's not a bad way to make paper in the current college football landscape.
The rosters are set and these kids are going to log a lot of playing time. I'm excited to see if the above players and more (including JT Barrett, Eli Apple, Gareon Conley, and Marcus Baugh) are ready (or almost ready) for primetime.
Kick-a-Palooza
In Meyer's first spring he stopped everything to make kicker, Drew Basil, boot it again and again and again from increased distances. I want to see that Saturday, but with a twist from unproven kickers Kyle Clinton and Sean Nuernberger. Word on the street is Clinton has the lead on the freshman Nuernberger coming out of spring practice, but let's settle it on the field.
I'm up for 10 minutes of field goal C.O.W. Flip a coin, see who goes first, attempt a kick from any part of the field and have the other guy try to match it. Don't match it? You get a letter.
Meyer on the Field
Much like the circle drill, Meyer standing behind the quarterback during live play signaled a new direction for the program. Meyer's an offense guy so getting a view of what the quarterback is seeing is paramount for him. If that means rolling up the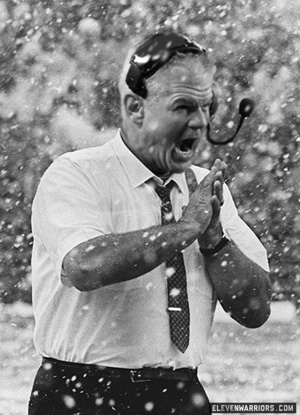 sleeves and standing 4 feet away from 300 lbs men flying to a football to get the best look…then he'll do it. I wanna see it Saturday.
Kerry Coombs Freaking Out About Everything
Coombs was named head coach of the Gray team, which is good news for everyone, really.
Every good rapper needs a hype man, and every good football team needs the same. There's no denying Kerry Coombs is that guy. From run through a wall speeches to raucous sideline celebrations, Coombs is all juice all the time.
I want to see him at his finest Saturday. Fist pumping, scowling, spitting, screaming and motivating his players to go at it 150%, just like he does every single day of his life.
No Injuries
Last and most important on the list, I don't want to see a single injury this Saturday. If you have it in your heart spring football santa, don't let any players end their day on crutches. The injury bug has already made it's rounds this spring, let's eradicate that pest altogether. In all seriousness, I would gladly trade any one of these (all of these) wishes to see every Buckeye walk off the field under their own power tomorrow. Is that too much to ask?
---
Well there you have it. My spring football wishlist. If I see even one of these this Saturday I'll consider it a successful outing. What's on  your list?