Quinn Ewers' decision will have some far-reaching implications.
We're now less than five months away from December's early signing period. Ryan Day and Corey Dennis locked up their 2022 quarterback when Quinn Ewers announced his commitment back in November. It's long been the expectation that the Buckeyes wouldn't necessarily need another top-rated quarterback until 2024. 
And then it switched. 
While no one genuinely felt that the quartet of C.J. Stroud, Jack Miller, Kyle McCord, and Ewers would all finish their careers in Columbus, the most recent bombshell has all sorts of implications for the quarterback room and the program as a whole. With Ewers now mulling (mulleting?) over whether or not to enroll ahead of the 2021 season, the Ohio State staff may have to completely alter their plans on the recruiting trail. 
Ryan Day is already recognized as one of the game's head coaches who seems bound to get his guy in just about every class (alongside Lincoln Riley). If the Texan arrives early here in the next week or so, the quarterback room will feature four freshmen with three of them having been rated as five-star prospects. It's truly absurd to even think about it.
If he stays in the 2022 class, then there won't be as much pressure on Corey Dennis and Co. to find a high-level signal-caller for 2023. Rather, the 2024 class would probably be the next cycle that we'd see a big-time national name. But if Ewers does enroll early and is a part of the team this season, Ohio State will need to ramp up its recruiting efforts in a hurry.
We should certainly have an answer within the next few days. For now, we're looking ahead at the next wave of quarterbacks to know in a post-Quinn Ewers recruiting world. 
Jadyn Davis • 2024 • 6-foot-1, 187 pounds • Fort Mill, SC
The first name on our list isn't a part of the 2022 or 2023 recruiting classes. Jadyn Davis is fresh off his second summer trip to Columbus, and there's absolutely no doubt that he's a priority target for Ryan Day and Corey Dennis. A native of Georgia, Davis now resides in South Carolina. Interestingly enough, he's got offers from most of the national powers except for the Clemson Tigers. 
Davis received a Buckeye offer back in June and hasn't been shy about his fondness for Justin Fields. The two of them already have something in common as Davis has been working with quarterback guru Quincy Avery. Originally a member of the 2023 class, he decided to reclassify back to 2024. If Ewers does enroll in 2021, a perfect scenario may involve Davis once again switching things up and moving back into the 2023 class. Either way, Jadyn Davis is a major priority for the Buckeyes, and I tend to think Ryan Day is at the top of his list.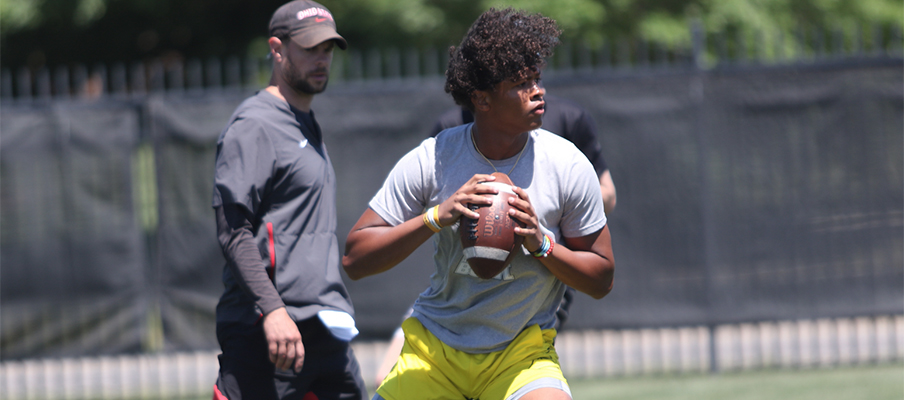 Nico Iamaleava • 2023 • 6-foot-5, 195 pounds • Downey, CA 
This summer has seen Ohio State host a number of key visitors from the state of California. A June 2 camp performance led to yet another quarterback offer as Nicholaus "Nico" Iamaleava impressed the Buckeye staff. We've seen so many Cali quarterbacks head elsewhere of late with names like D.J. Uiagalelei, Bryce Young, C.J. Stroud, and Malachi Nelson in the Class of 2023. 
But it could be a tall task for the non-Pac 12 schools to pull Iamaleava away from the west. It seems like USC, UCLA, Ohio State, Alabama, and Georgia are all firmly in the mix right now, but he doesn't appear to be anywhere close to a decision. Iamaleava does seem to be watching the depth charts quite a bit, and that's something that a school like UCLA may have working in its favor early on. Some also have him listed as the nation's top volleyball prospect. The Bruins have extended offers in both sports.
Dante Moore • 2023 • 6-foot-2, 195 pounds • Detroit, MI
If you're looking more locally, the state of Michigan's got a darn good one for the 2023 class. Dante Moore is listed as the nation's No. 14 overall prospect and holds offers from Ohio State, Michigan, Notre Dame, and several SEC programs. This one will likely be a Midwest battle, and it's worth noting that Moore grew up in Elyria, Ohio as a Buckeye fan idolizing Braxton Miller. 
Will that be a factor in the recruitment? We'll have to wait and see, but the potential is there for two years of separation between Ewers and the 2023 quarterback of choice. That's going to be a major selling point for Day and Dennis if the Texan does arrive on campus in the next week or so. Moore is coming off a visit to South Bend, and Notre Dame should be a serious player as well. He also has a relationship with top 2023 wideout Carnell Tate; a major target for both the Buckeyes and Irish. 
Drew Allar • 2022 • 6-foot-4.5, 228 pounds • Medina, Ohio 
The dark horse of the bunch, Medina's Drew Allar is a prospect that is good enough to play for Ohio State, Clemson, Alabama, or any other program in America. Instead, it's James Franklin who will now have the opportunity to completely transform the quarterback room in Happy Valley. That has to bring some excitement to the fanbase after the lackluster career that Sean Clifford has put together thus far. 
The Buckeyes have not offered Allar. If Ewers reclassifies, would it even be realistic to think Ohio State could snag a top-rated 2022 quarterback to come in right after him? Probably not. But this is an in-state prospect, and you have to think a Buckeye offer might be able to shake things up a little bit. The nearly 6-foot-5, 228-pounder was an Elite 11 finalist and put together a fine showing at the event. He's been a Nittany Lion commitment since March. This one is likely a long shot, but the upcoming Ewers news could make it worth watching.
---
We really could be looking at an unprecedented situation under center, and it would have some major ramifications on the trail. Quarterback recruiting is handled differently than other positions since most of the nation's top signal-callers tend to commit a bit earlier in the process. If Quinn Ewers moves up his enrollment timeline, there will be some rapid changes for Ohio State's quarterback recruiting.