It's going to happen.
Quinn Ewers, the five-star quarterback commit in Ryan Day's 2022 class, had been strongly considering the possibility of enrolling a year early – meaning, as early as this week – at Ohio State, Yahoo Sports' Pete Thamel reported last week. It was a decision in part based around his earning potential in the name, image and likeness era given his status as a mega-recruit who, his family believes, could make seven figures in revenue within the year if given an opportunity.
The decision has been made. He's enrolling this fall, will join the Buckeyes for preseason camp and will be able to play in the 2021 season.
So, what does this all mean for the Buckeyes? How does it affect the quarterback room both right now and down the line? What's better for Ohio State?
As everyone waits for the Ewers family to come to a conclusion on the signal-caller's immediate future, we explore the complexities and implications of the looming possibility that Ewers could reclassify into the class of 2021.
Editor's note: This story was originally published on Thursday evening. But because of recent events, we updated it and put it back on the front page of Eleven Warriors.
---
Can A Room Get Any Weirder?
Immediately, this becomes the weirdest quarterback room in college football.
You have two second-years who haven't ever thrown a pass in college football, one of whom was a borderline five-star recruit (C.J. Stroud) and the other who'd been committed to Ohio State since the Urban Meyer era (Jack Miller). You have an incoming five-star quarterback who enrolled in January (Kyle McCord). And now you also have one of the top quarterback recruits of the past two decades graduating from Texas' Southlake Carroll High School early and joining the team just as preseason camp begins (Ewers).
Altogether, they have 18 snaps of in-game experience at the collegiate level, including three carries, two touchdowns and zero passing attempts.
This, quite obviously, isn't the ideal way the Buckeyes would like to build their position group. Four freshmen with essentially no experience in college? Not the plan.
But it is also amusing that Ryan Day can lose the most talented quarterback in Ohio State history, be set up to replace Justin Fields with a young but gifted trio, then go out and add Ewers who's an even higher-ranked recruit than the Chicago Bears' new franchise quarterback. He's stockpiling talent at the position at a ridiculous rate.
C.J. Stroud is the Starter to Begin the Season ... Right?
The obvious question everybody has is just that: A question.
For a while, Stroud has been the presumed leader of the quarterback competition, with McCord lingering and Miller appearing destined for backup duty. Whether Ewers can actually unseat Stroud and win the starting job within a month of setting foot on campus, on its face, seems somewhat outlandish.
For that reason, the initial reaction by most people has been a strong "no." He hasn't gone through a college season, didn't get any spring practices, hasn't been in Ohio State's strength and conditioning program, wasn't a part of summer workouts and might not even be ready to suit up for practices – if he did choose to enroll immediately – when they begin on Tuesday. All reasonable points.
With that in mind, nobody currently on the roster – Stroud, McCord or Miller – is a proven commodity at all. Aren't you all tired of hearing how none of them have thrown a pass in college? Well, it's written because it's the truth. They haven't done anything – yet. And even the year-plus at Ohio State that Stroud and Miller have came as the pandemic limited some of the opportunities both in games and outside of games they'd typically have had. The lack of a proven commodity makes the potential of Ewers starting right away at least a legitimate possibility.
And if there's someone who could pull off what many wouldn't believe to be possible, it's probably the No. 1 recruit in the country who's the highest-ranked prospect to ever pick the Buckeyes.
Plus, we can't act as though Day and Ewers haven't been talking about this possibility behind the scenes for a while now. It's clearly not something that was just thought up recently. He's coming from the strongest division of high school football in the country, has surely has had his hands on Ohio State's playbook and shouldn't have any misconceptions about what he'd be getting himself into.
Ewers starting the opener can't be viewed as impossible. It's just not the most likely scenario.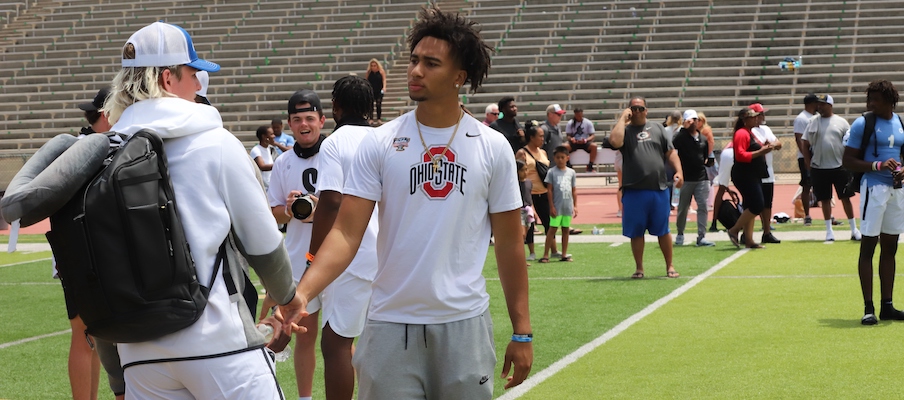 ...But Could That Change Mid-Season?
Ohio State fancies itself as one of the top three programs in college football. It's typically viewed in the same sphere as Alabama and Clemson. What have they done that the Buckeyes haven't? Replaced their starting quarterback with a five-star freshman in the middle of the season. Nick Saban did it in the national title game with Tua Tagovailoa and Dabo Swinney did it with Trevor Lawrence five games into his first season with the Tigers.
A midseason Ewers takeover of the starting job is a realistic possibility. No, it's not something we've seen before in Columbus, but there's recent precedent at similar programs.
When could it happen? Maybe after the Minnesota-Oregon games to begin the season, or following the Indiana-Penn State matchups in late October. Of course, this is the kind of move that would only be made if the starter isn't performing up to expectations and if Ewers truly is a can't-keep-him-off-the-field type of talent.
How Good Can Ewers Be in 2021?
The idea of a high school senior suddenly graduating months before he's expected, enrolling in college at the beginning of August and becoming the starting quarterback of a national championship contender at some point in the fall is, on its face, absurd. Thus, it's only something being discussed because of Ewers' status as the nation's No. 1 recruit in the 2022 cycle. 
It'll be up to Ewers to prove that he's the gargantuan, can't-sit talent that recruiting analysts have declared him to be once he arrives in Columbus. Him being that type of guy is a prerequisite for any conversations about whether he could actually start in 2021, and it would have to be confirmed by Day and Corey Dennis if he shows up on the team within the next week or two.
Will His Presence Hover Over the Team?
Regardless of whether Ewers starts or not, if Ohio State's coaches and players dance around questions about him and how he looks in practice, Ewers will be a main topic of conversation in Columbus throughout the preseason and into the season. 
How does that impact ... everything? 
Ewers will be asked about at press conferences and interview sessions all year. People will bring him up whenever he's on the bench and the starting quarterback tosses an interception or leads an unsuccessful drive. His presence will be unavoidable, and it's difficult to gauge the effect it would have on the team – or if it ultimately wouldn't matter at all.
Does Anybody Leave?
There's this unwritten rule a lot of college sports reporters have where they don't speculate on transfers. It's becoming increasingly difficult in football, especially at quarterback because the nature of the position leads to more transfers.
If Ewers were to join the Buckeyes right away, it's fair to wonder if any of the others on the roster – Stroud, Miller or McCord – would enter the transfer portal and find another school just before preseason camp begins. Yes, that might sound crazy, and no, they wouldn't be eligible to play elsewhere in 2021. 
But much weirder things have happened in college football.
Do You Have to Play Ewers or Risk Losing Him?
Part of what makes this a difficult situation to analyze is that Ewers' expectations aren't totally clear.
Does he give himself a real shot at starting in 2021? How long would he be willing to stick around and not be the starter? If Stroud has a successful 2021 season and is locked into the 2022 starting job, would Ewers leave after this season and find somewhere else where he could start in 2022 (which shouldn't be a challenge whatsoever)? 
We know Ewers wants to – and could – make a lot of NIL money. We don't know how patient he'll be.
And we also don't know if it would influence Ohio State's starting quarterback decision-making. Day has claimed he'll always be focused on putting the best option onto the field without looking at long-term implications. But he's been on the other side of this. Kirby Smart once thought Jake Fromm was good enough for Georgia and saw Fields walk out the door and find a home in Columbus. If Ewers is on Fields' level, the Buckeyes simply can't afford to have him leave.
Does This Ruin the Succession Plan?
Even the thought of Ewers leaving Ohio State before ever starting was never viewed as much of a possibility before Thamel dropped his report. The idea was simple: Stroud (or McCord) would likely start in 2021, they'd compete with Ewers and others in 2022, then Ewers would start in 2023 and 2024.
Now? Say goodbye to any fairly clean succession plan if Ewers joins the team this season. All four scholarship quarterbacks on the roster would now be eligible to enter the NFL draft after either the 2022 or 2023 season.
What Happens in the 2022 and 2023 Classes?
For a while, the idea for the 2022 class has been that the Buckeyes get the No. 1 quarterback in the country, and the expectation has been that Ohio State would not get a superstar quarterback for the 2023 class because they'd know they'd have to sit behind Ewers for a minimum of two years.
Well, things change with Ewers reclassifying.
Ohio State now, almost certainly, want to add a 2022 quarterback commit because, in all likelihood, there would be attrition at the position between now and the beginning of the 2022 season. But the options aren't plentiful. All of the top 34 quarterbacks in the class are committed. Maybe the Buckeyes look at some of the signal-callers they've recruited in the past, such as Tennessee-bound Tayven Jackson, Penn State-bound Drew Allar or Purdue-bound Brady Allen. But that could be a tough sell.
What would be less of a tough sell is the pitch to 2023 quarterback prospects. They've long faced the possibility that picking Ohio State would mean they'd be behind Ewers for two years. Instead, they might be in a situation where they'd be a likely starter in year two as a Buckeye. Malachi Nelson has already committed to Oklahoma, but most others haven't made decisions yet. Ohio State could come strong at some of the best in the class.
Is Corey Dennis Ready for This?
One not-so-insignificant detail of this story is the importance of Dennis, whose first year as quarterbacks coach was all about coaching a returning Heisman Trophy finalist and getting two freshmen ready to play the following season. Now in his second year, he's looking at coaching perhaps the most absurd position room in college football.
Day, of course, will be there to help. Still, this is a major challenge with huge implications for the entire team. He'll be coaching four guys who'd have all the eyeballs of Ohio State fans trained on them while trying to navigate the absurdity of it all and win it all.
You simply can't overlook the difficulty of the job that lies ahead for the 29-year-old.
How Unfair is this to the Other Quarterbacks?
There's so much talk about how this affects the Ohio State football program, but it also has a notable impact on the three guys already in the room – Stroud, Miller and McCord. None of them are Ohio natives. All chose to play for the Buckeyes before Ewers committed and waaay before they knew there was a chance he'd join them on the 2021 roster.
In particular, it would be hard not to feel for somebody like McCord who already was squeezed in a cycle between Stroud-Miller and Ewers. Now, not only would he be the new guy in the room, but he wouldn't even be the highest-rated newcomer in the room. Stroud and Miller have been around longer and Ewers is viewed as potentially a generational talent.
So, knowing all of that, it's only fair to wonder how slighted they feel with Ewers joining them in the room this fall and whether multiple of those who don't win the starting job enter the transfer portal next offseason. All four of these signal-callers are capable of starting on Power Five teams and would have a wide swath of suitors.
Ohio State Had No Say In This Decision, Right?
The Buckeyes, it would seem, had little say in whether Ewers graduates this summer or not. They could have either welcomed him as a true freshman or told him that they don't want him to reclassify and risked having the top-rated recruit in program history explore his options at other schools, most of which would welcome him with open arms.
So...it's not much of a choice.
You simply can't tell Ewers no. You can suggest something to him. You can try to point him in a direction that you think would benefit you most. But if you're Day, you're not turning him away just because it might make things more complicated this preseason.