C.J. Hicks watches three primary players' film or interviews either to learn a playing style, glean some extra football knowledge or just to get himself hyped up: Kam Chancellor, Jamal Adams and Isaiah Simmons.
Among many other things among those players, one particular physical characteristic about Chancellor got Hicks' blood going. 
On each of Chancellor's shoulders are the tattoos of the word "Bam." Nicknamed "Bam Bam Kam," the four-time Pro Bowler and one of the former hallmarks of the Seattle Seahawks' Legion of Boom defense, Chancellor called those tattoos his stamps. 
"When he hits somebody, he would hit them so hard that he would say, 'I'm tattooing that on them. I'm leaving that Bam on them,'" Hicks told Eleven Warriors. 
That's the exact type of mentality the Buckeyes' 2022 outside linebacker commit is trying to carve out for himself when he gets to Ohio State, and creating that mindset begins at Archbishop Alter High School. 
"I'm coming with that this year," Hicks said. 
But it's not just hard hits, interceptions and pass breakups that helped create careers for Chancellor, Adams and Simmons. Those three guys, especially Chancellor, had respected voices on their defenses. That's the type of leader Hicks is working to become. 
"I'm being more outspoken," Hicks said. "Being louder and more vocal in practice, Me and Derrick (Shepard) wanna be captains next year. But to be captains, it's not just given to you. You gotta earn it by showing leadership."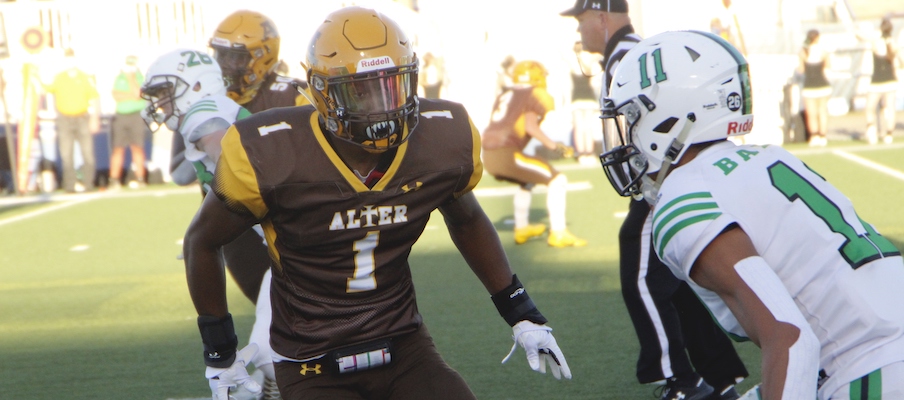 When it comes to recruiting, Hicks has shown that leadership through and through, as "Captain Buckeye" instantly took on the role of lead peer recruiter. His leadership in that area was paramount in keeping Dasan McCullough in the fold this summer. 
McCullough had wanted to commit to Ohio State since early June, but the Buckeyes continued holding off taking him because they wanted to see him in person. Frustration started to grow for McCullough, especially after Ohio State took guys like Jyaire Brown and Denzel Burke (Burke had been evaluated in person but had yet to visit, and Brown had not been evaluated in person by Kerry Coombs). 
But it was his great relationship with Hicks, and Hicks' important voice and extension of the Ohio State staff, that helped keep McCullough patient and helped keep him from committing elsewhere. Eventually, once the recruiting dead period kept getting extended and it became clear that there's no end in sight to the dead period, the Buckeyes gave McCullough the green light, and now McCullough hit the ground running as the 2022 class' other top peer recruiter. 
A chunk of that recruitment can be attributed to Hicks' involvement. 
Captain Buckeye, indeed.
Best LB crew in the nation?
Once Hicks was in the fold, that filled one of four spots at linebacker in Ohio State's 2022 class as Al Washington needed a huge haul at one of the program's biggest positional needs in the cycle. 
Fast forward three-and-a-half months and Washington nailed an "and-one" three-pointer, landing commitments from Hicks, McCullough and Gabe Powers. He's going to the line to shoot for a fourth linebacker, with five-star Shawn Murphy the top target. 
"Shawn about to come too," Hicks said. "You saw his teammate (Tyleik Williams) committed. He about to come. I'm gonna work on him, and you know his teammate's gonna work on him. It's gonna be crazy."
Even if the Buckeyes don't land Murphy, Jalon Walker, Justin Medlock, one of the other four linebackers they've offered or any others they might offer, the triumvirate already in the fold gives Ohio State the best linebacker crew in the class of 2022, with all three ranked in the top 75 overall (Powers at No. 31, McCullough at No. 46 and Hicks – who could also end up in the top 50 before it's all said and done – at No. 71). 
Recently, Hicks and Powers tweeted out (and McCullough quote-tweeted) a graphic that says "Best LB Trio in the Nation."
we loaded. https://t.co/gQNjsp04KH

— Dasan Mccullough (@Dasan2022) August 27, 2020
Hicks and McCullough have been close ever since he contacted McCullough on social media this summer. On his Instagram, McCullough has a series of what are called "highlights" pinned to the top of his accounts. Those highlights are a running list of the offers he has accumulated with each offer having a slogan of some kind associated with the program as the title underneath each video. 
For instance, the title for his Texas offer is "HookEm," and the title for his Clemson offer is "AllIn." Under Ohio State, the title says "LBU." That caught Hicks' attention, and he sent McCullough a direct message. 
"I texted him, like, 'LBU? I like that. Come join us,'" Hicks said. 
The two have been in constant communication since then, and now they form a dynamic pairing.
"Dasan is a really smart guy," Hicks said. "Us three, (CJ, Dasan and Hicks' teammate Derrick Shepard) we all watch film sometimes like when Ohio State played Clemson. Just seeing the mistakes the defense made. Me and Coach Washington also watch that, and Dasan said him and Coach Washington also watch that too. We just bounce ideas off each other of what we could do. We're just visualizing ourselves playing that spot. That's what we all do. We all watch film and we all play Madden against each other. 
"Dasan, he brings speed, length, smart player. He knows the game. He's been with the Kansas City Chiefs, his brother's in college, he's got everybody around him. He's in a good environment. His mentor is Tyrann Mathieu, which is very good for him because he's trying to play that hybrid spot. I don't know if he's gonna end up playing that because he's so big, but I don't have a problem with him playing that because, again, he's so smart. He's versatile, he's fast, his change of direction is really good, and he's big."
But they didn't call them the Two Amigos. Didn't call them the Yeah Yeahs. And where the hell would Ferris and Sloane have been without Cameron? 
"Shawn about to come too. I'm gonna work on him, and you know his teammate's gonna work on him. It's gonna be crazy."– C.J. Hicks on him and tyleik williams recruiting unity reed (va.) linebacker shawn murphy
Just like those famous trios, the Buckeyes have a special thing going when adding in Powers to the gruesome twosome of Hicks and McCullough.
"Coach Washington sees me playing the bullet, he sees Dasan playing the Pete Werner and Tuf Borland spot and Gabe playing the Malik Harrison spot," Hicks said. "Malik Harrison role in the middle of the defense because Gabe is really, really smart. He doesn't talk a lot, but that doesn't mean he's not there. He knows everything and knows where it's gonna go.
"If you watch his film, he's there before the play even happens. He's quick, explosive, his reads are really, really good. If he does play D-end, I don't have a problem with it, and I don't think he would have a problem with it. He probably just wants to win like the rest of us."
Just like those three, the players in the Buckeyes' 2022 cycle just want to win and will soon enough be adding more like-minded players. 
That effort has been spearheaded by Hicks. He has already left his mark as the class leader, and soon enough, Hicks will be turning those Booms into Bams.