As C.J. Hicks has grown physically into one of the most imposing players in the 2022 recruiting class, there's been another evolution for the young future Buckeye.
Back when Eleven Warriors first met him in the middle of his sophomore season, Hicks was a bit soft spoken and still figuring out things as an uncommitted recruit. Fast forward 10 months later, and he's now a much more confident, comfortable young man. His growth as a person and as a player has been a major reason for his transition into the driver's seat of the peer-recruiting ship for Ohio State's recruiting class of 2022.
"They call him 'Captain Buckeye,'" Derrick Shepard, Hicks' teammate at Archbishop Alter (Ohio) High School, told Eleven Warriors in July. "He's one of the head recruiters they have for Coach (Al) Washington and the whole staff."
Ever since committing to Ohio State on May 1, Hicks immediately and enthusiastically took on the role that Jack Sawyer, Kyle McCord and Ben Christman did early on in the 2021 class and that TreVeyon Henderson has in the same class since he committed in March. 
"I talk to recruits every day trying to get them to come – Shawn Murphy, Dasan McCullough, Darrius Clemons," Hicks told Eleven Warriors, referencing just a few names of players off the top of his head who he talks to on a consistent basis. "No matter what position they play, I'm still trying to recruit them to come be the best in America. BIA.
"I talk to (Justin Medlock) sometimes. I don't talk to him as much, but I talk to him and Jalon Walker, telling them if you wanna be great, come be a part of BIA. They're both really good linebackers. I've watched both of their film."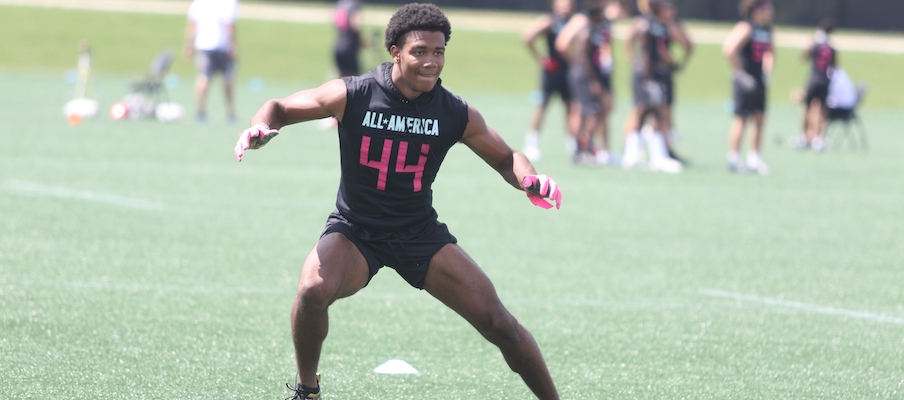 And it's not as if there's some secret sauce or special hidden secret as to how Hicks recruits other players.
"People think it's hard, but I just do it over a game," says Hicks, referencing Fortnite and Madden as two video games he plays with fellow recruits. "Some people do it in person or when you're on the phone with them. But I do it over a game. I'm also just DM'ing players, telling them if they wanna come be great and win a ring, they know the place to come. 
"It don't matter (if it's offense or defense). I'm looking at offensive players too. I've been recruiting Caleb Burton, the receiver, too. Emeka (Megwa) the running back and Emeka (Egbuka), the receiver, too. It don't matter what class they're in, I'm trying to recruit them."
Which brings us to the topic during this interview of Ohio State's much-heralded 2021 recruiting class. 
Hicks has immense respect for what his fellow future Buckeyes have done in building up the 2021 class, and he says what they have done is "a great example" of how to peer recruit. 
But that doesn't mean he won't get the competitive juices flowing in trying to outduel the guys in the class above him with some lofty hopes of what he can create in the 2022 cycle.
"My goal is to be better than the 2021 class," Hicks said. "They have 18 or 19 commits, so I'm just telling them if they wanna be great, let's be better than them. They're setting a record or something over there with the guys they've got committed. 
"It's not intimidating. I look at it as a challenge. I think we can break their record."
That, of course, has led to some light-hearted trash talk with members of the 2021 class since they've caught wind of Hicks' goals.
"I talk to Evan (Pryor) and Tre (Henderson) about it all the time, especially Jaylen (Johnson) and Ben (Christman)," Hicks said. "I talk to most of them and just trash talk that, 'We're gonna get more commits than you when things open back up.' They think I'm lying or that it's not gonna happen, but I just tell them to wait and see. We're gonna get a whole bunch of commits once things open back up.
"They're like, 'It's not happening.' They think that they've got it set and that we can't get nowhere near. But it's gonna happen. Just wait."
"We could be the best linebacker crew in history, if you think about it. When you add all of us together, we could be LBU."– ohio state commit c.j. hicks on the Buckeyes' potential 2022 linebacker class
But the talent is all going to the same place, and they're all working toward the same goal of winning Big Ten titles and national championships.
"Yeah, it's the brotherhood," Hicks said. "It's the big brother just trying to mess with the little brother."
It's looking more and more likely that the Buckeyes will see an addition to that brotherhood and that Hicks will see a major step forward in his big quest soon. Four-star Marysville (Ohio) linebacker and top Ohio State target Gabe Powers is set to announce his college commitment at approximately 7 p.m. Saturday. 
All signs are pointing to Powers joining Hicks in the linebacking corps as Washington looks to restock the shelves at the position with at least three or four linebackers in the 2022 class. If Powers joins the Buckeyes, that would give them two of the top-eight outside linebackers in the nation. 
Powers would also give Ohio State a total score of 101.37 points in the class of 2022 with four commits, just behind LSU (125.06 points with five commits), the only other program in the country with more than two commits in the class.
If Powers joins the fold, that will fill up either two-thirds or half of the Buckeyes' numbers at linebacker for the 2022 class, and Hicks is trying to get McCullough and Murphy to join them.
"Dasan's my guy. That man is hilarious," Hicks says of McCullough, a 6-foot-5, 220-pound Sam linebacker target for Ohio State who is ranked No. 7 at athlete and No. 69 overall in the class. "That's the recruit I talk to the most out of anybody. Coach Washington gave me a couple guys he wants at linebacker because he said he's only taking three or four in my class, and Dasan was one of the guys so we linked up and I've been talking to him. It was just all football, and then we started playing the game together. Now we talk on a daily basis.
"Coach Washington told me they want me and Dasan outside and then Shawn inside, and I'm working on getting Shawn," Hicks said. "(His dad's) from Youngstown so I've been trying to recruit him and get him to come. I'm not trying to force him to come to Ohio State, come to Ohio State, come to Ohio State. I'm just keeping it open.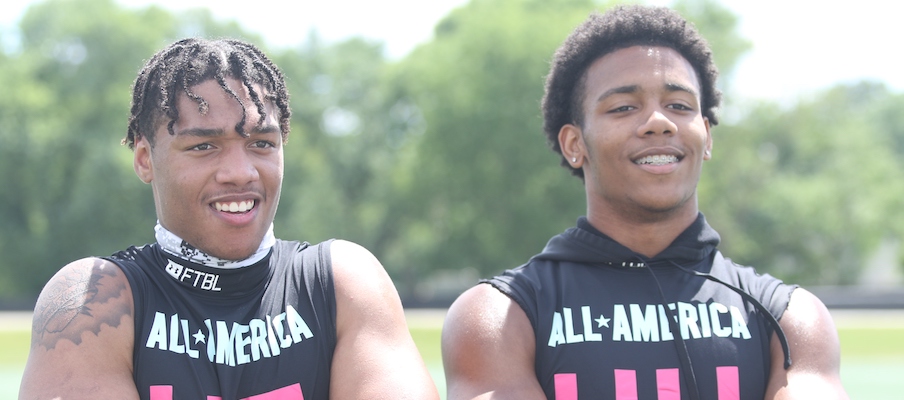 "I'm not gonna try to force it and tell you what school to come to, but if you wanna be great, like I'm telling everybody else, come be a part of BIA. We could be the best linebacker crew in history, if you think about it. When you add all of us together, we could be LBU."