PICKERINGTON – Sonny Styles retreats to the underbelly of Pickerington Central Football Stadium's home stands, a pseudo locker room for him and his Tiger teammates. 
As DJ Khaled's "All I Do Is Win" blasts through the PA system, Styles raises his arms high in the air with the rhythm of the lyrics following a 47-0 victory on Friday night. 
All I do is win, win, win no matter what … and if you going in put your hands in the air, make 'em stay there.
He's only three games into his high school career, but so far that winning feeling is all Styles knows. And you get the perception that a winning feeling is one that Styles is going to get used to the rest of his career, whether at the high school or college level. 
Before the start of official practices ahead of the 2019 season, Styles suffered a fractured tibia and sat out the entire year as he watched his Pickerington Central teammates claim a Division I state championship in a 14-1 campaign.
He worked his way back from that injury during the offseason, enough to get his 6-foot-4, 205-pound body back into position to be the Tigers' starting single-high safety and a special teams standout. 
And another Styles tackle that leads to a second straight three-and-our for Central Crossing pic.twitter.com/TL5ASWmQkJ

— Zack Carpenter (@Zack_Carp) September 11, 2020
On Aug. 30, the class of 2023 rising star suited up for his first football game since October of his eighth grade year, a nearly two-year stretch without playing the game that is going to impact a lot of his future, and it came under a nationally televised ESPN2 spotlight against their rival Pickerington North. 
So, yes, he was rightfully a little nervous. 
"Definitely some butterflies that first play," Styles told Eleven Warriors. "But, I mean, once we started going, I was like, 'Ahh, now I remember how to play.' I feel like I almost forgot, it's been so long. But once we started rolling, it felt good."
It turned into a head-turning, star-is-born performance. Styles blocked a punt that he returned for a touchdown and later added an interception, making it look like he had been playing for years. It looked like he had plenty of wind in his sails basically from the start.
"The first play they threw a screen, and I made a tackle," Styles said. "The dude kind of got into my chest a little bit, and I was ready to play after that."
Already on the natural high of having played so well in his first game back, when the final whistle echoed off that 35-9 victory, the day was just getting started for the sophomore. 
Jeff Lomonico, the Tigers' assistant head coach and defensive coordinator, told Styles' older brother and Notre Dame 2021 receiver commit Lorenzo Styles Jr. to call Ohio State linebackers coach Al Washington so that Washington could talk to Sonny. 
"He was having a conversation with me and telling me how confident he is in me," Styles said. "He knows what type of family I come from. He can see that, and he said he can see my athletic ability. He said he really wants to coach me."
And then, the offer from the Buckeyes came. 
"Honestly, it took me all day for it to really sink in," Styles said. "It was pretty crazy. I was real surprised. I wasn't expecting it that early. But I'm gonna keep going. I'm not gonna settle."
Sophomore Alex Styles (@sonnystyles_) getting Pick Central the ball back #GEICOHSKickoff pic.twitter.com/B8DtppSGdy

— Who's Next (@WhosNextHS) August 30, 2020
The fact that his second Division I scholarship offer came from Ohio State speaks volumes about Styles' potential and what he brings to the table. Even after having played only one game as a high schooler, the Buckeyes wanted to get out in front of this in-state prospect's recruitment as soon as possible before he turns national with all of the talent and physical traits he already possesses. 
"All of them really like how I could fill out and like my potential," Styles said. "I'm really tall already, and there's no telling how I fill out. And they like my versatility. I can play multiple positions, and, of course, the family I come from tells them something about me."
All of that was on display on Friday against Central Crossing, a game we dissected in Sunday's Prep Tracker. 
Styles' height, frame, incredible hops and rare athleticism for a player his age (the now-15-year-old was able to dunk a basketball as a 13-year-old eighth-grader) were staring at you in the face from the first snap of the game from his deep safety spot, though that might not be the position he plays at the next level depending on his college destination. 
"Most colleges see me playing as an outside linebacker at the next level, like a hybrid type of dude," Styles said. "Some coaches call it a Rover position, and that's where most coaches see me at. Right now, Ohio State just sees me at athlete on the defense, pretty much. I could get to 6-6, there's no telling honestly. By the time we start the season next year, I wanna be around 215-220. It's kind of hard putting on weight when you keep playing basketball. Basketball keeps you kind of slim."
To recruit Styles, the Buckeyes will send in a coach whose star continues to rise, as Washington currently ranks as the No. 1 recruiter in the 2022 class after landing three potential five-star linebackers (at the worst, high-end four-stars) in the cycle in Gabe Powers, Dasan McCullough and C.J. Hicks and one of the nation's top offensive tackles in Tegra Tshabola. 
Washington's uncanny ability to build relationships was a major reason he was able to land those guys, so him spearheading Styles' recruitment should make Buckeye fans feel confident, especially when hearing how Styles talks about the second-year Ohio State assistant.
"I've been talking to Coach Washington for a few months now," Styles said. "We've been talking for a few months, and I really like Coach Washington. He's not one who's gonna tell you what you wanna hear. He's gonna keep it real with you, and I really like that about him. He keeps it real, I like that."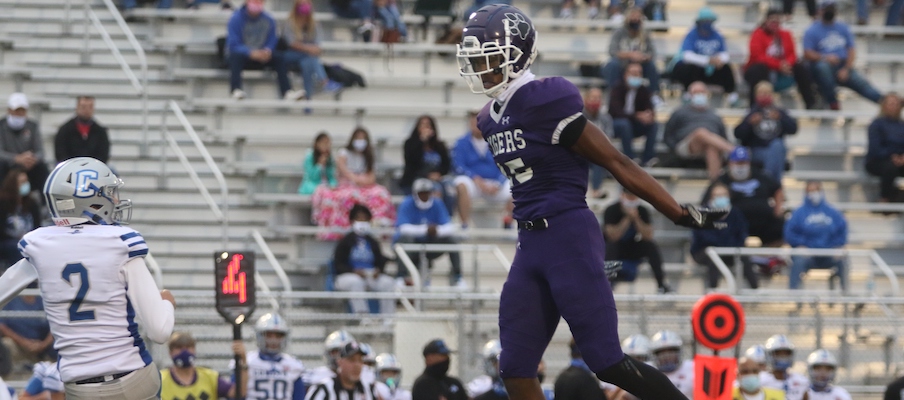 Styles is plenty familiar with Washington and a couple other Ohio State coaches because of his brother's recruitment. The two brothers made trips to Ohio State together as the Buckeyes courted Lorenzo, who they wanted to be a defensive back instead of a receiver at the next level. 
Eventually, Lorenzo Jr. chose to pass on his hometown team and committed to Notre Dame rather than following in the footsteps of his dad, former Ohio State linebacker Lorenzo Styles Sr., who played for the Buckeyes from 1992-94.
Sonny says he learned a lot from his older brother's recruitment, mainly to not settle just because you're getting offers and to appreciate every offer no matter how big or how small. More importantly for Ohio State fans, he says Lorenzo not picking the Buckeyes will have no bearing on how he views the program. 
"It doesn't affect me at all," said Styles, who was offered by the Irish the day after Ohio State offered. "He felt like the best place for him was Notre Dame. The Ohio State coaches still talk to him. I talked to Coach Washington, and he told me to say what's up to Lorenzo. There's no bad blood or anything."
Recruiting is going to be a part of Styles' life for the foreseeable future, as there's no timetable for when he wants to commit, and a commitment might not happen for a while. 
So while that process plays itself out, he's going to focus on making sure the wins on Fridays keep coming. And just like he wasn't happy with the fact that he didn't turn an interception into a pick-six on Friday, he's not going to rest on his laurels when it comes to the entire 2020 campaign as his stock – and his star – continues to rise.
"I'm feeling pretty confident about myself," Styles said. "But I'm just gonna keep going and keep working. Not gonna be satisfied."