Ohio State deployed arguably the best offensive line in college football in 2019, and the Buckeyes will enter 2020 with America's top unit.
One of the keys to that success was a rushing attack buoyed by the athleticism along the interior of the line, with guards Wyatt Davis and Jonah Jackson flanking center Josh Myers last season and with Harry Miller likely succeeding Jackson in 2020. 
Finding athletic, powerful interior offensive linemen who have the ability to explode into the second level are what can help the Buckeyes continue churning through the Big Ten and into the College Football Playoff. 
So when Greg Studrawa and Ryan Day saw the impressive array of traits that Jager Burton possesses at a one-day Ohio State camp in the summer of 2019, one that served as a momentous point in Burton's potential recruitment to the Buckeyes, it was a reinforcement of the evaluation the Ohio State staff had seen on Burton's sophomore season game film at Frederick Douglass (Ky.) High School. 
And they knew he was a player who could be a critical piece of a future offensive line in Columbus.
"I think (my athleticism is) why they recruited me, honestly," Burton told Eleven Warriors this week. "I'm the same build and style, I guess, as those guys are. I just like running in general – getting downfield and getting after it."
Looking back, what makes that day – one which Burton says "was probably the best camp I'd ever done" – even more noteworthy is that Burton, who is down from the 290-pound weight he was at two years ago to 260-265 with about a 4.9 time in the 40, had just one full season of experience as an offensive lineman under his belt. 
Not just at the high school level, or even at the varsity level. One full season of experience at the position, period. 
Senior Campaign pic.twitter.com/RbX8z2QDJ5

— Jager Burton (@jager_burton) July 3, 2020
When Burton and his good friend Walker Parks – a fellow four-star blue-chip offensive line recruit who signed with Clemson in 2020 – went the private-to-public route between their freshman and sophomore years in Kentucky by transferring from Lexington Christian Academy to Frederick Douglass, Burton did so believing he was going to be playing at a position that would showcase his skillset a bit more.
"He had mainly been a D-lineman and skill position player up until that point," said Nathan McPeek, who served as Frederick Douglass' offensive coordinator the last three years before taking over as head coach in February for former coach Brian Landis. "And we talked a little bit, and I said, 'You could be a pretty good defensive lineman. But do you wanna be a highly regarded O-lineman?' Because he was very athletic for that position, and he's strong.
"He played tight end and H-back for us, so that was good. That's why he's got really good feet. He has that background. That helps when you transform all that to the O-line position. When you look at the NFL, they've got all these guys with awesome feet."
Burton added: "My first year, I was playing tight end. I was playing O-line, and (Landis) was like, 'I don't know if you'll be able to start at O-line,' because we had a really good team that year. He said he wanted me to play tight end, but I ended up competing at O-line and ended up starting."
How Burton took over that starting job at left tackle is indicative of the type of player and competitor he is, and it also showed the magnitude of his mental side of the game.
A fire was lit under him as a freshman at LCA, when Burton was looking forward to fulfilling out a dream he had since he was little – to play alongside his older brother, a senior, for a team predicted to win a state championship. But Burton saw action in just two games as a defensive lineman, and when he transferred, he carried with him the chip he'd had a year prior. 
"I got playing time, but I still felt I should've been starting," Burton said. "So I had a little chip on my shoulder coming over here. Everyone was like, '(Frederick Douglass) is the best team in Kentucky. If you couldn't play at this small, private school in Kentucky, how are you gonna play here?' So I said I'm gonna show all y'all, and it worked out like that. I just had a chip on my shoulder and started working harder than everyone."
What stood out to Landis and McPeek the most during those days was how quickly he learned the ins and outs of the offense, in addition to learning offensive line skills. 
"Just how fast I picked up on the playbook," Burton said. "I remember, I got quizzed one day, and I knew every single position. I knew the whole playbook, and I had just moved there four weeks ago. They said that kids who had been here since the school year started don't know these plays. So it was just that and working in the weight room as hard as you can and then getting out there and running with the O-linemen."
After seeing his first action in the third series of Week 1 of 2018, Burton showed his value and earned the starting left guard job in Week 2 before moving to left tackle halfway through the season, and he's never lost his starting spot since.
"When he came over here, we just continued to work on just the overall fundamentals of the O-line position," McPeek said. "He's gotten a lot better at it, but I still think there's some things we need to improve on with alignment, pre-snap recognition, footwork stuff can always get better and then moving to wherever he goes to, they're gonna get a really good football player.
"He's got a lot of good football ahead of him. He'll have a great senior season with us. And then, wherever he decides to go to school, I think his best football is ahead of him. He hasn't been playing offensive line very long. Kind of got introduced to it as a young kid here at Douglass and then grew into the position. Really proud of him. Great kid and great player and works really hard."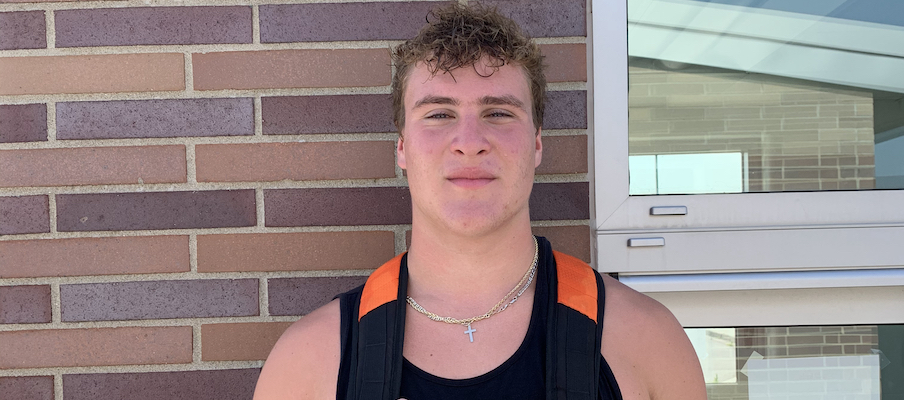 And while Burton still has areas in which he can improve, McPeek believes he will surely follow in the footsteps of players like Parks (who finished as a top-50 overall recruit and a top-five offensive tackle when he signed) and former Alabama offensive tackle Jedrick Wills, the Cleveland Browns' 10th overall pick in April who was Kentucky's top-ranked prospect in the class of 2017 out of Lafayette High School.  
"I said this about Walker, and I feel the same about Jager – if him and Walker both stay healthy and progress, I think they'll both be very similar to Jedrick. They're gonna play in the NFL," McPeek said. "If they stay healthy the rest of the way, they have the ability to do that one day if everything lines up. You have to have a little bit of luck and work hard, but the potential's there."
In such a short amount of time at the position, Burton not only became a reliable starter for a team that finished one point shy of defeating the eventual state runner-up in Class 6A in 2018 and fell one touchdown shy of a state championship in Class 5A in 2019 (the highest and second-highest levels of competition in the state, respectively), but he's also vaulted himself into elite territory as one of the best offensive linemen nationally in the 2021 recruiting class. 
After being ranked between No. 154 and No. 160 for the past four months, last week Burton leaped all the way to No. 119 overall in the composite rankings – buoyed by going from No. 171 overall in May to No. 61 overall in June in 247Sports' rankings. 
We will get into more detail about Burton's recruitment later this week, but it is in a major standstill right now as he and recruits all over the country are in a holding pattern with the dead period still ongoing and visits not allowed. 
But Burton, who pushed back his original commitment date of August 24 because he wants to take all five of his official visits, sees the rankings boost as something that actually helped alleviate some of the pressure around his decision. 
"I don't really care about that stuff, but some coaches do," Burton said. "Some coaches will wait longer if you're an All-American ranked high. That's kind of how it works. I feel like I have a little more leeway now to take my own time, and I'll have a spot, hopefully, wherever I wanna go. And if I don't, I don't wanna go there anyways. 
"I talked to my parents about it, and they were like, 'Do you have a top two at least?' And I was like, 'no.' They asked me if there was any school I was leaning to because they said if there's not gonna be any officials, you need to know what you're gonna do. And I'm like, 'I have no idea.' And they were just like, 'OK, just wait however long.' I kind of felt more pressure to commit earlier just because, obviously, schools want you to commit earlier to help recruit. But also with my ranking, it skyrocketed, so I feel like I have a little more leeway."
Only two weeks before that rankings update, Burton had accepted an invitation to the All-American Bowl, which further added to his recruiting profile and got more people talking about his recruitment and his eventual college decision between a top five of Alabama, Clemson, Kentucky, Ohio State and Oregon. 
That decision, Burton says, is not going to come anytime soon. It's imperative for him to get back to each of those campuses, and he says he's willing to wait "until the last second" to commit, even if that means not committing until January. 
So when the people at the All-American game came calling, Burton was able to relieve some tension by announcing at least one commitment. 
"I called my dad to tell him the All-American game invited me and that I committed, and he made a joke," Burton said. "He was like, 'You just wanted to commit to something didn't you?' And I was like, yeah, I got that so now I can wait a little bit."