The Hurry-Up is your nightly dose of updates from the Ohio State football recruiting trail, keeping tabs on the latest from commits and targets from around the country.
Burton backup plans?

This was a question posed to Dan and Colin for their latest episode of Real Pod Wednesdays, and in short, the answer is no. 
At this late point in the process, there is not anyone who is imminently on Ohio State's radar who it would be looking to pursue who it hasn't already offered. And there are only two real options for the Buckeyes to bring into the class at offensive guard if Jager Burton decides to stay home and commit to Kentucky (there has been continuing momentum building toward that possibility) or spurn both programs and head to Alabama. 
And I don't feel especially good about either of those players ending up at Ohio State.
Rocco Spindler is ranked No. 2 at offensive guard and is a top-50 overall player, and back in the fall, the Buckeyes still had plenty of time to make an impression on him – and they did. Spindler eventually told Eleven Warriors that one of his official visits would be made to Columbus on May 1, as Ohio State was going to have the last crack at leaving its mark on him as his fifth and final official visit. 
But this is a recruitment where the recruiting dead period had a major, lasting effect on the Buckeyes. They really needed that visit to happen to make one last push. Ohio State made the cut on Spindler's final five list that he released last week, but Michigan, Notre Dame and Penn State are very much ahead of the Buckeyes (and LSU). 
The FINAL FIVE... pic.twitter.com/iJqv3GEDmE

— Rocco Spindler (@RoccoSpindler92) May 22, 2020
I don't think there's a scenario in which that changes, unless Spindler waits until somewhere around September or October to make a decision and he's able to visit again. Even then, though, I don't think this one goes Ohio State's way. That's how strong the effort from those other three top programs has been.
If Burton commits to Kentucky or Alabama, of the 11 interior offensive linemen the Buckeyes have offered in 2021, the only other prospect (committed or uncommitted) who I can see them electing to pursue harder would be Noah Josey.
Josey had planned on making an unofficial visit to Columbus in the spring and would like to get to campus in the summer, but it looks like he will be making a decision before that can happen. At this point, though, I don't think one final push from Ohio State would be enough. Josey is ranked in the 300s, but he isn't being recruited by the sisters of the poor. Alabama and Georgia are in heavy pursuit, and it looks like his recruitment will come down to those two programs.
Chicago's Pat Coogan, who has positional versatility as a tackle or guard, is one player who I would have felt fairly good about saying if I was answering this question on April 1. The Buckeyes had gotten in on him rather late, but they seemed to be making a quick impression on him. And then, he committed to Notre Dame in mid-April, and that recruitment is over.
I know the 2021 Ohio State commits were making a hard push to bring center Ryan Linthicum into the class, but that effort ended with Linthicum's September commitment to Clemson, where he has become one of the Tigers' lead player recruiters. 
I would also be shocked if Ohio State elects to pursue any in-state players on the interior of the offensive line. For one, there really just aren't many good options on the table there, plus the program decided to grab several developmental in-state players at offensive line in the 2020 class with Jakob James and Trey Leroux, in addition to Midwest offensive linemen Josh Fryar and Grant Toutant. Two of those (James and Fryar) can play guard or center.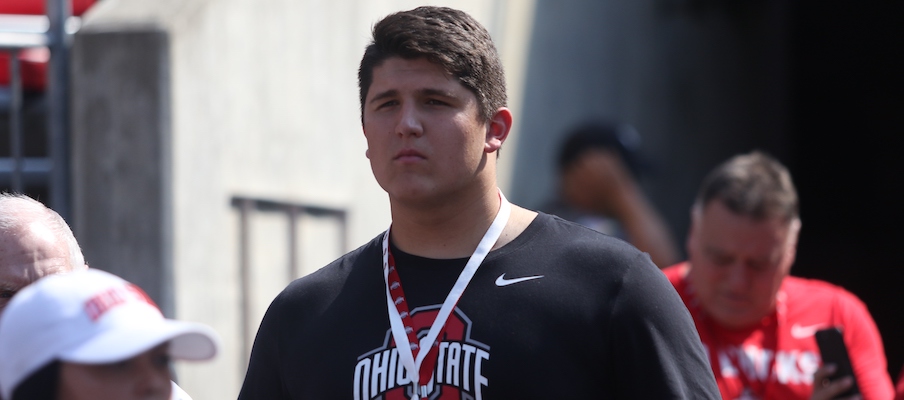 Because the Buckeyes made offensive line such a priority in the 2020 class by signing six players, filling the position with depth, they can afford to not go to backup plans in the 2021 cycle.
Ohio State already has the nation's best offensive guard, Houston's Donovan Jackson, firmly in the fold as a potential multi-year starter. Also, if Burton does not join Ohio State, the Buckeyes already have someone in the 2021 class who has the flexibility to fill in at guard in longtime commit Ben Christman. 
Christman is likely to reside at right tackle during his Ohio State career, and he's been told that he's seen as their future at that position. But still, as we saw with Branden Bowen when Wyatt Davis went down for a bit during the Big Ten title game, Christman's versatility and ability to move over a spot could prove to be a valuable commodity.
Nothing I have heard from my own sources, or anything I have read, suggests that Ohio State would look to offer any others as replacements for Burton (or Spindler). 
In regards to offensive line recruiting overall, if the Buckeyes do wind up swinging and missing on both Burton and JC Latham, there are a couple committed players who I believe they have a good shot at flipping, and uncommitted Rayshaun Benny out of Michigan is a good option as well. 
We will cross that bridge when we come to it as I get more information and as we await the decisions of Burton and Latham because, no matter what happens in each of those recruitments, Ohio State has the luxury as a program to play the waiting game with the two elite talents at the top of its board after the work it put in to build depth during the 2020 cycle and the positional versatility it grabbed in 2021.
---
Noah Josey photo: Zack Carpenter/Eleven Warriors