The Hurry-Up is your nightly dose of updates from the Ohio State football recruiting trail, keeping tabs on the latest from commits and targets from around the country.
Revisiting Recruit Draft
The results are in, and I probably shouldn't talk about them. But here we are. 
Dan won the reader poll from our Ohio State Recruit Draft last week with a total of 284 votes (45.81 percent), with Colin coming a close second at 275 votes (44.35 percent) and another guy who's clearly way smarter than both of them finished a very distant third with 61 votes (9.84 percent). 
But anyway, results aside – and, as I said last week, I don't care about the results, I still absolutely love my team (!) – I wanted to revisit the draft in a couple different ways.
First, here is a breakdown of each of our teams in terms of the team's per-player average:
Zack's Team
Offense
QB – C.J. Stroud
RB – Miyan Williams
WR – Jaxon Smith-Njigba
WR – Gee Scott Jr.
TE – Joe Royer
OL – Donovan Jackson
OL – Luke Wypler
OL – Josh Fryar
Defense
DL – Ty Hamilton
DL – Darrion Henry-Young
LB – Mitchell Melton
LB/S – Kourt Williams
CB – Andre Turrentine
CB – Jyaire Brown*
S – Jantzen Dunn
*For 2022 prospects Brown, Tegra Tshabola and C.J. Hicks, their 247Sports ratings were used, since they do not yet have composite ratings.
Per-player average: 92.70
That would have ranked No. 4 in the 2020 class behind Alabama (93.56), Clemson (93.45) and Georgia (92.96) but ahead of Ohio State (91.80).
Colin's Team
Offense
QB – Kyle McCord
RB – TreVeyon Henderson
WR – Julian Fleming
WR – Jayden Ballard
TE – Hudson Wolfe
OL – Ben Christman
OL – Jakob James
OL – Grant Toutant
Defense
DL – Tunmise Adeleye
DL – Mike Hall
LB – Reid Carrico
LB/S – Jaylen Johnson
CB – Jakailin Johnson
CB – Ryan Watts
S – Cameron Martinez
Per-player average: 94.28
That would have finished No. 1 in the 2020 class, ahead of Alabama (93.56) and Clemson (93.45) and just behind Ohio State's 2017 class (94.59) that has the highest-ever per-player average. It would also be No. 4 all-time in per-player average behind 2017 Ohio State, 2019 Alabama (94.38) and 2018 Ohio State (94.29).
Dan's Team
Offense
QB – Jack Miller
RB – Evan Pryor
WR – Marvin Harrison Jr.
WR – Mookie Cooper
TE – Sam Hart
OL – Paris Johnson Jr.
OL – Tegra Tshabola
OL – Trey Leroux
Defense
DL – Jack Sawyer
DL – Jacolbe Cowan
LB – Cody Simon
LB/S – C.J. Hicks
CB – Lejond Cavazos
CB – Devonta Smith
S – Lathan Ransom
Per-player average: 93.03
That would have ranked No. 3 in the 2020 class, behind Alabama and Clemson but just ahead of Georgia.
So, going based off per-player average, Colin had the best team (94.28), Dan had the second-best team (93.03), and I had the worst team (92.70).
*Insert Stitch from Lilo & Stitch crying in the rain.GIF*
Crafting all-time per-player class
I also wanted to piece together something else using the 44-man group of committed position players (once again, we're excluding kicker Jake Seibert and punter Jesse Mirco, but this time we're kicking out the uncommitted Hudson Wolfe). 
We all know that Ohio State's 2021 class has a great shot at winning the recruiting crown and has a chance at becoming the No. 1-ranked class of all-time. But that's only if guys like J.T. Tuimoloau, JC Latham, Emeka Egbuka and others join the fray. (As an aside, just landing those three players would give the Buckeyes the No. 6-ranked recruiting class of all-time in total points with 318.88 points.)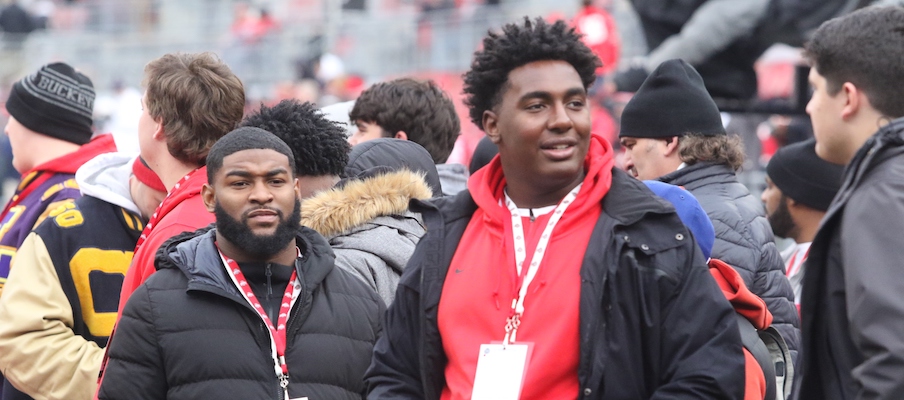 So, using that 44-man pool, is there a 25-player group from that list that could be pieced together to give the Buckeyes the No. 1-ranked class ever in terms of per-player average?
I'm using this set of roster criteria: 1 QB, 2 RB, 3 WR, 5 OL, 1 TE, 5 DL, 3 LB, 5 DB 
Offense 
QB – Kyle McCord
RB – TreVeyon Henderson, Evan Pryor
WR – Julian Fleming, Jaxon Smith-Njigba, Marvin Harrison Jr.
OL – Paris Johnson Jr., Donovan Jackson, Luke Wypler, Ben Christman, Tegra Tshabola
TE – Sam Hart
Defense
DL – Jack Sawyer, Tunmise Adeleye, Mike Hall, Darrion Henry-Young, Jacolbe Cowan
LB – Cody Simon, Reid Carrico, Kourt Williams
DB – Jakailin Johnson, Andre Turrentine, Lathan Ransom, Ryan Watts, Jyaire Brown
(From the recruit draft, Colin and Dan each drafted nine of those players while I drafted seven of those players.)
Add up those 25 players, and the Buckeyes have a per-player average of 95.70, which would indeed rank as the No. 1 class of all-time, blowing their 2017 class out of the water (94.59).
Next week, we will be taking another look at the Buckeyes' latest recruiting classes, mainly 2018-2021, in a special roster projection piece with a twist that we're excited about. So stay tuned.
New rankings, Ohio State topping Clemson
One day after dropping its latest tool, the Crystal Ball confidence meter, 247Sports released its latest Top247 player rankings for the 2021 class, and the rankings are, sort of, a punch back at Clemson following the Tigers' big get on Tuesday night.
Ohio State's two biggest 2021 movers in the rankings were:
Defensive tackle Mike Hall, who made a massive 62-spot jump from No. 121 to No. 59 overall in the Top247 rankings.
Cornerback Jakailin Johnson, who jumped 17 total spots from No. 81 to No. 64.
Hall's latest rankings boost is the latest in a huge rise for the senior-to-be, who has gone from being No. 409 in the composite ranking last summer to No. 57 now. 
Barton Simmons, 247Sports' director of scouting, wrote of Hall: 
"Ohio State is recruiting well enough as is but, in a lot of cases, the more we watch their class, the more we like it. Buckeye commit Mike Hall is an example of that. There are plenty of guys with upside bodies and upside athleticism to develop into elite interior defenders but very few players have the film that Hall has right now. Thick and powerful, Hall moves really well and his film was unanimously considered among the best at interior defensive line that we reviewed."
As for Johnson, his jump in the Top247 puts him at No. 43 overall in the composite rankings, which gives the Buckeyes a total of six top-50 commits in the 2021 class. That is double the number of the next-highest program in the class, and that is Clemson, which has three top-50 commits.
Hall (No. 57) and Marvin Harrison Jr. (59) sit just outside the top 50, and so does Clemson's latest big-time commit.
Barrett Carter is now the No. 51-ranked overall player in the 2021 class and was the Buckeyes' top linebacker target in the cycle. But Carter gave his pledge to Clemson on Tuesday, setting off a domino effect that is likely to keep any chances of a Jordan Hancock flip from happening and is one that could entice the Buckeyes to accept a commitment from Jaylin Davies without a visit.
But even after Carter's commitment, the Buckeyes still have a heavy lead over the Tigers in the recruiting rankings and would still hold a firm lead even if Korey Foreman were to recommit today and two of their top targets (Troy Stellato and Tristan Leigh) followed suit.
At one point not too long ago, I was messing around with the 247Sports Class Calculator and thought Clemson still had a realistic chance – but still an outside chance – to challenge the Buckeyes for the No. 1 ranking in the class, despite the Tigers' goal of looking to bring only an 18-man class. 
That was when five-star quarterback Caleb Williams still had the Tigers as a contender in his recruitment, but now that it looks like Williams is a lock to end up at Oklahoma, that's probably not going to happen. And speaking of Clemson quarterback recruiting, the Tigers landed a commitment from three-star quarterback Bubba Chandler on Wednesday afternoon, as Chandler will play both football and baseball in South Carolina.
Im grateful for this opportunity! God has truly blessed me! I can not thank the people who have supported me through this enough!

With that being said Im 1000% committed for Football and Baseball to Clemson University!!#ALLIN Joshua 1:9 pic.twitter.com/7id9ugs7P2

— Bubba Chandler (@bubba_chandler1) May 20, 2020
Chandler is ranked No. 670 overall and No. 21 at pro-style quarterback in the class. His commitment lowers Clemson's per-player average to 94.78, meaning Ohio State has now overtaken the Tigers for the highest per-player average (95.50) in the class.
Ohio State camps canceled
It's not a very surprising move, but on Wednesday it became official – Ohio State has canceled all of its 2020 summer camps and coaching clinics, the university's department of athletics announced via Twitter.
In light of the COVID-19 pandemic, the University has moved forward with the decision to cancel all summer camps. The safety of our community, staff members, and student-athletes are of the utmost importance and we fully support the decisions made to protect those around us. pic.twitter.com/5KBAANjYz0

— Buckeye Sports Camps (@BuckeyeCamps) May 20, 2020
The camp circuit is imperative for high school players across the country every year who plan on traveling to Columbus to work out in front of the Buckeye coaches, hoping to make a lasting impression on them and perhaps earn an offer. Of course, this won't have much of an effect at all on class of 2021 players, but there are plenty of 2022 players who will be affected.