The Hurry Up is your nightly dose of updates from the Ohio State football recruiting trail, keeping tabs on the latest from commits and targets from around the country.
Day discusses national recruiting
When Ohio State recruited 2019 offensive lineman Enokk Vihami to Columbus, it helped give Ryan Day an opening to the state of Hawaii. With Vihami being the No. 2-ranked recruit in the state, it also helped the Buckeyes expand their already-strong national brand. 
Hawaii has not exactly been a state of necessity for Ohio State, as Vihami is the only recruit from the state who graduated in Hawaii (per 247Sports) that the Buckeyes have landed. 
But going forward, it will be interesting to see if the Buckeyes begin to add Hawaii to its repertoire of states it's able to enter and harvest relationships to keep pumping out nationally thriving teams. On Sunday night, 2020 three-star quarterback Jayden de Laura announced a Buckeyes offer.
The senior signal caller out of Saint Louis School in Honolulu hails from the same program that produced Marcus Mariota and Tua Tagovailoa, and the news of de Laura's offer had his fellow Hawaiian Vihami giving him a pitch of his own.
Yak what Im gonna say uce come join the brotherhood #GoBucks https://t.co/LRP0kVAQtF

— Enokk "Inoke" Vimahi (@enokkvimahi) November 4, 2019
Day discussed the Buckeyes beginning to recruit out in places such as Hawaii during his weekly press conference on Tuesday.
"You look at the guys who have come from Hawaii, Marcus, Tua, a lot of guys. We have several guys from the area," Day said. "Haskell Garrett grew up there, is from there. They've done a great job assimilating here. They love it."
Finances and the long travel, however, can be obvious potential roadblocks in establishing a foothold in Hawaii.
"It's all taken into consideration," Day said. "Long conversations about: Is it worth it? Is there interest on both sides? We think it's worth it to go all the way out there and see somebody, evaluate them. Those are things we don't come to lightly, take a lot of time to make sure it's worth it like you're saying. There's a time and financial investment in that.

"The more guys that we see come from remote areas who do well, then we continue to work on that. But we also know the challenges that come with it."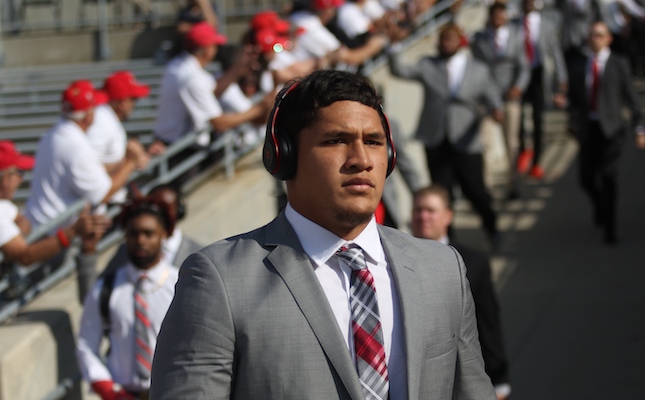 Day has discussed his plans to lock down the state of Ohio and having the Buckeye State be his program's lifeblood and foundation during his tenure. 
But he knows that without annually bringing in guys from places like Florida, Texas and California, his first season as Ohio State head coach will be his peak. In order to stay a national championship contender, he has to recruit nationally. 
"That's a big part of the conversation," Day said. "We obviously want our foundation of recruiting to be right here. Then we go out throughout the entire country to look to find the best players in the country. The United States and globe has gotten smaller every year based on the Internet, computer, travel."

"These guys nowadays are just so much more in tune with all the different schools that are within the country. Guys are traveling."
Day's background helps him provide "quarterback-friendly" atmosphere
Combining his two full recruiting classes and his first class after he took over the program in December 2017, Willie Taggart landed just one quarterback commitment (in 2020) at Florida State.
There were a lot of issues that led to Taggart's firing. But that was one some may not readily think of, and I'm just using that as an example and a jumping-off point to say the obvious ... that's literally never going to happen at Ohio State while Day is the head coach.
Day's background as a former college quarterback and his strong reputation as a quarterback developer are going to continue helping him land recruits at the position, and it could lead to one of the most fun quarterback battles in college football in two years in Columbus. 
Day was asked on Tuesday how he believes his background in coaching the position has helped him on the recruiting front. It was incredibly interesting how Day used the question almost as a platform to give what was basically a press conference pitch on the dais (just like he did last week with running backs) as to why quarterbacks should come to Ohio State.
"I think when you're recruiting somebody and they understand that the head coach is involved with that position, I think it matters because they understand it's going to be friendly that way," Day said. "You're going into a situation where the head coach isn't a defensive coach, where the quarterback maybe doesn't get as much attention or consideration, I guess. But certainly when the head coach has a quarterback background, that is going to be taken into consideration. 'Quarterback friendly' for lack of another term.

"I think it does matter because you're going in there as the head coach with a background, a résumé of work with quarterbacks. I think in today's day and age, recruits want to see that. They want to know what you've done. It's one thing to say something, another thing to show them what you've done. You combine that with a position coach, I think it makes a big deal."
If Justin Fields continues garnering Heisman buzz this season and next season (I think he will) and eventually finds himself as the latest dual-threat quarterback plucked in the first round of the NFL Draft (I think he will), it will only add to Day, Mike Yurcich and Ohio State's reputation of quarterback development.
Visit announcement additions
This weekend is not a big one in terms of recruiting. If you're looking for the influx of multiple big-name prospects coming to town, you'll have to wait until Nov. 23 for the Penn State game.
Ohio State's matchup with Maryland does, however, have at least one big-time visitor in Jahmyr Gibbs, who will be making an unofficial visit for his first trip to Ohio State. Tony Alford visited Gibbs last month down in Dalton, Ga., and Gibbs is now returning the favor.
Check out my colleague Andrew Ellis' recap of Ohio State's recruiting in the month of October and his detail of how the Buckeyes may close out the 2020 class. That includes a hard push for Gibbs, whom we both agree on is our personal favorite of the remaining realistic options at running back.
A few other recruits announced they will be making visits to the Shoe this weekend, including 2020 receiver commit Mookie Cooper and 2020 defensive back preferred walk-on Andrew Moore. 
Kaden Saunders will also be making the short trip over to the stadium, coming to the Shoe for the second straight game after visiting for the Wisconsin matchup. We've talked about Saunders before, as the 5-foot-10, 165-pound standout in the 2022 class from Westerville South has started seeing his recruitment pick up of late. 
Back to Ohio State this weekend

— Kaden Saunders (@KSaunders03) November 6, 2019
It's early in the evaluation process, but Saunders seems to fit the slot receiver role the best, but he may end up being recruited at defensive back by the Buckeyes. He does not yet have an offer from Ohio State.
More thoughts on early playing time
On Tuesday morning, I gave you a handful of 2020 commits who I believe could make an instant impact in big games next season for the Buckeyes. 
That same day, Day was pressed for his thoughts on developmental plans for freshmen (Garrett Wilson was the specific reference point) whom the coaches believe should be used right away and how they blend and balance those developmental plans with a win-now mode.
I thought Day's philosophies on that front were fascinating, so I present to you those comments to close out today's Hurry Up:
"You try to get guys ready to play as soon as possible. Some guys come in mid-year, some come in during the summer. There's a little bit of a learning curve there."
"For the most part, when someone comes in as a freshman, their ability level is at a certain level, then their skill and discipline is at another level."
"We try to bring guys along as fast as possible. But in our program, there's so much time that's put in in the offseason so that when you get into year two, year three, you have such more vested into the program, you also have an advantage because physically, understanding the scheme, just the whole thing, leadership-wise, you've been through offseasons with Coach (Mickey Marotti). That all matters."
"It also matters within the program, too. Guys who have been here for a while, they have the right to have the first shot at things. As guys start to earn their stripes, they start to earn more and more. I think that's the way an organization should work."