The Hurry Up is your nightly dose of updates from the Ohio State football recruiting trail, keeping tabs on the latest from commits and targets from around the country.
Day hits recruiting trail, talks impact of Heisman buzz
Ryan Day walked out to Tuesday's press conference donning a (insert fire emoji) blazer and was jokingly asked if it's his recruiting blazer. 
Day responded with a chuckle and a "no." Whatever Day's wardrobe choice is for recruiting trips is probably much more comfortable than a sport coat, as he settled in on Monday for a big trip around Ohio to visit, by his estimation, seven high schools in the state.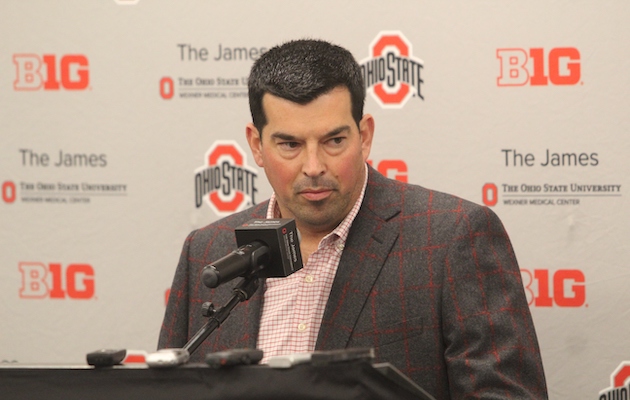 When Day has a situation with two bye weeks in a one-month period, he says it's a loaded schedule as he tries to get to as many 2020 and 2021 recruits as possible in a short time span.
"It's a lot (of work)," Day said Tuesday. "I think we want to make sure we try to get out to see as many guys as we possibly can, committed, uncommitted, like you said, 2020, 2021, and just get around to be around the programs, but then also reach out and continue to do a great job recruiting Ohio. 
"I was in Ohio (Monday) and making sure I tried to get as many schools as I possibly could. Even though there was a fog delay getting out of here in Columbus so I didn't get to as many as I wanted to, but still, buzz around, and I think that it's important for us to make sure that we're continuing those relationships, especially in Ohio and the Midwest and then as we go out and recruit nationally, we're able to get out there and see those guys on a bye week."
In addition to discussing the recruiting trail and 2020 running back situation on Tuesday, Day also touched on whether or not he's using the Heisman buzz of having three potential candidates (Chase Young, J.K. Dobbins, Justin Fields) as a recruiting tool – or if he even needs to use it as a recruiting tool considering the spotlight Ohio State is always under.
"I think in recruiting, it's going as good as it could possibly go. I think that the culture that we've created since January is off the charts, and people are very, very excited about that." – Ohio State head coach Ryan Day
"Well, I think when you're at Ohio State you're right in the limelight of all of college football," Day said. "So I think, like you said, I think there's enough spotlight on our guys right now, and I think everyone knows that.
"I think when you do things like this at a place like Ohio State, you know you're going to have opportunities like this. You know you're going to have Heisman Trophy candidates. You're going to have All-Americans, you're going to be in the national championship conversation, and you're going to be relevant in November, and that's just part of this job. It's part of being at Ohio State, and I think that's why people want to come here anyways. I don't think this is anything out of the norm or anything new, it's part of what we talk about in recruiting year-round. But here we are."
Day spent more time talking about recruiting on Tuesday than he has in most of his other media availabilities this season, and that includes airing his thoughts on where the Buckeyes are right now with their overall standing.
"I think in recruiting, it's going as good as it could possibly go," Day said. "I think that the culture that we've created since January is off the charts, and people are very, very excited about that, and I think getting to this point in the season and playing the way we have, I think is a credit to everybody inside the program and the excitement around the program."
Ohio State nabs another receiver, offers another a PWO
In case you're living under a rock and didn't see, the Buckeyes this afternoon nabbed their sixth commitment of the 2021 class in Marvin Harrison Jr., their sixth receiver ranked in the top 100 overall nationally between the 2020 and 2022 classes.
Read up more on the impact Harrison's commitment will have on the field and in the 2021 class, and check out a few of the reactions of the news.
Congratulations #GoBucks https://t.co/YVisikL6Ib

— Michael Thomas (@Cantguardmike) October 31, 2019
My dawg!!! Congrats https://t.co/SDTMGBIsRr

— JF4 (@julian_040) October 31, 2019
LETS GOOOOO!!! I LOVE YOU BOY!!!! THE CONNECTION CONTINUES... 68 #GOBUCKS https://t.co/G9aUMAjTC6

— Kyle McCord (@kylemccord16) October 31, 2019
Harrison's commitment comes just three days after Ohio State offered Kaden Prather, another junior receiver, and just two days after Ohio State target Troy Stellato hinted toward a commitment coming soon on social media.
Adding onto the receiver news, the Buckeyes offered senior Bryant Johnson Jr. a preferred walk-on spot. 
Very Blessed to receive an preferred walk-on offer from The Ohio State University @JustinPerez_OSU @brianhartline @OhioStateFB @BillBankGreene #GoBucks pic.twitter.com/0NhpM3ypCM

— Bryant Johnson Jr (@_GoatBj) October 31, 2019
Johnson, who visited Ohio State on Saturday, is a 6-foot-3, 185-pound teammate of Winton Woods running back Miyan Williams.
Johnson does not have a 247Sports Composite rating, but by 247 Sports' standalone rankings, he is a three-star prospect ranked as the No. 66 player in Ohio.
Something positive about Michigan
What you're about to read, I write knowing full well that you're going to shred it apart, and that's OK. 
But I still think it's worth sharing that Jim Harbaugh did something great for a recruit. 
JD Johnson, a three-star quarterback from Arizona whose team lost to Jack Miller on Friday, had to retire from football due to a heart condition. That's a devastating blow for Johnson, who won't be able to play at Michigan. 
Next Chapter#GoBlue pic.twitter.com/vNqVO9agib

— JD Johnson (@jd10johnson) October 30, 2019
But Harbaugh is honoring his scholarship and even giving him a position with the Michigan coaching staff.
If Ryan Day did this, he would deservedly receive copious amounts of praise for the move. I think it's only fair to recognize Harbaugh for doing it. Even if he's a hated rival.
Something negative about Texas
There's clearly something amiss in Texas, as the Longhorns' recruiting has gone awry. 
First came the decommitments of cornerback Joshua Eaton and defensive end Princely Umanmielen, and then rumblings picked up of a potential decommitment from five-star running back Bijan Robinson. 
Now, another talented cornerback has decommitted as Ethan Pouncey announced he is reopening his recruitment. 
Putting together a reliable defense in the Big 12 just got more difficult for Tom Herman's crew.
Will Shipley: good at football
Five-star running back Will Shipley loved his visit to Columbus for the Wisconsin game, and a return trip is likely. It's looking like Ohio State has slid up the list for the North Carolina star all-purpose back who has been shredding defenses:
@willshipley2021 is scoring a touchdown every 5.1 touches which is pretty decent, I think. https://t.co/bc5DsbbYkq

— Will Helms (@whelms21) October 31, 2019
If the Buckeyes are going to keep using their running backs like they've utilized J.K. Dobbins as a pass catcher the past two games against Northwestern and Wisconsin, Shipley could end up being a star in Columbus. 
He's an electric player who could quickly become a fan favorite.
Happy Halloween, everyone, and a serious reminder from Chris Berman, seconded by me: