The Hurry Up is your nightly dose of updates from the Ohio State football recruiting trail, keeping tabs on the latest from commits and targets from around the country.
Fields a mentor to potential Ohio State target
Today, I want to introduce you to Terian Williams II, a versatile, budding young talent on Ohio State's radar in the 2022 class who can play quarterback, defensive back and return punts.
Williams gained some steam during his freshman season, when he stepped in for his Parkview (Ga.) High School's injured starting quarterback to help lead a 44-0 win.
By coincidence, as happens so often in the recruiting world, Tennessee was watching a player on the opponent's defense whom it was targeting, but Williams quickly caught its gaze. The Volunteers soon offered, as did Kentucky, and Williams' recruiting profile has soared ever since.
He became the first freshman to compete in both The Nike Opening Regional (in Charlotte) and Nike Elite 11 (in Atlanta), where he may have been competing with and against Ohio State recruits.
"I did well participating at both," Williams told Eleven Warriors. "To be honest, there were so many elite athletes from Georgia and the southeast area. I'm certain there were some Ohio State recruits in attendance. Ohio State has been active recruiting in Metro Atlanta."
Williams earned Adidas Freshman All-American honors, and as a sophomore he is trending up even further, being named a Max Preps Preseason Sophomore All-American.
Williams is 5-foot-11, 175 pounds, but he is a dynamic athlete on the rise who could end up being one of the top talents in the 2022 class – most likely as a defensive back, utilizing the same speed he uses on the track in the 4x100 relay, 100-meter and 200-meter sprints to give him an edge on the gridiron.
"I can play both sides of the ball, depending on what the team needs," Williams said.
Williams has offers from Florida, Florida State and South Carolina and already has interest from Notre Dame, Virginia Tech and Louisville, among several others.
But the biggest offer dropped on Tuesday night, as Williams announced an LSU offer on Twitter.
After A Great Conversation With @LSUCoachRaymond I Am Thankful To Receive An Offer From LSU #DBU #Monsterville #2022 @Coach_EdOrgeron pic.twitter.com/We8mHMw0yj

— Terian Williams II (@T_WilliamsD1) October 30, 2019
Ohio State has shown interest in Williams, but despite the flow of offers from Power 5 teams, the Buckeyes have not yet offered him.
That may change, and if it does, Williams' connection with Justin Fields could play a part.
Fields is a family friend, as his father and Williams' father were police officers who patrolled together for years, and Williams says Fields has served as a mentor to him throughout the years.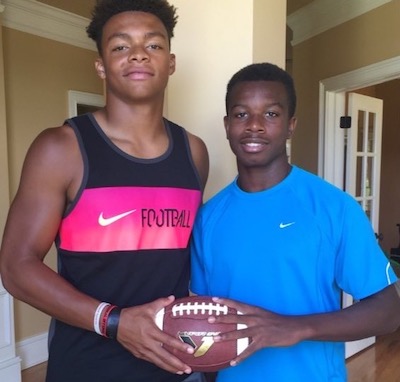 "We don't talk much during the season," Williams said. "He just tells me to keep grinding, stay focused and enjoy the recruiting process. ... (He's given) me good advice in terms of doing well in the classroom."
There aren't many better players to be able to learn from than Fields, who has been having one of the best, most efficient seasons of any player in the country, and Williams has certainly stayed up to date on Fields' performances.
"On the field, he's having a good season," Williams said. "He's the perfect fit for OSU's offense. He's a true dual threat who can hurt you in the air as well as with his legs. It gives defensive coordinators fits in terms of game planning."
Ohio State houses four players from Georgia in Fields, Harry Miller, Steele Chambers and Antwuan Jackson. Williams, who says he plans on attending Ohio State's 2020 spring game, is hopeful he will at least earn an offer and an opportunity to decide if he wants to add his name to the list of Buckeyes from Georgia in the future.
Williams' teammate Cody Brown, a 2021 running back, was given an Ohio State offer, and the Buckeyes have 12 other confirmed offers to Georgia players in the 2021 class and one more in the 2022 class to Jamie Felix. 
"They have some ballers on their team from Georgia," Williams said. "We need to keep the pipeline rolling."
Stellato to trim list soon
No need to go into a deep dive here. We've talked about Troy Stellato in enough Hurry Ups that you probably know what he likes for breakfast at this point.
But the underrated three-star 2021 receiver announced via Twitter that he will be trimming his list down from 12 schools very soon. 
I will be narrowing my list down to a few schools #staytuned

— Troy Stellato (@troystellato) October 30, 2019
Whether that's 10 schools, five schools, three schools or two schools, it would be a shock if Ohio State does not find its way onto that list. 
Ohio State, Alabama and Clemson all figure to be at the top of Stellato's favorite potential destinations. And, again, don't be surprised if a commitment comes in the month of November, possibly soon after a visit to Clemson on Nov. 16.
Former three-star shining
Davon Hamilton, a fifth-year defensive tackle for the Buckeyes, has been awesome this season and had one of his best games of the year against Wisconsin.
National media members are starting to take notice of Hamilton's emergence as Tom Fornelli of the CBS Sports Cover 3 Podcast said on the Oct. 27 episode:
"We've only talked about Chase Young, who's the best player in the country. But he's not the only player on that defense. There's a ton of great players on this defense who had terrific games (against Wisconsin). Davon Hamilton made one play where he nearly tackled Jonathan Taylor as he was getting the handoff five yards in the backfield. It was like a Troy Polamalu jump on the line of scrimmage from the defensive tackle. It was nuts."
Ryan Day on the development of Davon Hamilton: "I thought he had one of the best offseasons of anybody in the country. He really took a step this offseason in the weight room, with Coach J ... you could really start to see him coming. I'm really proud of the way he's playing."

— Dan Hope (@Dan_Hope) October 29, 2019
Here's Davon Hamilton driving back possible Rimington Trophy winner Tyler Biadasz for a sack. pic.twitter.com/QEQHtOE6MO

— Bill Landis (@BillLandis25) October 26, 2019
Hamilton is a former three-star prospect out of Pickerington Central High School, and his success should make Ohio State fans excited about the eventual arrival of his brother, Ty Hamilton. 
Ty is also a three-star prospect expected to be used as a defensive tackle in Larry Johnson's system.