The Hurry Up is your nightly dose of updates from the Ohio State football recruiting trail, keeping tabs on the latest from commits and targets from around the country.
Sawyer, Hamilton will battle head-to-head
It's the game everyone's been waiting all year to play. At least Ty Hamilton and Jack Sawyer have been.
Hamilton of Pickerington Central and Sawyer of Pickerington North are set to battle head-to-head Friday night with both teams bringing three-game win streaks to North's campus for the big matchup.
Both Ohio State defensive end commits – Hamilton a three-star in 2020; Sawyer a five-star in 2021 – are ready for what should be a dogfight. 
"I've been waiting for this all season," Hamilton told Eleven Warriors. "This is what the fans have been wanting to see, and, well, it's gonna happen this week."
Sawyer is also starving to line up across from his Pickerington counterparts, telling Eleven Warriors: "I'm so excited and looking forward to this matchup. There are a lot of big-time players in this game under the spotlight."
For Hamilton, as a bit of a lesser heralded player with maybe a bit more to showcase in a game of this magnitude, it provides an opportunity for his talent to shine brighter.
"You know how everybody is," Hamilton said. "Because we're both from Pickerington, people will compare us both, and because we're both going to Ohio State. So, yeah, I wanna prove myself during this game.
"It should be a good matchup. That's what everybody wants to see is this game. I'm just gonna try to do my part in it and see what he does."
There is the added juice to the matchup of top-flight defensive ends each with a future in Columbus.
But just like any occasion when there is a star-studded matchup of ace pitchers in baseball or MVP quarterbacks in football, this isn't a one-on-one matchup of Hamilton and Sawyer at defensive end. They'll each be pitted against opposing offensive linemen.
That's why Sawyer at quarterback adds a bit more steam to this one. They get a chance to truly go right at each other, and that's what could bring some fireworks.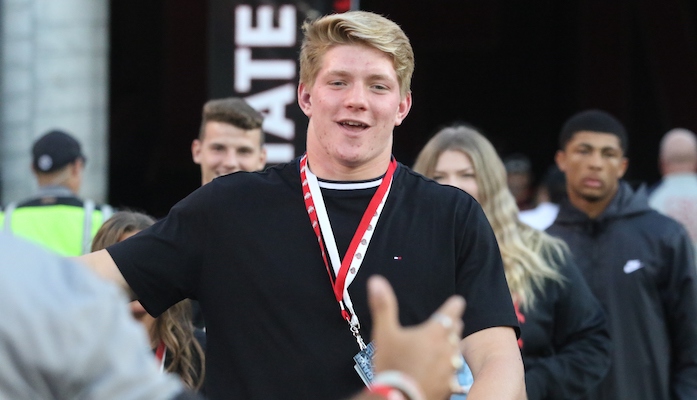 What will win out: Sawyer's escapability in the pocket and his athleticism in the run game? Or Hamilton's speedy bend around the edge and strong bull rush? 
And which number will be higher: Hamilton's sacks or Sawyer's touchdowns?
"I don't know, man," Hamilton said. "I'm hoping maybe I'll get five (sacks)."
"I doubt he does that," Sawyer said with a laugh. "And I want to put up at least four touchdowns on him."
Buckeye brother and Coach Johnson teaching Hamilton
Even if Sawyer continues staring for the Panthers the rest of this season and next year behind center, we all know what position Sawyer will be playing in college. 
Hamilton's isn't quite set in stone, though. 
"He says that all the time, man. Just working on that toolbox all the time."
He's listed as a defensive end on his recruiting profile, and he will be playing on the defensive line in college. But versatility was a major part of his recruitment by the Buckeyes, as they want him to be a chameleon.
"They wanna see me as a hybrid, playing defensive end and 3-tech; to be able to play the whole field basically," Hamilton said. "Moving inside and coming around the edge (was part of my recruitment)."
That recruitment was headed by Larry Johnson, who has had his signature "toolbox" conversation with Hamilton too many times to count.
"He says that all the time, man. Just working on that toolbox all the time," Hamilton said. "Gotta work to make it better and bigger. He said it's very good right now because I have strength and speed. I still have a lot to work on, but it's good so far. 
"(Johnson's) technique is just so different from everybody else's, and it produces. Stats don't lie about how he gets his players to the NFL all the time, on top of he doesn't use profanity all the time. He uses words. He wants you to succeed off the field too. He wants to see you develop as an all-around person."
Johnson has been critical in the development of Ty's older brother, Davon, a fifth-year senior who is producing for the Buckeyes this season and has handed down some advice to his sibling on how to come prepared for the next level.
"Just don't take nothing for granted," Ty said of Davon's advice. "It's a great experience being up there, but you've gotta work for everything you have up there. Just putting more effort in than anybody else on the field, and you do the best for yourself."
Ty, who will not be an early enrollee like some of the Buckeyes' 2020 recruits, won't be on the same team as his older brother, but he's champing at the bit to get to Columbus and begin his career. 
"I'm very excited to get up there, man. I'm just ready to get in the atmosphere, get with the players and get ready to work," Hamilton said. "I just love the atmosphere, man. The fans support us so much, and just having the coaches there and the best defensive line coach to train me to be the best person I can be on the field and off the field, and having all the great players around too who just wanna see you do better."
Hamilton excited for Styles
As Sawyer alluded to, he and Hamilton will not be the only Division I talents represented in Friday's rivalry game. 
Among others, Chris Scott – a top-20 Ohio recruit with Michigan and Kentucky offers as a three-star receiver – will be Sawyer's top target.
And Lorenzo Styles Jr., a close friend of Sawyer's and friend/teammate of Hamilton, will also be looking to shine less than a week after announcing his commitment to Notre Dame that immediately boosted the Irish to the No. 1 receivers class ranking for 2021. 
Commit to the LORD whatever you do, and he will establish your plans.

100% COMMITTED pic.twitter.com/8UlD5I2yT4

— gozozogo (@LorenzoStyles3) October 13, 2019
Styles was an Ohio State legacy recruit, as his father played for the Buckeyes in the '90s, but in the end, he decided South Bend was the best place for his future – despite some sales pitches and attempts at swaying him to the Buckeyes.
"I tried as hard as I could, man," Hamilton said with a smile. "But it's all good. It's all gonna work out for him going to Notre Dame.
"We have (talked). He's happy. That's the school he wanted, and that was the best decision for him. I'm excited for him. He's been working hard all his life just trying to wait for this moment to be able to go to college for free so he doesn't have to worry about his parents paying for anything. That's all he does is work hard."
Future Bucks get All-American honors
Julian Fleming was recently named to the Under Armour All-American team, and on Thursday he was named a team captain for the game:
THE DRAFT IS BACK

Captains: Zach Evans, Savell Smalls, Darnell Washington
Coach: @DeionSanders

Captains: Chris Tyree, Julian Fleming, Jordan Burch
Coach: @TwentyER

Nobody doin it like us. pic.twitter.com/72J4ug0HpP

— All-America Game (@AllAmericaGame) October 17, 2019
Cody Simon, meanwhile, is committed to the Army All-American game:
Senior LB and Captain, @Cody_Simon30 committed to @OhioStateFB will have the Army All American committee @AABonNBC announcing his commitment to the game tomorrow. So proud of you champ! @SPPFootball great player and an even better teammate! #DOWIT pic.twitter.com/uqjSnHurFn

— Savon Huggins (@twoocho) October 17, 2019
Simon is a 2020 linebacker commit for the Buckeyes, and Fleming is an Ohio State 2020 receiver.