DUBLIN – His love of the game started in the front yard.
Then it moved to the couch. And eventually, it landed in the car.
First, Jack Sawyer was 8 years old outside his Pickerington house, throwing footballs by himself into the sky, sprinting underneath before snagging them and then celebrating the make-believe touchdowns as he envisioned raucous cheers in the hundreds of thousands cascading down on him. 
Then he would run inside, into the living room to watch college football Saturdays with his father Lyle, as Dad's football junkie lifestyle breathed air into Sawyer's own addiction with the sport on the family sofas. 
Lyle was a former college football player who eschewed a preferred walk-on spot at Ohio State to start at Division II Findlay. Sawyer would soak up all of Lyle's knowledge as the two Ohioans watched their favorite Buckeyes teams of the 2000s tear up the Shoe. 
Before Sawyer's time, there was Mike Vrabel who got Lyle hyped. After Sawyer was born, one of his father's favorites was John Simon.
"He loved a lot of those old-school tough guys, and he loves the defensive ends that I love now," Sawyer said following a Pickerington North practice last week.
"My dad was hard on me, but it was obviously for a good cause and for a good reason. It's obviously one of the reasons I'm here today."
Vrabel and Simon are the players the young Sawyer would imitate, whether on purpose or not, during his own games as a second-grader playing against kids three years his elder. But even when he would whoop up on those fifth-graders, there was always something Sawyer could've done better.
Lyle would let him know about it on the ride home.
"He was never afraid to tell me (what I did wrong)," Sawyer said. "I remember in third and fourth grade, I might've had three or four rushing touchdowns, but he was still getting on me for plays I messed up or plays I didn't go as hard as I could've. I was only in like second grade, but it was tough love like Ryan Day and those guys talk about. It was really tough love from a young age."
Well, Jack, would he at least, ya know, mix in a compliment every now and then?
"Every once in a while he'd tell me good job," Sawyer said with a belly laugh. "Yeah, he wasn't one of those crazy dads, but he wasn't afraid to tell me there's always something you could work on. He'd get on me a little bit, but it's all good. I definitely needed that. Definitely from a young age, that's why my work ethic is so high. 
"My dad was hard on me, but it was obviously for a good cause and for a good reason. It's obviously one of the reasons I'm here today."
Today, Jack is all grown up.
Literally.
He shot past the 6-foot Lyle, growing from a 6-foot-1, 180-pound freshman into an imposing 6-foot-5, 220-pound machine and the No. 2 overall prospect in the recruiting class of 2021.
Sawyer's commitment to Ohio State as a sophomore quickly brought with it a lot of much-deserved attention.
It also set him down the path of playing on Sundays, where he wants to someday be mentioned among the same elite guys he and Lyle watch now. Maybe even adopt some of their moves.
JJ Watt's jab-and-go. Aaron Donald's arm-over. Or, Sawyer's personal favorite, Khalil Mack's long-arm stab.
"I watch a lot of Khalil Mack, with just how physical he is," Sawyer said. "He brings a different type of aspect to the game. He gets off the line and puts that offensive lineman on his back when he makes the sack. Those are the moves I use from him."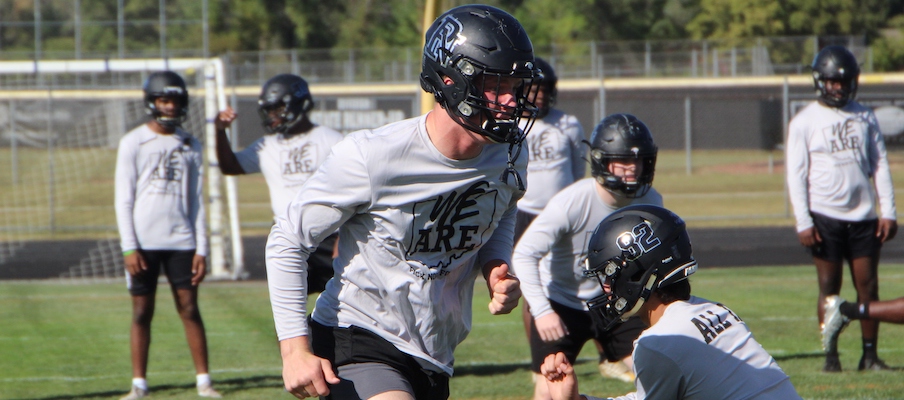 He may very well do his best Mack simulation as a Washington Redskin, Carolina Panther or (fill in your favorite franchise here). Might even meet Mack on the field one day. 
But first comes his potential stardom as an Ohio State Buckeye. 
"Most definitely, I wanna be one of the next greats at Ohio State," Sawyer said. "Everyone wants to talk about the pros, but I'm more of a guy to take it one step at a time. I wanna be a great high school football player. Then when I get to Ohio State, I wanna be a great college football player — one of the best to ever do it in college — and then I wanna be one of the best NFL players to ever play. 
"When I get (to Ohio State), I'm definitely gonna be working my butt off to be one of the greatest college football players there ever was."
---
That desire to be great has long been there. 
For more than a decade, those self-imposed high expectations have been simmering under the surface, and those fires are further fueled by Lyle, whose career at Findlay was cut short by a torn Achilles.
After spending an immovable, unbendable six months in a hips-to-heel leg cast, Lyle couldn't fully recover and decided to hang up his cleats.
But on Saturdays he'll soon be able to watch his son, who has drawn comparisons to some of the same great Buckeyes both of them have watched dominate over the last decade, take the field in Ohio Stadium.
Fans love comparisons, and it's hard not to match Sawyer up with some of those players who have come through the program the last few years with top ratings, elite-level promise and met those expectations in school before graduating to the pros. 
"Every time I go down there, Chase is kind of like my role model for the D-line. He always talks to me. I feel like he's kind of my mentor."
Just about every time Sawyer is brought up in conversation, on Twitter or on message boards, one of the big names follow. 
You know which ones. Joey and Nick Bosa. Cam Heyward. Chase Young. 
Those are the guys Sawyer wants to become, the former two of whom Sawyer still would like to meet but in the meantime has studied film of and whom he idolizes — their little head fakes, lightning-quick side-scissor handwork and their low bend around the edge of the line are just a few of their moves he is trying to hone himself. 
The latter, however, he has spoken with too many times to count, and the two have formed almost a master-apprentice type of relationship.
"Every time I go down there, Chase is kind of like my role model for the D-line," Sawyer said. "He always talks to me. I feel like he's kind of my mentor. We talk almost every single time I'm down there. He'll come over to me at practices and dap me up, and it's the same thing during pregames. 
"I see some similarities in myself and him. Our first steps are really fast. We're really good at timing up the snap and getting off the ball to beat the lineman around the edge. Obviously, right now he's a lot bigger than me, but when I get (to Ohio State), I think we're gonna look pretty similar. 
"He put the time in, that's for sure. He's close to 275, real low body fat, cut up and still able to move. That's my goal is to look like him. Body-wise, him and the Bosas are the perfect examples of what to look like as a college defensive end and going to the pros."
---
Sawyer compares his own moves and body to Young's, and so do many others. 
But there are debates about whether it's fair to compare a teenager to Young, a 6-foot-5, 275-pound monster with the talent to become the top pick in the 2020 NFL draft, or if it's too soon to weigh a kid's potential against the Bosas, each a top-three draft pick.
Fair or not, those debates aren't going anywhere, and he relishes having that type of hype. It keeps him more accountable and makes him want to work that much harder to match the expectations. 
"Everyone has big goals they wanna achieve," Sawyer said. "For any football player across the country, obviously the main goal is to get to the NFL and play in the NFL. When I get to college, I have to take everything seriously. Can't be late for a workout. You've gotta be on time for everything. You can't skip a meal or go to this party that's gonna mess with your body the next day. 
"It's just taking everything seriously — from meal planning to working with your position coach, Coach (Larry) Johnson, to the weight room and off the field, making sure your grades are good and you're studying."
Think this was a big win for this program? pic.twitter.com/TTazIgKJ9F

— Zack Carpenter (@Zack_Carp) September 28, 2019
It's not just what's to come that Sawyer embraces. He also embraces the "now," including that five-star rating. He thrives on it, saying it's actually "fun having that target on your back" and enjoys that "everybody from Dublin Coffman and everybody from every team we'll play the rest of the year doesn't give a damn about my ranking."
He's right. In a game against Coffman last Friday, an opposing offensive lineman came off the field hyped, emotionally letting his 'Rocks teammates know he could handle Sawyer. And, really, that player held his own against one of the nation's best, but Sawyer still showed what he could do — on defense and offense.
Thrust into the starting quarterback position two weeks prior, Sawyer led a comeback victory over Coffman, turning a two-touchdown third-quarter deficit into a 29-27 win behind a pair of touchdown passes, a fumble recovery to set up a field goal, bleeding the clock in the fourth quarter by converting three first downs in a row — finishing the drive with a touchdown run — and polishing off a gang tackle on a potentially game-tying two-point conversion play. 
Afterward, Sawyer ran around the field, arms raised into the air like an Olympian 100-meter sprint champion, and after several postgame interviews, took the time to take pictures with a trio of big fans — three kids, one of whom empathically let Jack know, "My name is Sawyer too!"
He loves doing that, showing fans he appreciates their support, either with pictures or autographs. It wasn't long ago he was that kid himself, asking former Pickerington North stars and current NFL players for their time.
"I like that stuff, ya know?" Sawyer said. "I never wanna turn down a person who wants my autograph because when I was growing up, I wanted to get Jake Butt's autograph or take a picture with Godwin Igwebuike and Pat Elflein, so I'm always gonna be cool with the fans."
Those fans are giddy about getting Sawyer to campus — to get his signature or a quick pic and to see if he can become one of the next Buckeye legends who stars at the next level. 
If that seems like a lot of pressure, well, it is. But it's what he's always wanted.
"Ever since I was 8 or 9 years old, I've always wanted to play in the NFL," Sawyer said. "Those dreams have been there pretty much my whole life, ever since I was playing football in my front yard and my first year in pee wee. I loved it, and it's been my dream ever since."
But first comes Columbus. First comes the Shoe and all those rabid fans screaming his name.
Soon enough, it won't just be his imagination anymore.