Ryan Day is just a few short weeks away from taking the field as Ohio State's new head football coach. While we continue to watch out for practice reports and await a decision on the starting quarterback, Day and his staff are already proving to be a major force on the recruiting trail. 
Brian Hartline has assembled the best group of receivers in America. Jeff Hafley has used his West Coast and NFL ties to land some big-time defensive talent. And Greg Studrawa has bounced back nicely after some recent struggles along the offensive line. 
Ohio State's 2020 class is holding steady with 22 commitments and is ranked No. 4 in the country. Things have come together rather quickly thanks to several key additions throughout the summer. We put together a bit of a to-do list back in June, and the Buckeye staff has checked almost all of the boxes over the last three months. 
With Urban Meyer out of the picture and Ryan Day running the show, we expected things to be at least somewhat different for Ohio State's recruiting efforts. While some of the geographic regions have changed a bit, the Buckeyes are having much of the same success on the trail.
The focus over the next few weeks will be on finalizing the depth chart for the opener against Florida Atlantic. Then, in the weeks and months to come, the Buckeyes will be working toward another Big Ten title berth in Indy and potentially a shot at the College Football Playoff.
Still, recruiting is a non-stop endeavor and the in-season efforts could have a bit of different feel under Day; thanks in part to the pacing of the class and the majority of the positional needs having already been addressed. There will be plenty of storylines to watch for in the weeks and months to come; for the 2020 class and beyond.
---
All Eyes on Alford
Ohio State's running back recruiting is still a major question mark and it will assuredly linger on into the season. Following the unfortunate misses on Bijan Robinson and Jaylan Knighton, Tony Alford seems to be taking a step back and re-evaluating some options and extending offers to new prospects like Texas' Kevontre Bradford.
J.K. Dobbins is going to be the guy in the Buckeye backfield, and perhaps a big junior campaign can draw a bit more interest to Ohio State's future ground game. Michael Drennen II, E.J. Smith, and Jalen Berger also remain in the mix as Alford will almost certainly look for a pair for the 2020 class.
And let's not forget about Michigan's Donovan Edwards. Though he's a 2021 prospect, the class's No. 3 tailback is a major Buckeye target and is unquestionably one of the top options at the position for the next cycle. It should be an Ohio State vs. Michigan battle for the West Bloomfield star.
Plenty of eyes will be on Tony Alford as the ground attack looks to find its form and the Buckeyes continue the pursuit of some of America's best backs.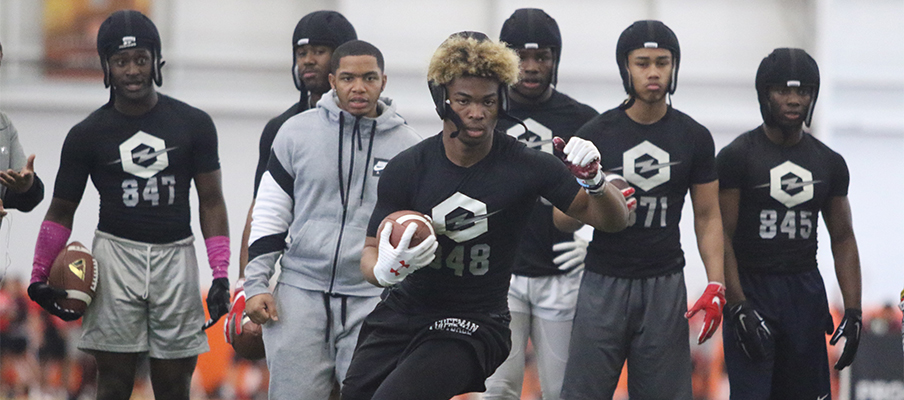 Shoot for the Stars
While Hafley has quickly emerged as an energetic and elite recruiter, the Buckeyes aren't quite done yet in the secondary. One of the few remaining priorities for the 2020 class is to add another talented cornerback. We've discussed the options that are out there at the moment, but the biggest issue is that each one of them is currently committed elsewhere.
Ohio State's recent success at the position is certainly a huge selling point, and that's bound to be something Day and Hafley will continue to pitch. Five-star LSU commit Elias Ricks seems to at least be considering other schools and seems likely to make a visit to Columbus. Georgia has also emerged as a threat in this one and that's always a concern. 
Oklahoma commit Ryan Watts and Miami pledge Jaiden Francois are the other top options at the moment. Watts continues to look like the most likely of the three, though he's given no indication that a flip is imminent. He visited Ohio State this summer and plans on making a return trip in the fall. 
Surging Seniors
Each year there are a handful of prospects who have little to no recognition heading into their final seasons but then burst onto the regional – or even national – recruiting scene. Ohio State has roughly 4-6 spots remaining for the 2020 class and those are likely to be used at running back, defensive line, cornerback, and potentially another quarterback. 
Sometimes it's just a matter of the Buckeyes re-evaluating a player. True freshman tailback Marcus Crowley is fighting for the backup running back spot and the early enrollee shed his black stripe just yesterday. Last year at this time, he was committed to Miami and had been dating all the way back to December of 2017. The Ohio State staff did some investigating, extended an offer on Oct. 11, and then flipped the eventual Florida Gatorade Player of the Year less than three weeks later.
This time around, I'd keep the closest eye on the defensive line and quarterback. While the running back and cornerback boards are somewhat defined at this point, things remain a bit foggy in the trenches and under center. Larry Johnson has a knack for identifying and developing talent, so this isn't too big of a worry even the current lack of big names.
California's C.J. Stroud continues to be a name to watch at quarterback, but does the Elite 11 MVP want to take a back seat to someone like Jack Miller? Oregon extended an offer yesterday and the Ducks have been viewed as a contender even before offering. It wouldn't be a surprise to see an in-state quarterback rise to prominence in the coming months if the staff does decide to seek out another.
This kind of thing happens every cycle and there's always plenty of action once the high school football season gets underway. Even with a class that already sits at 22 commitments, there's plenty of evaluating to be done amid the game planning and preparation for the Penn States and Wisconsins of the world.
Catching Fire: 2021 Edition
Ohio State's 2021 class already checks in with four commitments and an absurd 97.74 average rating. Five-star pass rusher Jack Sawyer leads the charge, but each one of the commits comes with a top-100 national ranking. It seems like we say this every year, but the 2021 crop is very likely to rival the current cycle in terms of star power. 
The Buckeyes could add three more in-state prospects before all is said and done, and some could happen sooner rather than later. The potential additions of Lorenzo Styles Jr., Reid Carrico, and Najee Story would give Ryan Day and his staff all six of the state's top players. Sawyer, Ben Christman, and Jayden Ballard have already made their intentions known. 
Philadelphia's Marvin Harrison Jr. is the nation's No. 8 wideout in the 2021 class, and all signs continue to point toward Brian Hartline adding another piece to an impressive receiver puzzle. Clemson is also in the mix and there's no definite timeline in place for a commitment. 
While there are still some lingering needs for the current class, it's no secret that the staff is willing to push for the guys they really want in 2021. There's bound to be some more movement there throughout the upcoming season.