Ohio State 2021 defensive end commit Jack Sawyer has "no worries" heading into his junior year at Pickerington North.
Three months have passed since Pickerington North five-star defensive end Jack Sawyer announced his early commitment to Ohio State, and only a couple things have changed in the high school sophomore's life since then.
He said he's noticed a change in tone when he talks about football with teachers, principals and other Ohio State fans in public. What used to be a hopeful, eager tone set in anticipation of the No. 2 2021 prospect's commitment to Ohio State has morphed into an encouraging tone, as those close to him watch the second half of his high school career understanding the potential he will carry to Columbus.
But in Columbus, out of those people's vision, he's already become a part of the Ohio State family. Head coach Ryan Day, defensive line coach Larry Johnson and linebackers coach Al Washington have made the extra effort to make Sawyer feel that he is already welcomed within the program, and it's worked for the sophomore, as he continues to make visits and interact with current players, such as Chase Young.
"Being committed to them – a loyal, great football program – it just means the world to me," Sawyer told Eleven Warriors on Thursday at the Pickerington North Combine. "They're really making me feel like family already, and the players are already accepting me."
Since his commitment, Ohio State has landed its 2021 quarterback in the form of four-star Philadelphia prospect Kyle McCord and missed on a few 2020 commitments, like five-star linebacker Mekhail Sherman and five-star defensive tackle Bryan Bresee. The Cincinnati trio of Paris Johnson Jr., Darrion Henry and Jaheim Thomas has become more of an uncertainty for Ohio State than a guarantee and Clemson has begun to stack up the best recruiting class in the country.
But none of that affects Sawyer, he said. It's out of his control. He can only focus on what he can control, and that's how he grows, physically and mentally, and how he prepares himself for his junior season in 2019.
He's not concerned about his weight, except to see where he can be by the end of his junior season naturally – maybe he'll be about 235 pounds by then, he said. Ohio State isn't concerned about his weight either.  He's not concerned about ratings, even after 247Sports ranked him No. 2 in the 2021 class overall, except to be flattered by the short-term recognition.
"I'm just working as hard as I can every day," Sawyer said. "Junior year is a big year to show what I'm made of. A lot of people will want to question, 'Well, is he really that good?' I just want to be able to show them what I'm made of and be with my guys. When I walk off that field, I want people to be like, 'That's the best player I've ever played against.'"
Ohio State commit Jack Sawyer runs a 4.65 40-yard dash at the Pickerington North Combine. He was shooting to beat 4.80. pic.twitter.com/vADltxZgtV

— Taylor Lehman (@TaylorRLehman) May 9, 2019
In the meantime, Sawyer is taking on a kind of leadership role within his team already, not a typical role for a sophomore to tackle. At the Pickerington North Combine on Thursday, he was the first one running through the drills, and when he returned to the line for his second run-through, he helped guide his teammates through their reps until it was his turn again.
Even though he has decided he will play at Ohio State and fans are already imagining the great defensive end Sawyer will be, mentioning him in the same breath as Zach Harrison and the Bosa brothers, Sawyer is still a typical high school sophomore in many ways, learning the finest and not-so-finest details of his position.
"Over the last two years, it's been him growing and maturing physically and becoming a man," Pickerington North head coach Nathan Hillerich said. "But really, a lot of it is him understanding the game and really what football is all about. When he came out as a freshman, he just went out there and did whatever he wanted, but no one could really block him. He was just faster and stronger. Now, he's starting to understand our system and what it takes to be special and do everything right."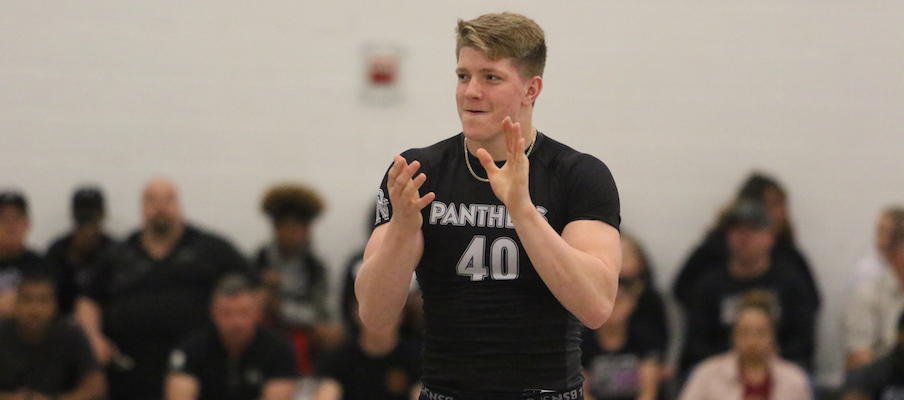 There is a lot of pressure riding on Sawyer's shoulders. Nick and Joey Bosa both became top-three NFL Draft picks after legendary careers at Ohio State. Chase Young is expected to be a first-round pick, and Zach Harrison is going through the same stage Sawyer will be when he graduates in 2021 and gets on campus – fans wanting every peak they can get to measure him against the historic Ohio State defensive linemen before him.
But the 6-foot-5, 220-pound sophomore understands that, he said, and he's trying to spin the pressure in his favor.
"There's a lot of pressure with that, but I'm a guy that takes that pressure and makes it a positive," Sawyer said. "It's a positive to be in the position I'm in right now."
If Sawyer's relationship with Ohio State holds on until 2021, Day would have earned one of Ohio State's highest-rated commitments just a few months into his tenure as the new head coach after Urban Meyer. And Sawyer continues to stress that he committed to Ohio State with confidence in Day and what he's shown already in his three games coaching the Buckeyes in the beginning of the 2018 season.
Jack Sawyer having some fun after the combine pic.twitter.com/LC6wHk0OE9

— Taylor Lehman (@TaylorRLehman) May 9, 2019
While many 2020 recruits have been rumored to be waiting until they can see what the on-field product will look like under Day, Sawyer said he has "no worries" for what Day will do with the program. He likes Johnson and Washington and defensive coordinator Greg Mattison too, but his belief in Day, and Day's belief in him, is what drives Sawyer's interest in the Buckeyes.
"I have no worries," Sawyer said. "You saw Coach Day take over on a month's notice in the first three games. You saw what he did down there at TCU, beat them at their own place. You saw what he did with the passing game. In my mind, there's no question at all that Ohio State is going to be good under Coach Day."
Until then, though, Sawyer is just trying to be a sophomore in high school. While working tirelessly with the coaching staff to prepare himself for the collegiate level and put the horse before the cart, Sawyer could easily lose sight of the present with whispers of the NFL surrounding him at 16 years old.
But his coaching staff, Hillerich said, has cubbied itself into the role of insulating Sawyer from potentially damaging visions that dreams-turned-promises of the NFL have caused many top recruits at the high school level.
"You can kind of keep him in the moment. That's the biggest role that we try to play," Hillerich said. "Because you've got people telling him, 'One day, the NFL" or whatever it may be, but we just say, 'Hey, enjoy your sophomore high school homecoming dance.'"