The spring game has come and gone, Matthew Baldwin has entered the transfer portal, and there's plenty going on in the world of Ohio State football. On the recruiting front, Ryan Day and his staff are prepping for the early wave of official visits that will last through June.
Back in February, we took an early stab at how the Class of 2020 may end up looking. Guess what? A lot has changed since then and – like we do every year – we'll be updating our projection every few months based on all the recent twists and turns. This time we're breaking things down a bit more, starting with the offensive side of the ball. 
Quarterback (1)
Miller is still the guy and there are no worries with this one. Does the pending Baldwin departure mean that a second quarterback could be signed? It's certainly a possibility, but I think the most likely option continues to be an incoming transfer. If the Buckeyes do pursue a second signal caller then they could look more locally.
*One to watch: Cincinnati's Evan Prater
Running Back (2)
Ohio State needs a pair of backs, and I really am liking the way things are trending with California's Kendall Milton. He's not nearing a decision and all of the national powers are involved, but I get the sense that Ohio State and Oklahoma are still out in front. The Sooners have a five-star tailback already in the fold and they're seemingly in line for another in five-star all-purpose back Chris Tyree. Milton's recent visit went extremely well and he'll be back for an official. 
Trayanum could play running back or linebacker at the next level, but for now we've got him on the offensive side of the ball. He seems like a guy who could come off the board sometime in the near future unless Ohio State wants to look around a bit more. Five-star Arizona tailback Bijan Robinson is another top-of-the-board target. Robinson seems a bit more open on his recruitment and is slated to make an official visit in June. 
*One to watch: Cincinnati's Miyan Williams
Athlete (1)
We've still got Michaell Drennen II in the class and he seems destined for a slot/H-back type of role. The Dublin four-star was back on campus for the spring game and his offer list now spans all across the country with programs like Alabama, LSU, and all of the Midwest powers. The Buckeyes and Irish appear to be at the top of the list, but he doesn't seem to be all that close to a decision.
*One to watch: Fairfield's Jutahn McClain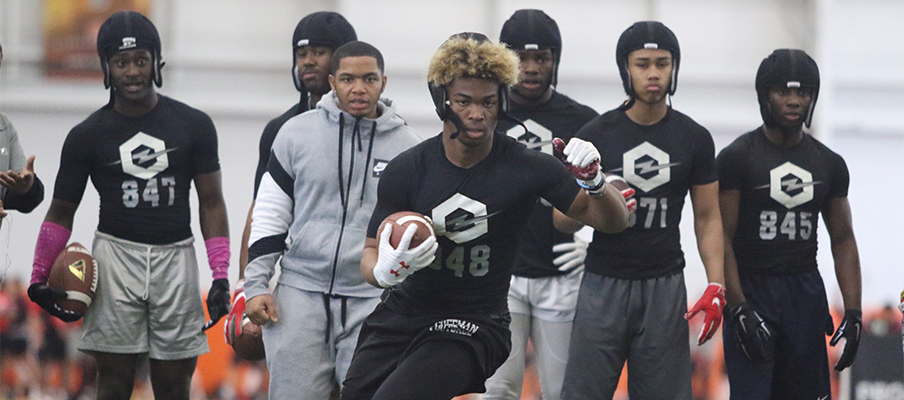 Wide Receiver (4)
This is going to be a star-studded group for Brian Hartline and the Buckeyes. Two great ones are already in the mix and we've got Ohio State slightly edging out Clemson for Pennsylvania five-star Julian Fleming. St. Thomas Aquinas star Marcus Rosemy doesn't say a whole lot, but most of the Florida folks still seem to like the Buckeyes here, so we've still got him on the list. 
Georgia remains very much in play for Rosemy and we're not ruling out Washington D.C.'s Rakim Jarrett just yet, but Hartline has already gained a reputation as one of Ohio State's top recruiters and his first full wide receiver haul is looking pretty special.
*One to watch: California's Lavon "LV" Bunkley-Shelton
Tight End (1)
Tight end remains a pretty decent-sized need for the 2020 class, but the board really hasn't come together quite yet. Mark Redman committed to Washington earlier this month, so the staff may switch its focus over to Grandview Heights's Luke Lachey. The Buckeye legacy hasn't been offered yet, but we look for that to change at some point between now and signing day. There's definitely a chance the Buckeyes end up with a pair.
*One to watch: Cincinnati's Joe Royer
Offensive Line (6)
Paris Johnson is taking all sorts of visits and Georgia is very much in the picture here, but we've still got him ending up in Columbus. Luke Wypler should be a star along the interior part of the line and Jakob James and Trey Leroux are also in the fold. The Buckeyes are battling Penn State and Virginia Tech for Michael Carmody, but we've got the good guys as the favorite right now. I'm not sure what to make of the Reece Atteberry recruitment, but he's a guy who has some versatility and could sneak in as a guard. Taking six remains a very real possibility. 
*One to watch: Penn State commit Grant Toutant 
---
The offense has dominated 2020 recruiting thus far as seven of Ohio State's eight pledges are on that side of the ball. It's going to be heavy in the trenches and at the skill positions and our spring forecast is calling for 15 new signees on offense. Stay tuned later this week when we take a look at the defense.