As was reported Thursday evening, former Ohio State quarterback Matthew Baldwin has entered his name into the NCAA transfer portal and will leave the program in the midst of what head coach Ryan Day and the staff were calling a quarterback battle.
While the transfer ensures that sophomore transfer quarterback Justin Fields will be the starting quarterback at Ohio State for the 2019 season, it also means the Buckeyes are losing what is a fairly talented arm behind Fields and reduces the QB roster to three – the second being West Virginia grad transfer Chris Chugunov, who would be a slight step down from the quarterbacks that have led Ohio State in the last decade-plus.
Baldwin represents the fifth quarterback Ohio State has lost since the 2018 season, the third via transfer, and while it seems to be the new reality of college football to see juggling at the position, that doesn't excuse the fact that Ohio State has a major depth problem at quarterback for the moment.
The Buckeyes will surely look to add a graduate transfer quarterback to plug the hole for 2019, but these are a few long-term options – if any option could be considered long-term anymore – to shore up depth at the position through immediate recruiting efforts.
Sticking with Jack Miller in 2020
There is always the option to remain steadfast with one quarterback in the 2020 class, and the Buckeyes already have a strong commitment from Arizona four-star quarterback Jack Miller. He has said repeatedly that he isn't going anywhere.
Sticking with Miller would mean having a very good, young arm behind Fields, who will still be a sophomore when Miller hits campus in January 2020 and a junior when Miller is able to play in the 2020 season.
The downside there is that Chugunov will be gone, and Ohio State would remain in the same position in terms of scholarship quarterback numbers as it's currently in.
JP Andrade
California quarterback JP Andrade remains unsigned for the class of 2019, and as a three-year starter, he passed for 9,423 yards and 83 touchdowns for Bonita High School. He owns most of the passing records at Bonita and can put a good ball on his receivers, as seen in his tape below.
The 6-foot-3, 200-pound quarterback was at Ohio State's spring game Saturday and has offers from Morehead State, Fordham, South Alabama and a preferred walk-on offer from Florida. It's possible that he could join the Buckeyes as a preferred walk-on and be a solid back-up for Fields' first season under center.
This route, whether it is Andrade or not, seems to be the most effective way to go if Ohio State decides to go away from the grad transfer route.
Adding a lower-tier recruit or walk-on for 2020
There are a couple options in this regard. With Jack Miller already being a hard commitment to Ohio State's 2020 class, it's going to be difficult to add another Big Ten-quality arm since Miller is ranked as the No. 4 pro-style quarterback in the class.
Many talented quarterbacks would rather enter a situation where they will be able to play versus sitting for a number of seasons and understandably so, and Ohio State isn't exactly a place where another 2020 quarterback will be able to find a quick path to the field with Fields already locking down the starting spot.
But some quarterbacks might find benefits in backing up quarterbacks for a powerhouse program versus starting for a non-Power Five or lower-tier Power Five program. There's also the possibility of backing up at Ohio State and then transferring after one or two years.
In any case, there are a few quarterbacks to watch here.
The first one is Pickerington Central three-star dual-threat quarterback Demeatric Crenshaw, who Ohio State was supposed to make it out to watch him throw at in April, as reported by Rivals.com. Crenshaw holds offers from Indiana, Cincinnati, Kentucky and Louisville and spent the fall throwing to Ohio State 2021 wide receiver target Lorenzo Styles. West Virginia also has shown interest in Crenshaw, who is looking hard at Indiana and Kentucky.
Bishop Hartley dual-threat quarterback Miles Fleming. Fleming is an interesting case, as he is classified as an athlete and would likely play as a cornerback or slot receiver with his 6-foot, 175-pound frame. Fleming also blazed a 4.50 40-yard dash at the Under Armour All-America Camp in Cincinnati last Sunday. He's also committed to Miami (OH).
Fleming worked out as a quarterback in Cincinnati and a wide receiver, and his performance from the quarterback position was fairly impressive. His offers list will continue to expand after that performance, and it's possible that he could catch Ohio State's attention. It wouldn't be out of the question for him to serve as a stop-gap back-up quarterback before switching to a different position after a year.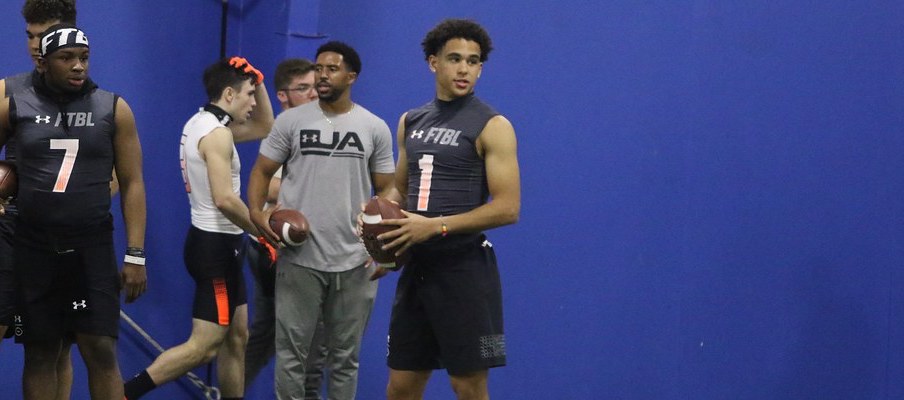 Another name that popped up during Ohio State's spring game was Evan Prater, a three-star quarterback out of Cincinnati and the brother of current Ohio State wide receiver Garyn Prater. The No. 13 dual-threat quarterback in the 2020 class has offers from Michigan State, Cincinnati, Miami and Purdue and seems to be looking hard at Cincinnati.
Given Prater's offers, he might choose a school where there is a better possibility of playing early, though.
Adding multiple 2021 quarterbacks
This is the longest shot of them all, but there's the small possibility that Ohio State could add more than one 2021 quarterback down the road, considering two high-level quarterbacks wouldn't mind competing for the job or backing up Jack Miller and Justin Fields. The probability that it would fall into the same position is highly likely, though.
The Buckeyes are in strong with Philadelphia four-star quarterback Kyle McCord already and have positioned themselves well with several of the 2021 class' other top signal-callers, including No. 2 quarterback J.J. McCarthy, No. 4 quarterback Jake Garcia, No. 6 quarterback Drake Maye, No. 7 quarterback Caleb Williams, No. 12 quarterback Miller Moss and No. 20 quarterback Carlos Del Rio.